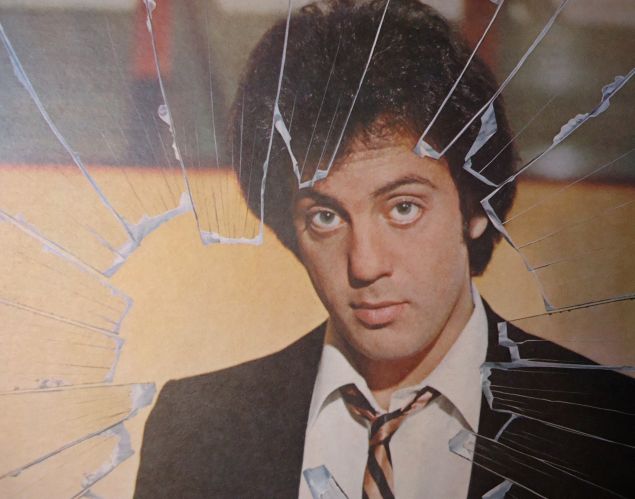 When I was in fifth grade, my relatives back East sent me a slice of Billy Joel's pink skinny tie. Seems that before a show in Harrisburg, Penn., Joel and his entire crew outsourced their laundry to Quality Cleaners, one of two establishments my family owned. Joel gifted his necktie to the staff, who divvied up slices of the souvenir among the far-flung members of our clan.
I cherished the frayed fabric, unprepared for such a tangible connection to my hero. Once I possessed this talisman, all my AM-radio-weaned mind required was a sleek cityscape, a Patrick Nagel companion, and a destination unknown. Eventually, the remnant wound up in my desk drawer. Now, it's merely a memento of my earliest musical obsession, forever bound to the pub rock pleasures of Glass Houses.
***
In June of 1980 Sony introduced the Walkman to the U.S. market, and just like that, the '70s were truly over. Arena rock was the name of the game, and for a piano-based singer/songwriter like Billy Joel, a radical rethink was in order.
While Joel broke through in 1977 with The Stranger and its 1978 follow-up, 52nd Street, amassing Grammys with a pair of inescapable, era-defining classics, artistically the songwriter was firmly stuck in the middle of the road. Joel's sonorous voice and piano dexterity had endeared the Long Islander to millions; he'd become synonymous with soft rock. But that was precisely the problem.
"I'm going to throw a rock at the image people have of me as this mellow balladeer," Billy told Playboy in 1982, explaining Glass Houses' stylistic about-face.
Joel might've been persona non grata with critics, but he hoped the public would understand that deep down he was a rocker. He had spent years playing dives and even fronted the proto-metal act Attila; Joel's only real offense was being a superb musical mimic, able to adapt contemporary trends to his evolving sound.
Glass Houses is Joel singing for the cheap seats. By creating a widescreen version of his music, he inadvertently released one of the best not-really-new-wave New Wave records of all time.
[youtube https://www.youtube.com/watch?v=hhJg1finpyU&w=560&h=315]
Although a hit, Glass Houses still supplied plenty of fodder for naysayers, who this time accused Joel of New Wave posturing.
Sure, the brainy, nervous pop-rock of Joe Jackson and Elvis Costello made more than a passing impression on his new music, but the fans knew his aim was true. (In fact, Joel had already included a song called "Prelude: Angry Young Man" on his 1976 album Turnstiles, a year before Costello's debut.)
The hard-driving new numbers couldn't conceal his keyboard chops and effortless craftsmanship, however; Graham Parker or Nick Lowe would never have attempted something like the Brill Building-worthy tagline of "It's Still Rock and Roll to Me."
Deeper album cuts like "I Don't Want to Be Alone Anymore" and "All for Leyna" pushed the envelope further, marrying the U.K.'s snotty attitude to Joel's ample melodic gifts. "I really wish I was less of a thinking man / And more a fool who's not afraid of rejection," Joel sang on "Sleeping With the Television On."
Self-aware as ever, Joel almost seemed to be acknowledging the risk he was taking, turning a potential weakness into an asset.
Still, for the album's promo videos, Joel attempted an awkward New Wave getup. His visible discomfort may have even served as an unintentional blueprint for "nerd-core." Buffalo's self-proclaimed "pop cult" Hussalonia covered Glass Houses in its entirety and Geen Ween has his own Billy Joel-themed project. These reverent (and often brilliant) takes on the Joel's material affirm that the tunes have aged better than his outfits.
[youtube https://www.youtube.com/watch?v=3FpT1evH5oY&w=560&h=315]
Joel once described the Glass Houses concept as steeped in junk—garage rock like Sam the Sham and the Pharaohs—and there is perhaps no better way to describe the record. Flitting from style to style, Glass Houses is Joel's equivalent of the legendary psych rock compilation Nuggets, a diverse record centered around a aesthetic that gave him the freedom to speak through multiple personalities and far-out new sounds.
Analog synth lines mesh with Stonesey rhythm guitars, the production by longtime collaborator Phil Ramone is unobtrusive, and the overall audio experience is dry and punchy. Vocally, Billy evokes Jagger, Costello and his beloved Beatles, all while venturing further away from his comfortable perch in front of the grand piano.
Glass Houses is also a far more memorable—not to mention fun—listen than the offerings by Joel's contemporaries that same year. It's hard to imagine anyone spinning Jackson Browne's Hold Out or Growing Up in Public by Lou Reed with any frequency in 2016.
Despite the critical bashing it received from the likes of Rolling Stone, Glass Houses cemented Billy Joel as a formidable rock presence. And Joel won the long game. Over the next 10 years, he became an unlikely MTV fixture, with "Allentown," "Uptown Girl" and "We Didn't Start The Fire" sealing Joel's pop dominance. By decade's end, the piano man had successfully shattered his pre-1980s image.
[youtube https://www.youtube.com/watch?v=Jo9t5XK0FhA&w=560&h=315]
"Friday night I crashed your party / Saturday I said I'm sorry." From the first line of album opener "You May Be Right," I conjured an image of Joel driving a motorcycle through his girlfriend's living room shindig. I'd not yet seen The Rocky Horror Picture Show or even Happy Days, but I caught the vibe Glass Houses was throwing down. The album sounded so rebellious it should have come with the  leather jacket Joel wears on the cover.
Glass Houses molded perfectly to my skin. Pliable enough to accommodate frequent changes in my musical taste, it also offered protection and a sense of belonging. The album impelled me to jump off the couch while playing air guitar to "Closer to the Borderline" and record myself singing the smutty verses of "Sometimes a Fantasy" into our Radio Shack cassette player.
When Glass Houses played, I became 10 feet tall. Before too long, I would be listening to The Cars, then AC/DC, eventually Van Halen and Guns and Roses. But you never forget your first. Glass Houses was my rock and roll gateway drug, and for many of his rock fans, it remains theirs as well.