Accessories designer Maria Sole Cecchi has had a rather adventurous life. Born and raised in Florence, Italy, she moved to Paris in her early twenties to pursue all the City of Light had to offer. After a late night fashion experiment featuring an old handbag and pieces of Lego (that spelled out the word, LOVE), Sole discovered her knack for accessories and launched her label, Les Petits Joueurs, shortly thereafter.
However, a more bohemian lifestyle beckoned and Sole Cecchi relocated to Sao Paulo, where her accessories line really took off, appearing on the arms of Brazilian "it" girls and socialites. Now, Sole Cecchi is back residing in her hometown of Florence, where her whimsical, playful bags are produced. However, she hasn't forgotten her vagabond roots, and recently traveled to Asia on an inspiration trip, making pit stops in Jakarta, Bali, Singapore, and Hong Kong. Here, she shares her favorite locales and must-visit restaurants in one of Asia's capitals—Hong Kong.
Where to stay?
Located in the heart of Hong Kong in Kowloon, the Langham is extremely convenient. You're minutes away from ferries that carry you across the river to Hong Kong Central, but also next to one of the city's biggest malls: Harbor City. You also get a sense of the real Hong Kong, as it's located in an older part of the city where lots of the traditional markets are located. Even if you don't choose to stay at the Langham, it's a great place to stop by for the traditional 5 p.m. teatime. Locals from all over come to enjoy their delicious cakes and tea!
8 Peking Rd, Tsim Sha Tsui
Where to eat?
It has a contemporary luxury atmosphere that is translated in their international array of dishes. If you go, you have to try their paper-thin Southern Indian Dosas! They also have an incredible (and beautiful) cake selection.
Princes Building 25th Floor, 10 Chater Road, Central
This is another great place in the Soho neighbored for a drink and some finger food. It has a very down-to-earth vibe, making it great for a casual early evening stop. They also have a unique selection of Vietnamese beer and bites.
58 Peel Street, Central
This is a must if you're craving some sushi! Despite the cuisine's origin, the restaurant is filled with a mix of Hong Kong locals as well as foreigners. The presentation and freshness of the dishes is incredible.
Wellington Place, 2-8 Wellington Street
Where to Shop
Something I found incredible about Hong Kong was the number of shops they fit into the city. For shopping, I would definitely recommend I.T. It's a one-of-a-kind, amazing multi-brand fashion house that has multiple locations around the city and brings together an array of unique labels.
Pacific Place, 88 Queensway
Other great multi-brand stores that are a must for shopping are Joyce (16-18 Queen's Road Central) and Lane Crawford (3 Canton Road). In general, Hong Kong is filled with extravagant fashion malls that cater to every customer; you can find both international and local brands. My favorite big mall is The Landmark (15 Queen's Road Central), it is so grand and luxurious.
What to do?
Street Markets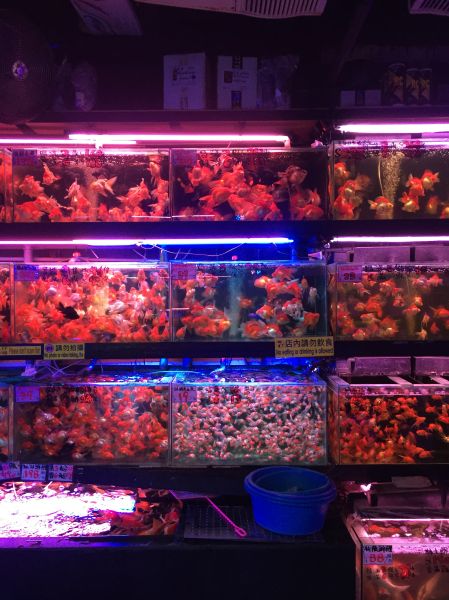 Not to miss in Hong Kong are the street markets. Head to the bustling Mong Kok that is filled with stands and divided into many markets such as the ladies market, the goldfish market, and the flower market.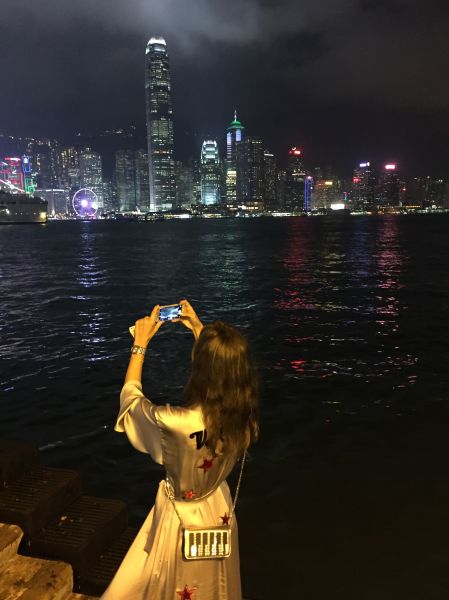 I would also recommend getting lost in the Soho district of Hong Kong. Explore the area by foot and discover dozens of boutique bars, restaurants, and stores nestled in a fusion neighborhood of old and new Hong Kong. The liveliness of the area really resonates in you; it is a city that never rests. Another great area to pass through is Causeway Bay; it's a great spot to get some cool photos!
What to Pack?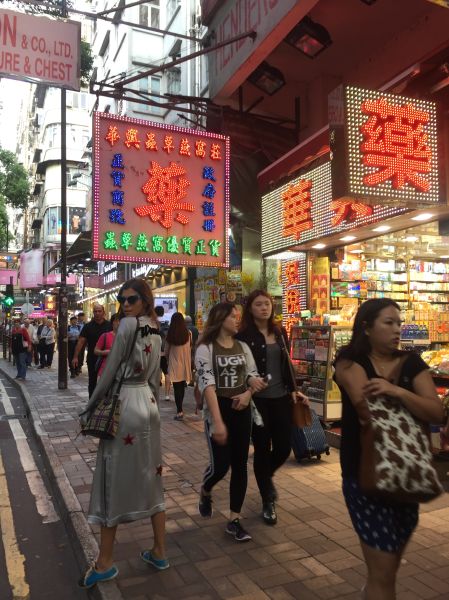 The climate of Hong Kong is rather heavy with heat and humidity. For this, I specifically packed clothes with light fabrics to stay airy. At the same time, every store and building is blasting with A.C. so I also packed a pashmina. Since I was up to a lot of walking and Hong Kong can be hilly at spots, I packed my New Balance sneakers for the day and comfortable heels for the night.