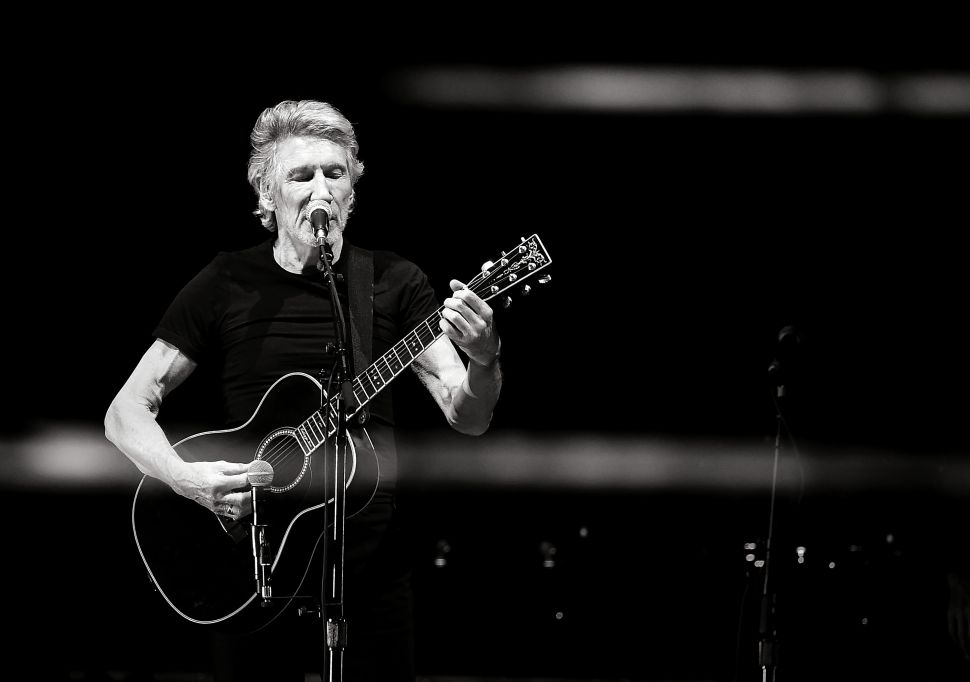 Major companies pride themselves on being good corporate citizens. It is not always true, but when a positive example is set, it merits praise. I would like to single out American Express for its integrity after withdrawing its sponsorship for a tour by former Pink Floyd front man, Roger Waters. According to The New York Post, "The credit giant took off the table a $4 million sponsorship of Waters' 2017 tour in North America following his partisan and anti-Israel rhetoric this month at a festival that American Express sponsored."
Many corporations now sponsor tours by musicians and they undoubtedly believe they will benefit from the publicity they get by associating with a popular performer. It is important, however, that companies engage in the same due diligence they would in any investment before linking their name with that of a celebrity—otherwise, they risk dragging their reputation through the mud thanks to the endorsement of someone who is not just controversial, but offensive.
Roger Waters is a case in point. The Pink Floyd singer has distinguished himself in recent years less by living off his old band's hits than by his vitriolic criticism of Israel and support for the anti-Semitic boycott, divestment and sanctions movement (BDS) aimed at the destruction of the Jewish state. In case you are unfamiliar with BDS, here's what one of its founders, Omar Barghouti, says is its objective:
"We oppose a Jewish state in any part of Palestine. No Palestinian, rational Palestinian, not a sell-out Palestinian, will ever accept a Jewish state in Palestine."
Barghouti also supports terrorism against Jews:
"[Palestinians have a right to] resistance by any means, including armed resistance. [Jews] aren't indigenous just because you say you are…[Jews] are not a people."
Professor As'ad AbuKhalil was even more explicit about the movement Roger Waters promotes:
"The real aim of BDS is to bring down the state of Israel…that should be stated as an unambiguous goal. There should not be any equivocation on the subject. Justice and freedom for the Palestinians are incompatible with the existence of the state of Israel."
As part of his campaign to delegitimize Israel, Waters has been at the forefront of efforts to convince artists to boycott Israel. In 2013, he published an open letter to "my brothers and sisters in the family of Rock and Roll," asking them to join his boycott. He specifically asked a number of musicians, including Bon Jovi, Neil Young, Alan Parsons and the Rolling Stones, to cancel planned concerts in Israel.
Waters is no mere critic of Israel. He is an anti-Semite in word and deed.
After ignoring Parsons' request that Waters keep their interaction private, Parsons published his letter to Waters on his Facebook page:
"I appreciate your note and your passion.

However, this is a political matter and I am simply an artist. I create music, that is my raison d'être. Everyone—no matter where they reside, what religion they follow, or what ideology they aspire to—deserves to hear it if they so choose.

Music knows no borders, and neither do I."
In an interview, Parsons pointed out that Waters' campaign is "totally censorship." People who listened to Waters, he said, "would be considered succumbing to censorship. But we didn't."
To their credit, neither did the artists mentioned above or Sir Paul McCartney, U2, Madonna, Elton John and Rihanna. They all ignored Waters and played to appreciative sell-out crowds in Israel.
Waters' support for the boycott is not the only evidence of his anti-Semitic views. I've been writing about Roger Waters since 2013 and my column about him from three years ago, "The Anti-Semitic Stench of Pink Floyd," has been read more than anything else I've written for Observer.
During a concert in Belgium, he sang a song called, "In The Flesh," with the lyrics, "get him up against the wall, that one looks Jewish and that one's a coon, who let all of this riff-raff into the room…If I had my way, I'd have all of you shot!" He was carrying a replica machine gun and dressed in a long black leather jacket with a red-and-white arm band, reminiscent of a Nazi uniform while a giant pig-shaped balloon emblazoned with a Star of David and symbols of dictatorial regimes floated overhead.
Another example of his anti-Semitic views is his spurious and disgusting accusations that Israel has engaged in ethnic cleansing (even as the Palestinian population has grown exponentially in Israel and the disputed territories) and his vile comparison of Israeli policy and Nazi genocide. As Natan Sharansky has pointed out, anyone who compares Jews and Nazis is an anti-Semite.
Waters also has said that Israel's "right wing rabbinate," believes that "everybody that is not a Jew is only on earth to serve them."
In yet another anti-Semitic rant, Waters blamed Jews for the lack of support his boycott campaign has gotten from other artists. "This has been a very hard sell particularly where I live in the United States of America," he said. "The Jewish lobby is extraordinary [sic] powerful here and particularly in the industry that I work in, the music industry and in rock'n roll…I've spoken to people who are terrified that if they stand shoulder to shoulder with me they are going to get f*****."
The American Express experience raises several questions: Would sponsors of any of the acts that Waters pressures to boycott Israel agree to avoid Israel?
Some sponsors, like American Express, do business in Israel. Do they realize that Waters would accuse them of contributing to Israel's "crimes" by doing business there and expect those companies to boycott Israel? Should that concern potential sponsors?
Do sponsors of Waters support his calls for censorship?
Do sponsors support a cultural boycott of Israel?
How does a company square its commitment to corporate responsibility with sponsorship of a concert by an anti-Semite?
Would companies consider sponsoring Waters and advocates of boycotting Israel if they were aware that at least 14 states have passed legislation aimed at stopping boycotts directed at Israel?
Waters is no mere critic of Israel. That would not bother me. He is an anti-Semite in word and deed. Companies should be embarrassed to have anything to do with this man, regardless of how popular his music may be. By enriching him through sponsorships, companies encourage and facilitate the continuation of his campaign to convince other artists to boycott Israel.
American Express came to the correct conclusion that it did not want to be associated with such a contemptible human being. Others should follow their example and withdraw their sponsorship of the Waters tour immediately.
Rabbi Shmuley Boteach, "America's Rabbi," whom The Washington Post calls "the most famous Rabbi in America" is the international best-selling author of 31 books including his most recent, The Israel Warrior's Handbook. Follow him on Twitter @RabbiShmuley.