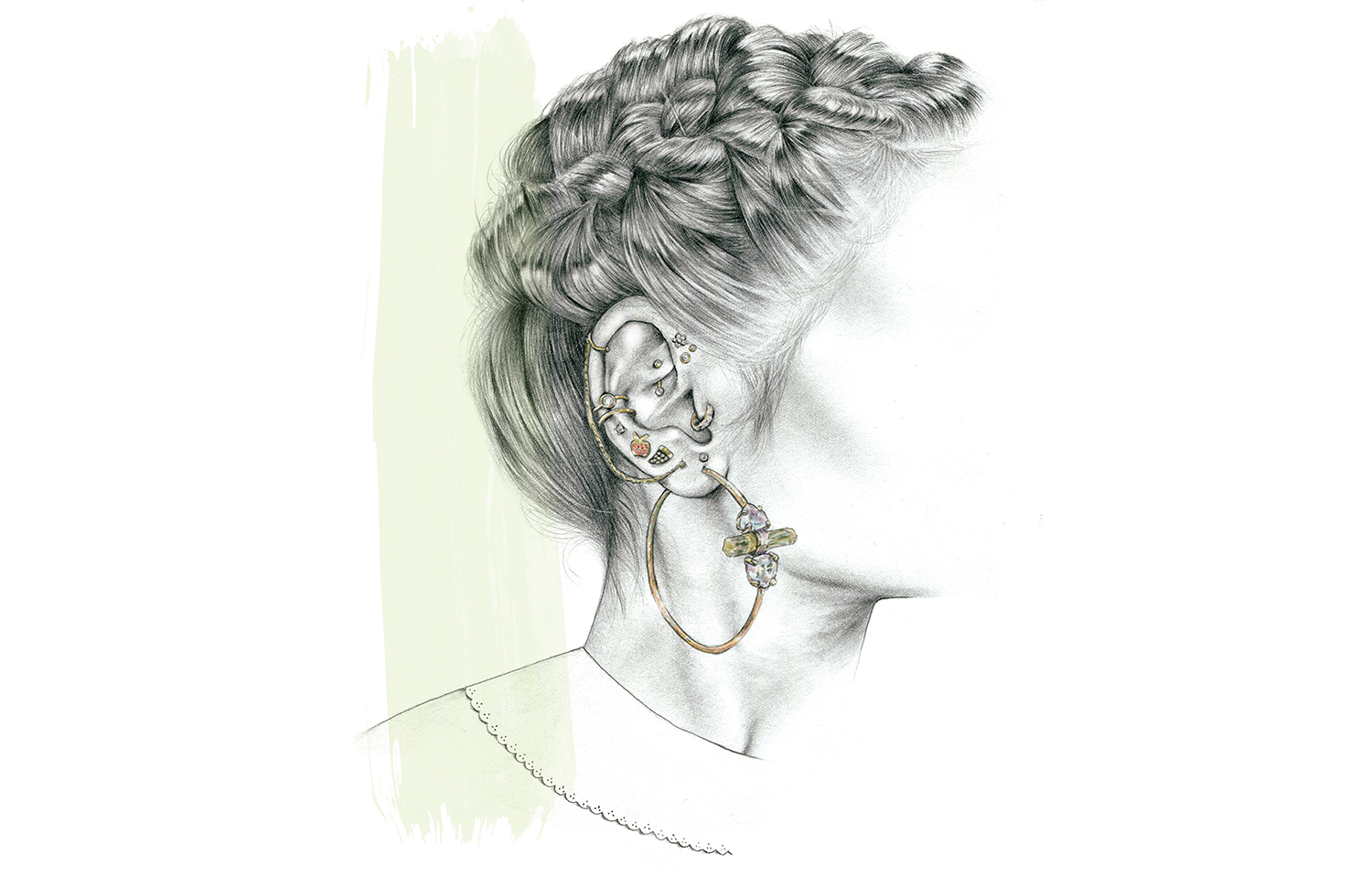 For as long as I can remember, having my ears pierced was very important. I don't know if this came from a fascination with jewelry and adornment, though I confess to having a girly love of all things sparkly since early childhood. My parents made me wait until I was 8 years old to get my first holes; the heart-shaped studs were a dream come true, done a few days before my actual birthday so I would be picture perfect (and pain-free) for the occasion. Since then, I haven't really stopped—I now have seven holes.
To be frank, this passion for piercings has been reignited by my relatively new addiction to piercing parties. The concept is a bit of a strange one: you go to a piercing salon or jewelry store, usually with a group of friends, and walk out with a delicate new hoop or shiny stud in your ear. Sometimes there's a plastic glass of rosé involved, and there's always a brief moment of pain, although it's usually funny enough to be shared on social media. Some might consider it similar to a Botox party, but instead of departing with a frozen face, you get to add a new piece of jewelry to your collection.
In Manhattan, there are currently two go-to piercing party destinations: Maria Tash and New York Adorned. My ears have been treated to experiences at both. However, my most recent piercing party took place in Brooklyn, at a relatively new jewelry boutique, located off the beaten path in Williamsburg. Quiet Storms was started by veteran fashion publicist Reshma Patel and is stocked with a mix of fine and fashion jewelry. As she puts it, her chosen bauble designers are "closing the gap between Van Cleef & Arpels, Tiffany's and Harry Winston" and serving up something modern, fresh and inventive. Patel's aim was to attract customers to her shop in an organic manner, while making it a destination for all things jewelry-related, which lead her to the concept of a soiree dedicated to piercing.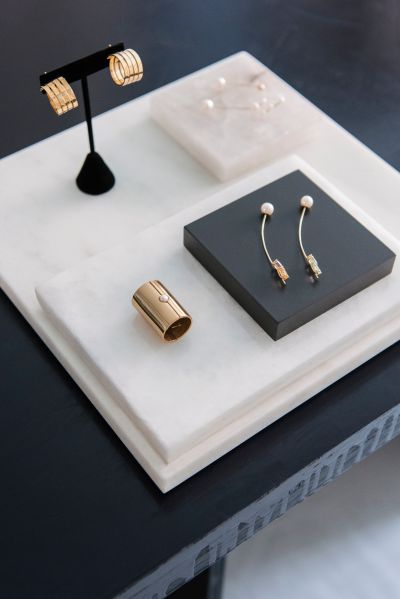 Patel teamed up with Evil and Love, a Greenpoint tattoo and piercing parlor, to do the actual puncturing, while she curated a selection of fine earrings from Jemma Wynne, Delfina Delettrez, Azlee, Kathleen Whitaker, Winden and Gabriela Artigas. Since the boutique was opened in May 2016, Quiet Storms has hosted three piercing parties (with another planned for November 10), and Patel has plenty of stories to tell about the customers who stop by to get their ears adorned. One woman came in with zero holes and left with four, more than a handful have burst into tears in the piercing chair, and the shop keeps fielding calls about when their next party will take place. For now, the crowd of piercees tend to be in their 20s and 30s, but Patel joked that since she is pushing 40, she and her friends will help usher in an older demographic.
Maria Tash said that her piercing party demographic ranges from ages 25 to 50 for females, though a few guys have been known to attend her soirées. "We see mom, daughter and grandma come in. I wouldn't call it a party, but it's more like a family ritual [or] celebration," she explained.
In fact, Tash, who frequently hosts these piercing functions at Broken English in both L.A. and New York, has gone international with the concept. Josh Wood Hair, a salon in London, reached out to her about hosting one at their haute hair cutting space in September 2015. The esteemed Liberty department store called Tash not long after, asking if she would open a 10-day pop-up shop, which has since been turned into a permanent location. Since then, Tash has even hosted a piercing party as far afield as Kuwait.
"I never thought we'd be going to Kuwait. I mean, who goes there?" she admitted. "It was so surprising to get a feel for Middle Eastern women, it really changed some of my perceptions of women over there." Though some of the attendees at the bash had their hair covered with hijabs, they had similar requests to New York customers, which Tash attributed to social media. One thing that was different was that the Kuwaiti customers were requesting multiple holes at once—"they were like, 'can you do five or six at a time?' "—and they preferred big stones.
Luckily, Tash is well known for incorporating stones into her piercing styles, which she started specially designing in 1993. "In the '90s, [piercing] jewelry started out with an industrial sort of S&M feel to it: steel rings, steel beads, or hematite beads, the circular barbell. But then it evolved and things have gotten thinner, more delicate [with] more sophisticated closing mechanisms." Tash and her team now use diamonds and specialty stones, which have been specifically cut for piercing baubles. She also invented a hoop with a click closure, which she considers to be critical for the success of her namesake brand. Not only did she develop the hoop to be smooth on the outside, for a seamless healing process, but it's  also much easier to put on and take off. That means it doesn't require a trip to the piercing salon to get it removed.
Another designer using a hefty dose of diamonds in her piercing jewelry is Rosanne Karmes, the founder of Sydney Evan. Though, we should point out, all of her playful studs will work as piercing jewelry. Karmes might also go down as the first designer to host a piercing party at Bergdorf Goodman. She started by hosting events at the department store, where her customers could string together custom luxe charm bracelets, but has since taken her interactive soirées a step further.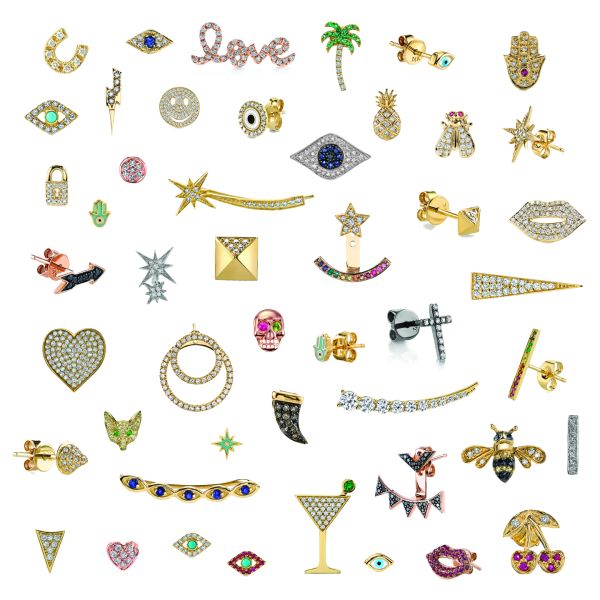 "It's not an easy thing for a department store like Bergdorf Goodman, with all the red tape and insurance, but they were all onboard," explained Karmes of the piercing concept. "It was just amazingly successful. I saw 14-year-olds and 65-year-olds getting their ears pierced, including the GM at Bergdorf's!" Most women at her parties tend to gravitate toward the evil eyes, which she has been designing in a variety of colors and stone options for 15 years. Customers also love her diamond-encrusted animals, like a chic flea, a bee and a teeny wolf. However, she is happy to create a custom design for anyone who asks; she once did just that for a customer who wanted a happy face in all-black diamonds.
The L.A.-based jeweler also happens to be a warm, bubbly personality, who nearly convinced me to get my eighth piercing done at her last party. However, I declined. For now, I'm sticking with my lucky seven holes.