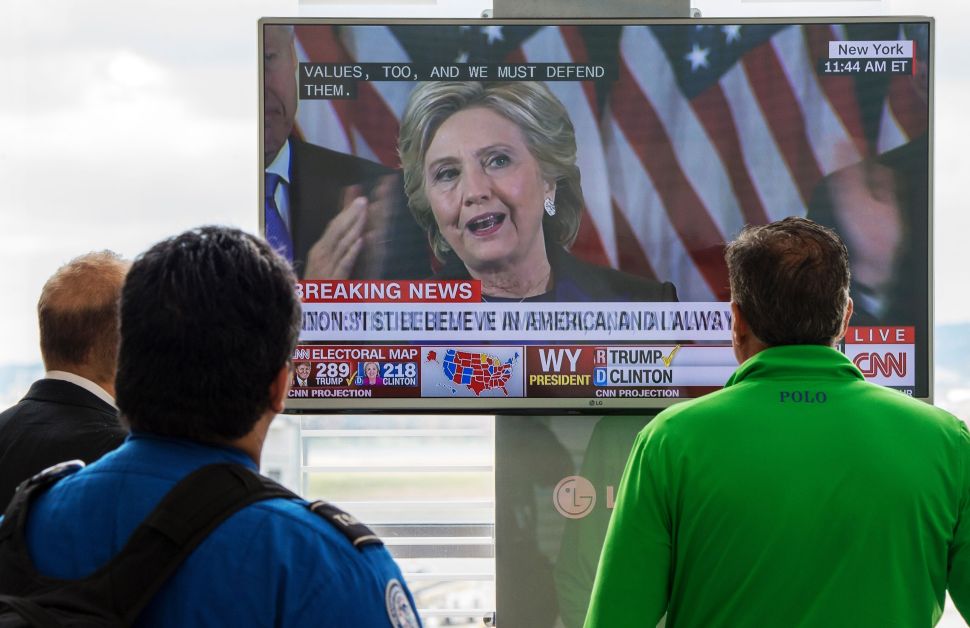 If you were "with her," how come you're not acting like her?
Nobody had more at stake in having the Democratic nominee for the Presidency of United States win the 2016 election then the Democratic nominee herself, Hillary Clinton. After her devastating and unexpected defeat, privately, she may have fallen into Bill's arms and cried; let Chelsea hug her close, stroke her hair and tell her it's all going be OK, in a sort of mother-daughter role reversal; and she may have even locked herself in the bathroom, stared into the mirror with anger and resentment in her eyes while asking her reflection, How could this have happened to you? You made all the right career moves. You worked your ass off for three decades. There were times when you put your family and friends on the back burner, so that you could give it all to your job. And yet you got passed over.
Perhaps, then, she punched the mirror.
But when she went out in public, Hillary did so as a professional, with dignity. Even though you could tell she probably wanted to cry, she did not. Nor did she call anyone—and by "anyone," I mean her former opponent—names. No, on the public stage, she held her shit together, was gracious, and accepted what is: Donald J. Trump is our president-elect. "Last night, I congratulated Donald Trump and offered to work with him on behalf of our country."
Hillary professed unity and advised that we give Trump a chance to lead. So, why are the people who have for so long claimed to be with her acting like an unruly mob—exhibiting the behavior that they claimed so disdainfully was that of the man they campaigned against?
There was scorn for his name-calling, bullying, and the fear and violence he was accused of inciting. But what do you call menacing people with Trump/Pence signs on their vehicles or lawns, and threatening the job of somebody who may have voted for Trump? What do you call throwing a name like "sexist," "racist," "misogynist," or "bigot" at someone who wanted Trump in office?
How is exhibiting the lack of comportment that they designated, fairly or unfairly, to Trump proving true Hillary's concession speech statement that, "You represent the best of America"?
Crying, screaming, ranting, marching around shouting, "He's not my president"—newsflash: he's going to be—is not an homage to a woman who did what no other before her has ever done. When Hillary said, "We need you to keep up these fights now and for the rest of your lives," she did not mean fight with each other, but offer your time, talent, or financial support to causes that will further the agenda you and she believe in.
To show true respect for what Hillary accomplished, why not act respectfully? Who exactly takes seriously adults who have what boils down to a temper tantrum? (Didn't people say Trump had these, too, after he was baited by a tweet?) This conduct denigrates the couple of years of her life that Hillary gave up in order to crisscross the country hundreds of times to get her message out there and bolster the Democratic platform.
If there's anyone in this country who has a right to feel sad, depressed, disillusioned, disheartened, angry, and wants to lay on the floor with feet kicking, fists pounding, and tears streaming down both cheeks, it's Hillary. Yet she would never disgrace or embarrass herself, her party, her own candidacy, or her family by showing that face to the world.
In her concession speech, it was clear that Hillary has not giving up, nor backing down when it comes to her ideals. She still believes everything she believed when she was campaigning, "…if we stand together and work together with respect for our differences, strengthen our convictions, and love for this nation, our best days are still ahead of us. Because, you know, I believe we are stronger together and we will go forward together."
And she will—with pride and graciousness. Out of deference for everything she stands for and for the women politicians who come after her—one of whom will be the first woman president—remember that Hillary is a grown up. If you were ever truly with her, act like her.
Disclosure: Donald Trump is the father-in-law of Jared Kushner, the publisher of Observer Media.