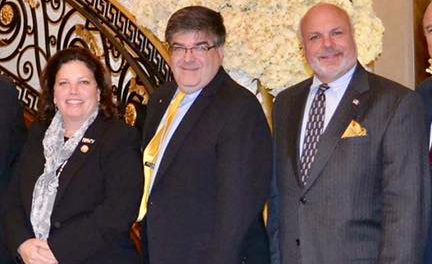 During last year's election, the Bergen County Democrats had a clean sweep over Republicans in the county freeholder race. This year, Democrats hope to achieve a similar win with candidates incumbent Freeholder Tom Sullivan, Germaine Ortiz and Mahwah Councilwoman Mary Amoroso. Meanwhile, Freeholder Maura DeNicola, Closter Councilman Robert DiDio and former Freeholder John Driscoll, the Republicans in the race, are fighting for a win and to maintain a significant GOP presence on the county board.
Freeholder DeNicola is running to reclaim her seat this year. She and her running mates agree that Republican victory is critical on November 8 in order to ensure that Bergen County government maintains a bi-partisan balance. DeNicola is one of only two Republicans serving on the board. Freeholder John Felice opted not to pursue re-election this year. If Democrats sweep the election this year, the freeholder board would be made by only by members of the Democratic Party.
"Their election would prohibit the healthy balance necessary for good government," DeNicola said of her competitors. "Having one party in complete control of any board is never a good thing. We experienced the results of that in the not so distant past—ballooning budgets, rubber stamp votes and a lack of transparency. And balance in government isn't only about party. It's about open discussion, strengthening decision-making, keeping issues and the process before the public in the sunshine of openness and transparency."
According to a joint statement released by the Democrats, however, electing Democrats on November 8 is "critical."
"We only need to look at our opponents' failed policies from last time they were in charge to know what they will do this time around. Mismanaging the budget, Republicans slashed funding for services our residents rely on: $6.5 million was taken from education, veterans services were cut by 50 percent, and there were cuts in funding for special needs children, and more. Our families can't afford a return to the days of mounting debt and high taxes," they said.
This year, former Freeholder Driscoll is running to reclaim the seat he held until his term ended in 2012. Following an unsuccessful run for state senate in 2011, Driscoll decided not to pursue re-election to the freeholder board at that time.  According to Driscoll, both the Republicans and Democrats are in this year's race for the right reasons but only the GOP side has the right policies in mind in order to make the county affordable. Like DeNicola, he agreed that maintaining balance is critical to Bergen's future.
"We all have different ways of helping, I am not going to badmouth them" Driscoll said of his opponents. "That is why we all got into politics. We want to help people. But I think we need to make life more affordable in Bergen County or else no one is going to be able to live here."
Fiscally, candidates on both sides of the aisle say they want to improve efficiency of government and cut wasteful spending. According to the Democrats, Bergen County must continue to "trim fat from the budget" but cannot afford to cut county resources to programs including recreation and addiction recovery. Republicans say that the most critical point moving forward is tax reduction to ensure that living in the county stays within reach for residents.
Republican candidate DiDio specifically raised a concern with the increase in taxes seen under the Democratic majority on the the freeholder board. He said the freeholder board has "raised taxes $34 million in two years, which is five times the rate of inflation."
"I will restore fiscal responsibility to our county government so that our communities can continue to attract young families and so that our county is affordable for all residents, including veterans and seniors, many of whom live on fixed incomes," DiDio said.
But despite increased taxes, Democrats said in their statement that significant fiscal progress in the county has been made under the recent Democratic majority. They touted cuts in spending.
"Over the past two years, Bergen County Democrats have put an end to the financial mismanagement of the previous administration and put our county on the right path," the statement said. "Under Democratic leadership, Bergen County has cut over $2 million in spending and maintained the second lowest tax rate in the entire state. By realigning county law enforcement we are making our communities safer while saving taxing taxpayers more than $200 million over 25 years."
Libertarian candidates Peter Rohrman and Demosthenes M. Backos are also running for a spot on the freeholder board.
Voters will cast ballots for freeholder during the November 8 general election.