COLTS NECK, N.J. – Despite heavy rain and blustery winds, the Monmouth County Republican Committee headquarters was buzzing with action on Tuesday morning as state Senator Jennifer Beck (R-11) made her official announcement that she will be pursing re-election to her position in 2017.
"I am humbled by all of you coming out today," Beck told supporters. "We have a lot of work ahead. We have made some progress on issues of affordability… but we have more ahead. The property tax issue continues to plague people."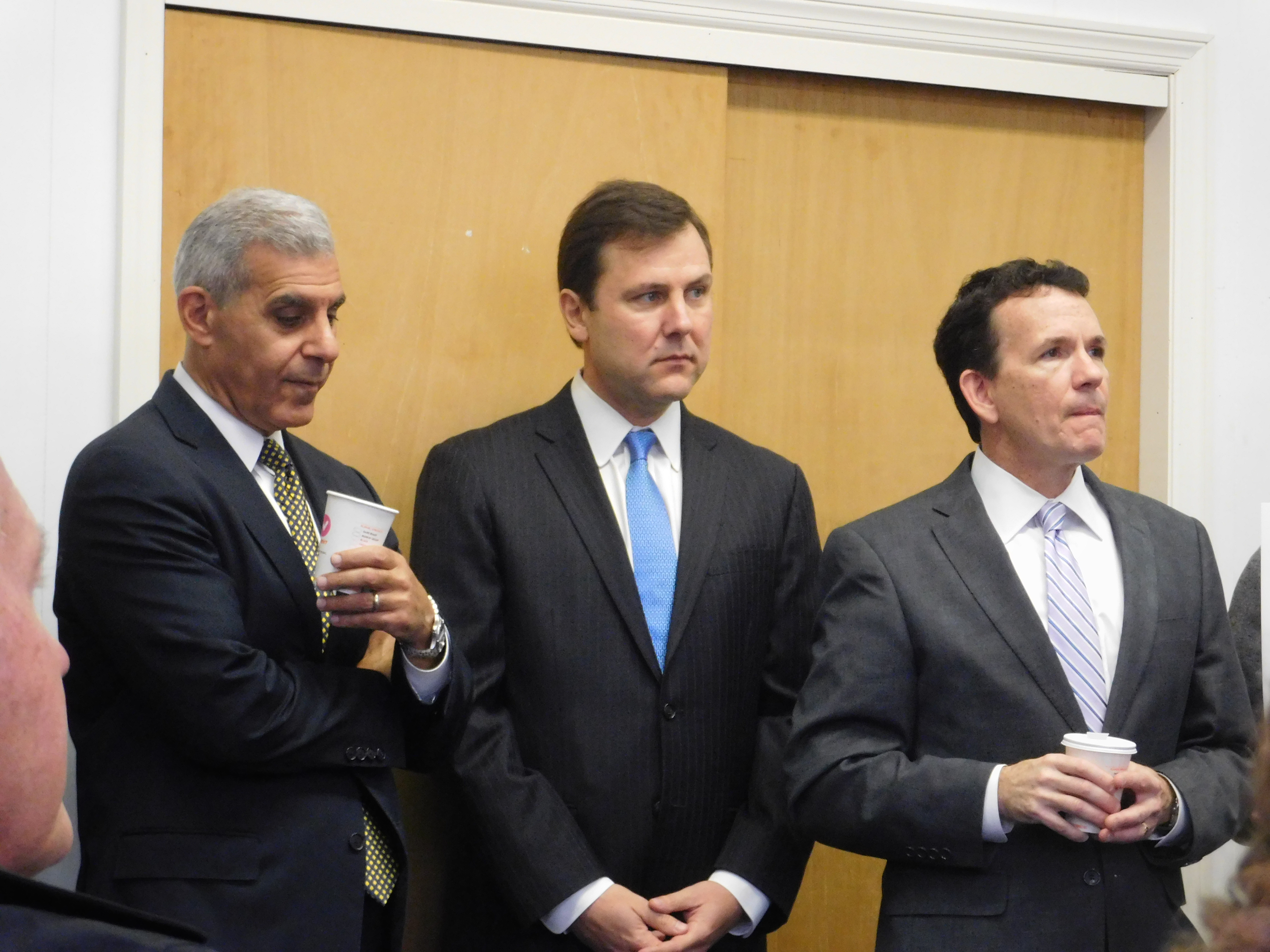 Notable attendees included state Senate Minority Leader Tom Kean, Jr. (R-21), state Senator Joe Kyrillos (R-13), Assemblyman Declan O'Scanlon (R-13), Monmouth County GOP Chairman Shaun Golden, local mayors and county freeholders.
During the November 2015 election, Beck's district lost two assembly seats when then incumbent Republicans Caroline Casagrande and Mary Pat Angelini lost to Democrats Joann Downey and Eric Houghtaling. During her Tuesday announcement, Beck said that neither Casagrande or Angelini were interested in running to win back those seats and that the current focus was on finding strong new candidates.
"We have a number of people who have come forward. We don't have any formal announcement to make today, that will take place over the next couple of months," Beck said about potential running mates. She said that she is confident in her ability to lead a team to victory, citing long-odd wins in previous years and record of winning in her district despite being outspent by her competition.
According to the senator, her decision to announce candidacy early came from a desire to interface with as many voters as possible and help inform them of the issues facing legislative district 11. She said that her main focus is on reducing cost and mentioned issues like changing the current school funding formula, investing in schools, helping senior citizens remain in their homes and securing resources to help communities revitalize.
Beck also said that, while New Jersey Governor Chris Christie may potentially play a factor in the 2017 race, she believes voters can look past whatever they feel about the governor or other elected officials. She said she has been an "independent voice" on a number of issues including fracking that have put her at odds with the governor and her peers at times.
"We overcome differences in party by being better communicators and I have always had the support of Democrats," Beck said of voters. "I am driven to do what is right by the people of Monmouth County."
The upcoming senate election will be held in November 2017 and will coincide with the election of New Jersey's next governor.
Update –Following the publication of this article, Monmouth Democratic Chairman Vin Gopal issued the following response to Beck's announcement:
"Career politician Senator Beck has been a creature of Trenton for nearly twenty years as a legislator. For the past seven years, she has been a fierce ally of Governor Christie, serving on his campaign team even when he ran for President. After twenty years in Trenton, Senator Beck has a record that flip flops on nearly every issue. She even flip flopped on equal pay for women, being only one of four senators to vote against it. She also flip-flopped on commonsense gun violence reform. Senator Beck also voted against marriage equality and then flipped support for it after the cause garnered popularity. We can go on and on, vote by vote.
It is clear, after twenty years in Trenton – Jen Beck is only worried about doing what is best for her political career and her record shows it."