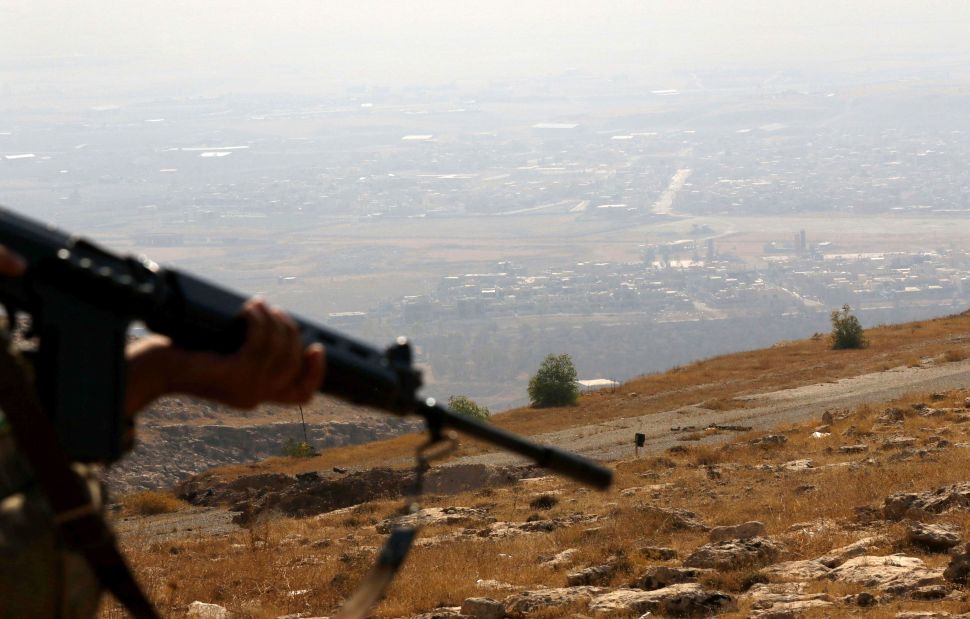 The Islamic State released their voting guide the weekend before Election Day—and it tells more about their angst than anything.
The inevitable threats included in the text, a seven-page PDF presented in their glossy magazine style, garnered the most headlines—not surprising considering reports that al-Qaeda may have been planning an attack to coincide with the U.S. vote.
"We have come to slaughter you and smash your ballot boxes," the ISIS piece read, adding that since "voters are directly involved in the decision-making process by choosing delegates to represent them and their whims executively, judicially, and legislatively, the blood of Crusader voters is even more deserving of being spilled than the blood of Crusader combatants."
That includes women, they reasoned, because females are "no longer mere wives serving Crusader husbands and raising cross-worshiping children" but are active in the political process and running for office.
Much of their guide, titled "The Murtadd Vote" to focus on Muslims seen as apostates, warned American Muslims against casting their ballots, heavily citing Quranic verse to assert that the democratic process was wholly incompatible with Islam. They held out special chagrin for the estimates as high as 80 percent of Muslims who voted for George W. Bush in 2000, and declared the Muslim voter one "whose blood is obligatory to spill unless he repents."
If our constitutional principles reach too many ears and hearts, a base is being solidified against theocratic rule—the only way their state can exist.
And they analyzed the candidates, as well, calling Hillary Clinton a "female feminist" who could never rule because of her gender—guess they have a problem with women Muslim leaders such as Bangladesh Prime Minister Sheikh Hasina, Mauritius President Ameenah Gurib-Fakim and former Kosovo President Atifete Jahjaga – and noted Donald Trump is "impulsive and unpredictable." Trump's Muslim ban proposal, they stressed, isn't a good enough reason to breach their voting ban, insisting that a Muslim voter abstain "even if he fears that the victory of one candidate or nominee will lead to the deportation and abuse of Muslims." ISIS is unopposed to such a ban in principle, anyway, for hope that it would lead to a recruitment boom.
In one passage, the ISIS article slammed Clinton for viewing American Islam as "a project that can be projected to other countries, thereby leading more Muslims astray towards apostasy."
And there is the crux of ISIS' fears.
This voting guide, cursory threats contained within aside, underscores why – regardless of the candidates—they are afraid of our system more than even conventional weapons. If our constitutional principles reach too many ears and hearts, a base is being solidified against theocratic rule—the only way their state can exist. If Arab youths rally against dictators out of a hunger for democracy, ISIS is out of luck. If women in Afghanistan line up for blocks to vote and run for seats in parliament, and both genders like the work that their female legislator does for their district, ISIS' subjugation doctrine takes a hit. They're scared because they saw an opportunity in Libya to replace the dictator with their Sharia tyranny, and even though the post-Gadhafi political process currently resembles "Game of Thrones," Libyan factions pulled together to throw ISIS out of Sirte.
Frankly, if ISIS tried to win at the ballot box, they'd end up having one of those sad election night parties where supporters slowly drift away as the blowout is announced and deflated celebratory balloons litter the floor.
This American fear is especially interesting coming from a terror group whose own videos have featured brands like Pepsi, Nike and Kia—and a terror group that has advertised Western creature comforts in order to lure foreign jihadists. But the American influence they so fear is a society where Muslims live peacefully among many different faiths, embrace entrepreneurship and serve a diverse customer base, embrace education and, most importantly, have the freedom to practice Islam as loosely as they wish.
This is one of the greatest threats to Islamic terrorism—the values of liberty and equality, put into action at the ballot box. ISIS videos are full of jihadists telling people how to live, punishing them for trimming beards or not covering up. ISIS' summary executions have been a bedrock of their reign of terror, including beheading a Syrian magician for performing tricks for children. Power is never with the people in ISIS rule.
Every election day, then, is a chance to do something tangible to fight ISIS. Muslim voters have a special role: incurring the wrath of terrorists while showing they choose democracy over theocracy.
Disclosure: Donald Trump is the father-in-law of Jared Kushner, the publisher of Observer Media.
Bridget Johnson is a Senior fellow with the news and public policy group, Haym Salomon Center and D.C. bureau chief for PJ Media.