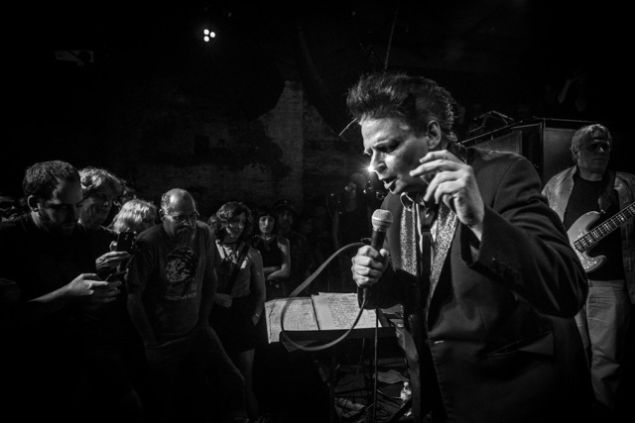 James Chance vividly remembers the first night he spent in New York, 41 years ago.
"I was staying at a place on MacDougal Street," he said. "I started walking east down Bleecker Street until I ran into CBGB. The Shirts were playing that night, a band I wasn't interested in. So I went on to Avenue B and Third Street where there was a concert with Lester Bowie and Charles 'Bobo' Shaw. I stood outside and the landscape was totally bombed out. There was rubble everywhere but I didn't feel this sense of looming danger. I felt comfortable. I knew this was a place where you could find something great."
You could also make something great, which Chance soon did, and the history of music was never the same.
In this scorched-Earth stretch of '70s New York, Chance created a style that defined a key part of this city's golden era of live bands (1974 to 1982). His unique calibration of punk, funk and jazz helped birth the "no wave" movement, abetted by acts like DNA, Mars and Teenage Jesus and the Jerks. Their balls-out cluster of styles still has the power to jar and excite more than four decades after their birth.
Chance has remained loyal to that sound, though his home country has largely ignored it. The Milwaukee-born musician hasn't had an album released in America for 34 years, while other countries have issued a steady stream of them.
The American drought finally ends this Friday when the New York-based label True Groove Records releases The Flesh Is Weak. It's Chance's first Stateside-release since Sax Maniac back in 1982, as well as the first album in this country recorded under the name James Chance and The Contortions since that band's seminal, 1979 debut, Buy The Contortions.
"I've got material I had been saving up for years," said the 63-year-old saxophonist. "I just wanted to get it finally heard here."
The pent-up desire shows from the first sound on the album—a witty blast of Casio organ that kicks you in the face. It's underscored by rhythms as disruptive as they are danceable. A mix of originals and covers, Flesh idealizes the bright and blaring Contortions assault, though none of the original players from that band, save Chance, appear on the record.
[youtube https://www.youtube.com/watch?v=ps9F0LWe8FA&w=560&h=315]
Which begs an existential question: What, exactly, constitutes a Contortions album? "It's a Contortions album if I say it's a Contortions album," Chance said.
In fact, the musician has performed occasional live shows with members of the original group over the years. But, he said, "They're not into doing new material and I wanted to establish the band that plays on the album because I think they're great."
Chance has been performing with some of them since the '80s. Tenor saxophonist Robert Aaron appeared on Sax Maniac, while drummer Richard Dworkin has been backing Chance since 1985. The new album came about largely through the efforts of the band's guitarist, Tomas Doncker, who played with Chance in the 1980 movie Downtown 81. That historic flick starred Jean-Michel Basquiat, and featured music from Lydia Lunch, Lounge Lizards, Suicide, Chance and more.
Chance and Doncker had fallen out of touch for a spell but they reconnected a few years ago. By that time, the guitarist had his own label, the funk-leaning True Groove. He signed Chance and co-produced the album.
They recorded it at Bill Laswell's studio in West Orange, N.J., a huge barn of a place originally built for The Four Seasons. "It's not the kind of place you see these days," Chance said. "You could get a symphony orchestra in there. A lot of people record their albums at home these days but I need a real studio. I want the feel of a band playing together at the same time."
Many of the songs they cut have been percolating for years.
[youtube https://www.youtube.com/watch?v=bwuWGUZK95A&w=560&h=315]
"Melt Yourself Down" appeared on an album that only came out in Japan in the late '80s. Chance revived that song a few years ago after discovering that a British funk band (with Middle Eastern flourishes!) took its name from the piece. The new album also boasts a cover of the Gil-Scott Heron touchstone "Home is Where The Hatred Is," which Chance has been performing live since the '80s.
"The version that grabbed me was the one by Esther Phillips," Chance said. "I read that when she first heard the song she said, 'the guy who wrote this must be a dope fiend.' She made a bet with one of her musicians that he was. But it turned out he wasn't at that time. So she lost the bet."
There's also a take on "That's Life" (made famous by Frank Sinatra), but twisted with a latin beat, plus a run at the lounge standard, "I Who Have Nothing." "I love really melodramatic songs, even to the realm of absurdity," Chance said of the latter number.
The album touches on all in the sounds in Chance's canon, from the sensitive to the panicked. It's an approach not that far removed from the one he patented upon arriving in the city at age 23, after dropping out from the Wisconsin Conservatory of Music. Growing up, Chance played piano. He switched to sax just a few years before coming to New York. To create his honking style, he drew inspiration from Albert Ayler, as well as Fela, Maceo Parker and Junior Walker, as well as '40s-era players like Illinois Jacquet and Earl Bostic.
[youtube https://www.youtube.com/watch?v=uCI24Lt9aNQ&w=560&h=315]
When Chance arrived in New York, he found himself intrigued by both the punk scene and the emerging "jazz-loft" world. Initially, the latter movement had far less interest in him. "The audience in the loft scene were aging white male intellectual hippies," Chance said. "My whole attitude was coming from rock 'n' roll. They couldn't relate to me at all and I didn't want them anyway. I loved the music but hated the audience."
The musicians on the scene were far more open to him. "They knew jazz but they also had experience playing with rhythm and blues and soul groups when they were teenagers," Chance said.
When he formed The Contortions in '77 their approach shrunk the divide between punk and jazz. "Those two scenes were sharing the same little part of downtown, but they hated each other," Chance said. "But when the jazz players saw that I was making money playing these rock clubs, they all wanted to do it, too. And, for the rock 'n' roll people, it was suddenly cool to like James Brown. The hostility disappeared."
The emerging artists of no wave, like Chance, Lydia Lunch and Arto Lindsay (with DNA) aimed to go far beyond punk and new wave. "We liked the bands but we felt that they were basically conservative because they kept the same rock 'n' roll structure and chord progressions," said Chance. "We wanted something more extreme."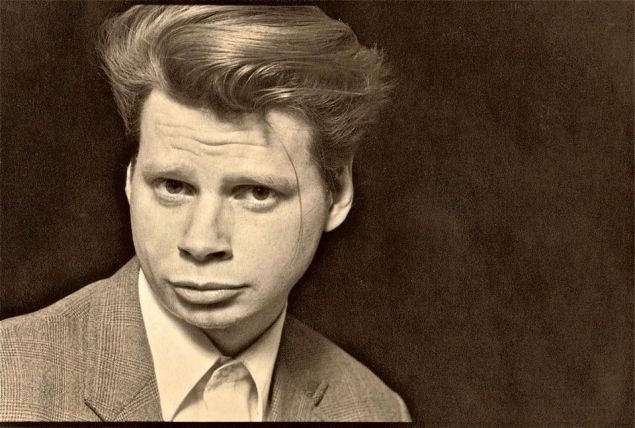 Brian Eno caught wind of the result and aimed to document it on the 1978 No New York compilation. "People always ask me what it was like being produced by the great Brian Eno," Chance said. "He didn't really produce the album in the normal sense. He just put us in the studio and told us to play. It was impossible to do any overdubs because everything bled into each other. It was like some kind of field recording of this bizarre music he had discovered in the urban jungle."
Of the bands included, The Contortions were the most accessible if only because you could dance to their sound. At the same time, Chance became notorious for his personal abrasiveness. Starting in early 1978, he would pick out passive members of the audience and physically attack them. He stopped the practice by the end of the year because "it wasn't shocking anymore," he said. "It was just schtick. Also, I started to think about the consequences for me legally, and physically, in places other than Max's Kansas City."
While the Contortions played Max's and CBs, the prime showcase for no wave became Tier 3. It was one of the first clubs to pop up in a then barely civilized Tribeca. Clubs of that ilk thrived in the city through the early '80s. A few factors killed them off, Chance believes. "The drinking age went back to 21," he said. "That had a huge effect. Also, MTV was coming in and young people started to have a whole different expectation about music. Then, the whole downtown scene, that has been mostly about music, merged with the art world in these big clubs like Area and The Palladium. Music was put in the corner."
Still, Chance played on.
[youtube https://www.youtube.com/watch?v=HoSLo9Y9z9o&w=560&h=315]
His follow-up group to The Contortions, James White and The Blacks, embraced disco without losing their free jazz panache. The band's name—which, at one point, became literal, race-wise—provided an ironic comment on what we now call "cultural appropriation." Originally, The Blacks featured the brilliant jazz man Joseph Bowie. In various incarnations, they remained a club favorite through the '80s.
By the early '90s, however, Chance found himself without work. In the middle of that decade, Henry Rollins' label reissued Chance's early albums on Ze Records, and while they stiffed him, at least the exposure got him live work. In the early aughts, Chance revived The Contortions' name and his concert career thrived in Europe, where we often performed with a band billed as "Les Contortions."
The past year has been a notable one for the veterans of the original no wave assault.
Last winter, Other People Records issued a bracing, 27-song compilation by Teenage Jesus, recorded between 1977 and '79. Around the same time, Lydia Lunch brought a new version of the group to Trans-Pecos in Bushwick for a show that spewed just as much bile and force as the old days. Next up, on November 13 old Chance ally Adele Bertei will play a show at Poisson Rouge, where she'll debut material from her upcoming album.
Chance himself plans to perform more shows in the city next year, bolstered by the band from The Flesh Is Weak. The group features some "skronk guitar," a term coined in the '70s for Arto Lindsay's fractured approach to the instrument. In conversation, Chance claimed not to know what the term skronk actually means. But the bold new music he's making proves he definitely knows how it sounds.
James Chance and The Contortions play Bowery Electric Thursday, November 9 at 7:30 p.m.