Shoe designer Tamara Mellon has not had the easiest time finding a buyer for her extravagant Upper East Side penthouse.
The Jimmy Choo co-founder first listed the stylish 7,140-square-foot condo in the Carhart Mansion in 2014, with a $34 million price tag. Two years later, the price dwindled down to the present $25 million ask. The apartment is quite beautiful, but it is still lingering on the market, and in July, Mellon tested out the rental market waters—someone with $60,000 to spare each month could reside in the five-bedroom, 6.5-bath residence.
For a currently unknown reason, Mellon seems to have decided despite the fact that no one has stepped up to the plate to move on in to 3 East 95th Street, it was time to up the rental price to a staggering $85,000 per month, fully furnished.
Not to say the palatial penthouse isn't nice—there are the 12-foot ceilings, herringbone wood floors, a sunken living room with a fireplace adorned with "exotic stone," and a staircase with a carved oak bannister, according to the listing Compass (COMP) brokers Keith Copley, Trisha Goff, and Pascual Ortiz are sharing with Corcoran broker Jeff Lorenz. Don't forget the additional wood-burning fireplace in the formal dining room, an enclosed solarium, and a chef's kitchen with a stone island, custom white liquor cabinetry, and no less than three skylights.
Mellon, who has since moved on from her position as chief creative director of Jimmy Choo to found her own shoe line, relaunched her brand last month—actually, October was rather busy for Mellon, as she also closed on an $18.36 million condo at the Greenwich Lane. Maybe she felt that with a brand relaunch, it was time for a real estate relaunch, too.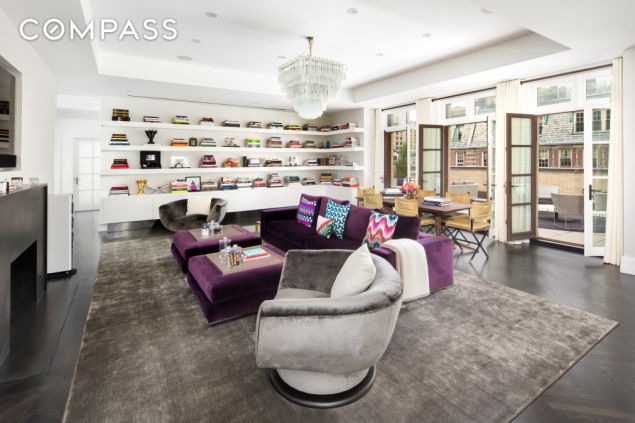 But back to the uptown duplex—after perusing the listing photos again, we're not seeing any changes that would warrant a $25,000-a-month increase, but we could be missing something…has a bidding war broken out? Are rents really this out of control? Sadly, none of these questions have been answered.
We will say that some serious closet envy occurs when looking at the master suite, which has its own fireplace and a "sensational walk-in closet." Per the photos, this is no exaggeration—the shoe collection is everything you'd expect and more. Perhaps Mellon should consider throwing in a few pairs to sweeten any potential deal. After all, if the shoe (or Upper East Side penthouse) fits…