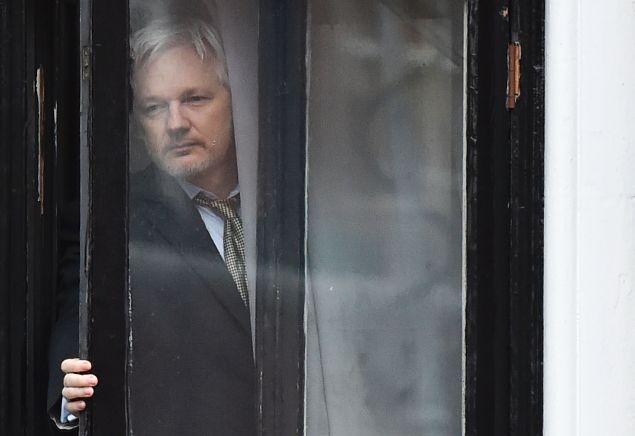 LONDON—I sit in the tiny conference room adjoined to Julian Assange's tiny living space in Ecuador embassy. I always feel a bit restless and nervous waiting for him. I worry how he's coping. I realize how difficult it must be, to be here for years every day looking at these same walls, not feeling the sunshine.
Just then the cat pops in, making me feel more at ease. He has full reign. He is on the table sniffing the muffins and rubbing up against me purring and maybe a little disappointed that everything I've brought is vegan.
Next, the big man walks in, wearing a Sea Shepherd tshirt and jeans, a bit disheveled. It's early but he manages a smile. He's got a long day ahead.
Julian Assange checks the window first.
"Hello, my dear Pamela."
He kisses me, thanks me for coming and digs in.
I usually visit for hours. But today is a day of preparation. The lawyers are on their way so we have a little less time.
It's always a tremendous learning experience, and I take notes as usual.
Julian has been vilified by the Democrats. I have close friends who are devastated and want to know why Wikileaks leaked the emails and "took the Clintons down." There were many factors, of course, but the truth is the truth. And Wikileaks is an agent of truth.
I met Julian through Vivienne Westwood, the British designer generally credited with dragging punk fashion into the mainstream (she used to make clothes for the Sex Pistols and stocked Malcolm McLaren's King's Road boutique, SEX).
Vivienne calls Assange "more punk than anyone" she has ever met. She essentially invented punk, so that's a huge compliment.
What Wikileaks does is expose corruption, war crimes and other important information.
If they receive information, they must reveal it—that's what they do. Especially before an election, the public must know everything. That's their mission, their raison d'etre. What choice did they have? Julian is a journalist and Wikileaks is a publisher.
We should be grateful.
There are laws in place. The Department of Justice must enforce those laws that protect the 1st Amendment and media workers.
I, like many others, did not see a Trump victory coming. But, now that it is here, I hope Trump puts pressure on the DOJ to protect and serve as the law states.
I worry that during the transition of power, Julian will be arrested and extradited to America. I believe (and have seen proof) that the allegations of sexual crimes are bogus and indeed a set up designed to help twist perception and make Americans and the rest of the world believe Julian is a bad guy.
He is not. The Swedish claims are bogus (this Naomi Wolf article provides a comprehensive overview). No charges have been filed and he has been kept imprisoned under circumstances that violate human rights—living in a tiny room in fear to walk outside the door of the embassy —or he will be arrested.
Julian did not endorse a candidate (though most of the GOP is grateful). So Donald Trump can actually take the credit for winning and the Democrats must take responsibility for losing. (The Democrats can also take credit for Trump winning though their own internal corruption evidenced through WikiLeaks publications).
My hope is that the world will catch up one day and understand how heroic Julian Assange is. Chelsea Manning got over 30 years in prison for treason. She's been tortured – and treated terribly. Julian is not a US citizen. So he has not committed treason.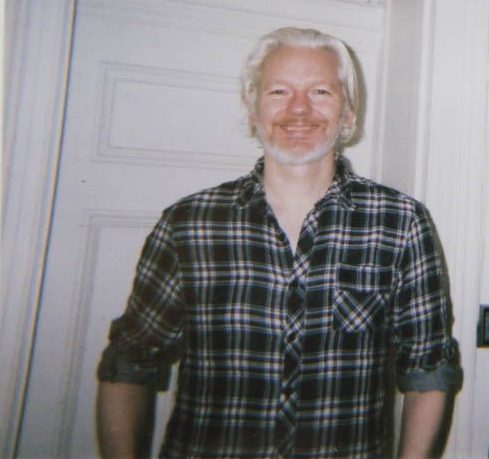 He could be pardoned even without having committed a crime, simply to ensure his safety, just as President Nixon was never charged but was still pardoned by his successor, President Ford. Assange should be pardoned and the large-scale DOJ investigation into this publisher and journalist should be dropped.
I have visited Julian a few times now. I bring him healthy vegan food and we talk about personal issues as well as politics.
I can make him smile and laugh and we enjoy our tender hugs goodbye. I have a very soft spot for Julian.
I flew to London to see him and to show my continued support. He is a brilliant human being.
I have visited Julian a few times now. I bring him healthy vegan food and we talk about personal issues as well as politics.
This time I brought chia seed vegan puddings, vegan muffins – fruit, fresh juice and almond milk cappuccinos. Something healthy while he prepares for variations of the worst. He hasn't slept well a it's hard not to know what will happen next. He is under tremendous stress and uncertainty.
Julian is not alone. He is a figurehead who has founded and inspired a movement of capable truth seekers. But nothing will stop the truth. There is no going back. There is an expression that a lie is like holding a cork underwater.
I am a Democrat. I voted for Jill Stein. My kids voted for Hillary. A progressive choice for their first vote and introduction to politics.
I was very proud that they made that choice. They could not vote for a man that behaved in such ways. It's not who they are, or who they wish to emulate.
But Donald Trump can redeem himself. I'm sure he wants to be a great president. He will hopefully surround himself with strong, intelligent and conscious people.
Maybe Ivanka can play a role for women, and maybe his sons and son-in-law can take meetings with progressive ecologists (and stop trophy hunting).
But for the record, Julian is on the side of the people. He is not an enemy of America.
We cannot deny that this is a shake up. People are not putting up with business as usual.
Hollywood has no power to change this narrative.
I am an advocate of women's safety. I am also the mother of two boys who must be extremely careful in this age of sex apps, availability and people who don't respect themselves wanting to be famous.
So I know a bit about how it feels to be accused by those seeking to slime you with lurid tales.
It's time to stop talking about the election and shift our focus to saving the world. I never thought I'd say this but Trump could be a real hero here, a champion for human rights and press freedom.
You must make this important. Become an activist. Use less plastic or chose green energy or eat less meat—there are things we can do as individuals to engage in the world.
Being an activist is bold. It's sexy. Well-informed self regulation is sexy. This is the time to act sensually, honestly and with fidelity and loyalty.
Go Trump. You have a lot of work ahead of you. If you need any help, call me.
Pamela Anderson is an actor, activist and mother. She is working on a new book,  WHITE HOT SEX: Igniting a Sensual Revolution by Rediscovering the Erotic Mind.