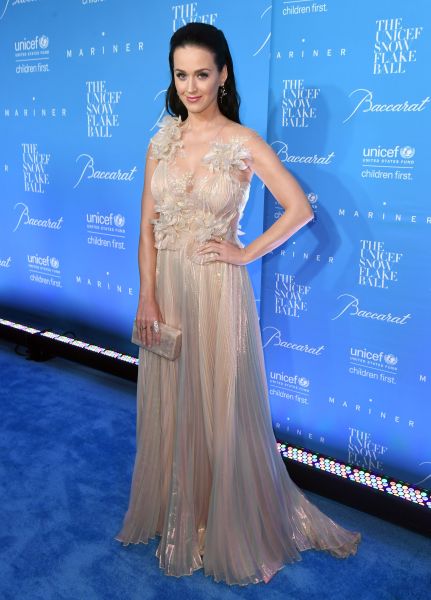 The dictionary definition of ethereal is "extremely delicate and light in a way that seems too perfect for this world." Which, some might argue, is also a fitting description for both Katy Perry and Jennifer Lawrence. Perhaps not so coincidentally, the starlets lived up to their otherworldly reputations on the red carpet this week.
At last night's UNICEF Snowflake Ball, Perry selected an iridescent Marchesa frock (which we predicted would be worn on a red carpet), that had a delightful splash of pastel undertones and a ton of intricate pleating. Actually, it kind of reminds us of the unicorn emoji, in all of its magical splendor. Perry was collecting an award from the nonprofit; they were honoring the longtime ambassador and the astonishing $1 million she raised on its behalf during her recent tour.
However beautiful Perry's dress was, it may have been overshadowed by Hillary Clinton's surprise appearance; she was attended the award ceremony to present the singer with her honor. "We need champions like Katy now more than ever: her passion, her energy and, yes, her voice, louder than a lion," Clinton said in her speech, which caused Perry to visibly tear up. It was fitting that the 32-year-old starlet donned an exquisite, flower-laden dress for such an important moment.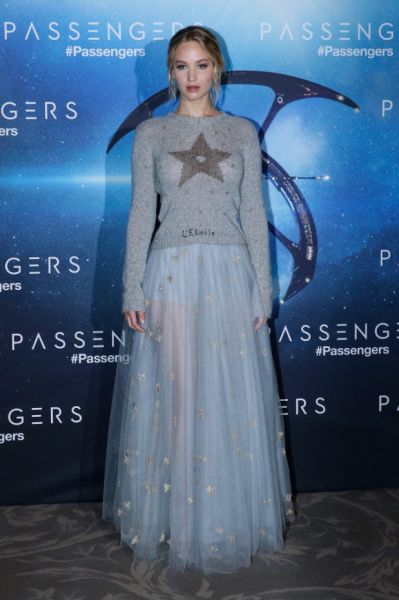 Earlier in the week, Lawrence donned a Dior knit sweater and sheer tulle skirt while promoting her latest film, Passengers, in Paris. We have to commend the actress for looking so polished while wearing such a cozy getup. In fact, she even wore a pair of knit Dior underwear, which were visible underneath her lightening bug embroidered skirt.
This outfit was pulled straight from the spring 2017 runway collection, the first designed under the tutelage of the brand's newest creative director, Maria Grazia Chiuri. Though Lawrence opted not to wear the coordinating boots from Look 55, her tousled, pulled-back locks and minimal makeup ensured that this would be a memorable (and magical) red carpet moment.