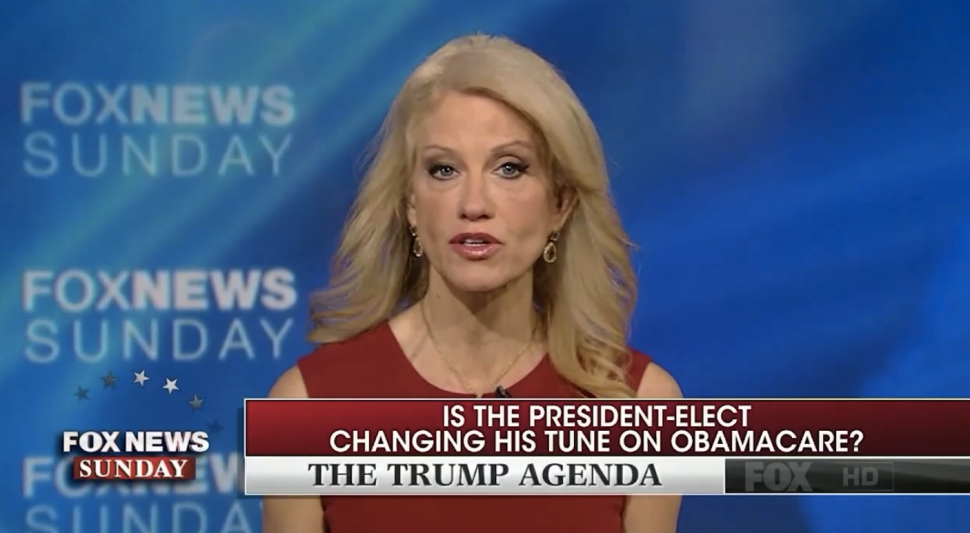 Women who want safe and legal abortions might have to go to a different state, President-elect Donald Trump said, after his version of the Supreme Court overturns Roe v. Wade.
"The judges will be pro-life," Trump said on a 60 Minutes interview that was broadcast on CBS Sunday, but was recorded on Friday. If they overturn Roe, Trump said, each state would decide on its own.
And what about the 11 million undocumented immigrants Trump pledged to deport during his successful campaign against the Democratic candidate, Hillary Clinton?
"They're terrific people," Trump told interviewer Leslie Stahl—except, of course, for the two or three million undocumented criminals, gang members and drug dealers Trump pledged to deport.
So, what about the others, those "terrific people" without legal status?
"We're going to make a determination," Trump said.
The interview was recorded before Trump named Reince Priebus his White House chief of staff and Steve Bannon his chief strategist and senior counselor.
Priebus is the chair of the Republican National Committee and is close to Congressman Paul Ryan, a fellow Wisconsinite who is Speaker of the House.
Bannon, chief executive officer of the campaign, used to run the website Breitbart, an extreme right-wing "news" source. Bannon is close to the racists and anti-Semites who fuel the web site's energy and helped give Trump's campaign its unique personality.
Trump didn't comment about these appointees on 60 Minutes, but Stahl more than once asked him about Hispanics, Muslims and African-Americans who, she said, are terrified by Trump's election last Tuesday. Many of them have been demonstrating against Trump in the streets of major American cities.
"Well, I think, in some cases, you have professional protestors," Trump said.
Stahl rejected the notion and pressed the point.
STAHL: "They're afraid."
TRUMP: "I would tell them 'Don't be afraid.'"
But Stahl persisted, telling Trump that Latinos, gays and African-Americans already are enduring public harassment from bigots who are flush with purpose after Trump won election with vicious campaign rhetoric.
"I'm very surprised to hear that," Trump said of the open slurs against minorities. "I hate to hear that . . . I am so saddened to hear that and I say 'Stop it.' If it helps, and I'll say it right to the camera, 'Stop it.'"
A viewer could be excused for yelling the same thing at the TV screen as Trump—surrounded by family members—declined to answer some questions and offered only vague replies to others.
Stahl asked him about his plan—vowed to his chanting mobs during the campaign—that he would appoint a special prosecutor to put Clinton in prison.
"I'll tell you what I'm going to do," Trump said. "I'm going to think about it."
As for health care, Trump hedged on his pledge to "repeal and replace Obamacare" immediately. He said he might urge retention of popular parts, like allowing insurance coverage for people with pre-existing conditions and allowing parents to keep their kids on their policies until age 26.
"It'll be better health care, much better, for less money," Trump said. "Not a bad combination."
He offered no details on how he planned to accomplish this. As for the giant wall he said he will build on the border with Mexico, Trump said part of it might be just a fence.
Hand me the remote . . .
THIS WEEK One of George Stephanopoulos's guests on ABC was Rudy Giuliani, the former mayor of New York who is in line for a top cabinet position under Trump. He was asked about a special prosecutor for Clinton.
"You don't want to disrupt the nation by what might look like a vindictive prosecution," Giuliani said. "I guess the next Attorney General is going to have to figure that out. I don't know if that'll be me or not."
Giuliani repeated the Trump line that some of the protestors in the streets were "professional." Back when he was mayor, Giuliani said, he would not let them block the streets the way they have done in recent nights.
"They didn't look to me like people who were carefully studying political science," Giuliani said.
Another guest was Keith Ellison, the Democratic Congressman from Minnesota who is a candidate for chair of the Democratic National Committee.
'The Klan won? That might have played in a TV drama… Aren't liberals supposed to support tolerance and unity?'
Stephanopoulos showed a video clip from July, 2015, in which Ellison said of Trump "We'd better be ready for the fact that he might be leading the Republican ticket." When this produced laughter from other This Week guests that day, Stephanopoulos said "I know you don't believe that."
Ellison, on tape, said he lives in a state where ex-wrestler Jesse Ventura became governor.
"I'm telling you," Ellison said, 16 months ago, "stranger things have happened."
In Sunday's interview, Ellison said "Donald Trump picked on people's fears, their anxieties and he gave them somebody to blame."
"We oppose his misogyny," Ellison said of Trump. "We oppose his picking on people of different ethnic and religious groups."
One of the pundits on the panel was Van Jones, a Democrat, who noticed the danger in Trump's plans to radically change health care.
"If Trump throws 20 million people off health care, that's a huge advantage in the mid-term for us," Jones said.
When Jones talked about Trump's racial divisiveness, he was scolded by the Republican Mary Matalin.
MATALIN: "You should not be a racial polemicist. You should be a racial reconciler."
JONES: "You should be ashamed of yourself for attempting to say that to my face."
Jones added that there are going to be "big problems in this country" if an African-American man like him "can't point out the alt-right whitelash reaction without being accused of being a racial polemicist."
FOX NEWS SUNDAY Kellyanne Conway, Trump's campaign manager and chief spokesperson, was the first guest of Fox host Chris Wallace.
She spoke of Trump's desire to change everything about the "rigged" American political system.
"The gravy train is about to have its wheels blown off and its engine completely ripped from its bearings," she said.
As for all those protestors in the streets, Conway said "Many of them professional and paid, by the way—I'm sure." She offered no proof. Conway said the demonstrators were "booing us, they're spitting on us, they're causing all kinds of havoc" around Trump Tower in Manhattan.
When she was reminded that Democratic Sen. Harry Reid of Nevada called Trump "a sexual predator who lost the popular vote and fueled his campaign with bigotry and hate," Kelly took on an ominous tone, suggesting Reid "be very careful about the way you characterize somebody."
On the pundit panel, Julie Pace of the Associated Press reflected on Clinton's losses in the Rust Belt of the Great Lakes states, including Wisconsin.
She said former President Bill Clinton suggested to his wife's campaign staffers that they should show more interest in that region but that he was "laughed at and ridiculed" by them.
MEET THE PRESS Making the rounds, Conway visited Chuck Todd's show on NBC and boasted about the "undercover Trump voters" who didn't show up in the pre-election polling but showed up at the voting booths.
"We tried to talk about (them) for months under a hail of ridicule," she said.
The star of the show was New Jersey Democratic Sen. Corey Booker, who acted as if he might stand up to Trump after the January inauguration.
"People are so fearful," Booker said. "We elected someone who spewed so much Twitter-troll-like bile and hate and bigotry that I had people littering erupting in tears . . . I have deep concern about the future of our country . . . If he governs the way he campaigned, it will be a disastrous presidency."
Ellison, who came on after Booker, added that Trump is "the most outrageous person ever to win a presidential election."
Katty Kay of the BBC offered a European perspective.
"Which right turn is America about to take?" she asked. "Is it about to take a Reagan-style turn where we slash regulations, slash taxes, have a fiscal stimulation program and there is job growth? That's one option. Or, is it going to be a nativist-populist right turn which adopts some of the anti-immigrant tone, anti-race tone of some of the groups we've seen in Europe?"
Kay said one of Trump's first congratulatory phone calls came from Marine Le Pen of France, the head of a right-wing movement that Kay called an "anti-Muslim, anti-Islam, xenophobic group."
Todd's producers showed a morning Trump Tweet that said "Wow, the NYTimes is losing thousands of subscribers because of their very poor and highly inaccurate coverage of the Trump phenomena."
Responding to this, conservative columnist David Brooks of the Times said "You know, the guy is animus-driven. I mean, he wakes up in the morning to get in fights with people. That's been true since the 1980s and I'm not sure that's going to change. How often does a 70-year-old egomaniac change?"
FACE THE NATION In that Trump buddy Newt Gingrich (R-Fox) is a candidate for a cabinet position, he visited with host John Dickerson on CBS and urged Trump to "swing for the fences" at the start of his administration in dangerous Washington.
"This is a city in which, if you don't shove it as hard as you can while you have momentum, will just surround you," Gingrich said. "The swamp doesn't want to be drained. The swamp will just suck you in if you let it."
Another guest was Bernie Sanders, the Vermont senator who lost the presidential nomination to Clinton in the Democratic primaries.
He said much about Trump, including:
"What astounds me—and I hope this changes very quickly—is we now have a President-elect who actually does not believe that climate change is real. I worry very much what this means for our kids and our grandchildren and the future of this planet."
On the pundit panel, Michael Gerson of The Washington Post spoke of the misgivings people have about Trump.
"It's hard when the worst people in the country are cheering the people with the Confederate flags, the people who do anti-Semitism on Twitter," he said. "That's difficult for a lot of people in this country."
Jeffrey Goldberg of The Atlantic said of Trump "We're talking about somebody with a record of misogyny and racist invective."
STATE OF THE UNION Jake Tapper's guest on CNN was Ryan, who distanced himself from Trump during the campaign but now clings to him like a cocker spaniel.
Tapper asked Ryan "Is there going to be mass deportation or not? There are millions of people who are very worried about this."
"Sure, sure," Ryan responded. "I think we should put people's minds at ease. That is not what our focus is  . . . We are not planning on erecting a deportation force."
As for Trump's threat to put large tariffs on goods made in other nations, free-trader Ryan said "There's a better way . . .  not tariffs, not trade wars."
Michael Moore, the documentary filmmaker who has shown up at the New York demonstrations, supported Ellison for head of the DNC. Moore urged a "clean sweep" of the Democratic party leadership.
"That is the future," Moore said of Ellison, who is a Muslim African-American. "All white people need to be concerned about how afraid Muslims, African-Americans and Hispanics are right now. I worry about what's ahead."
MEDIA BUZZ On the Fox show, host Howard Kurtz showed a full-screen quote from the screenwriter Aaron Sorkin, from a public letter to his wife and daughter published in Vanity Fair.
"This is truly horrible," Sorkin wrote of Trump's election. "The first time a thoroughly incompetent pig with dangerous ideas, a serious psychiatric disorder, no knowledge of the world and no curiosity to learn, has won. And it wasn't just Donald Trump who won. It was his supporters, too. The Klan won last night. White nationalists, sexists, racists and buffoons."
Kurtz seemed to take offense.
"The Klan won?" Kurtz said. "That might have played in a TV drama, but as a letter, it just seemed angry and overwrought. Aren't liberals supposed to support tolerance and unity?"
RELIABLE SOURCES One of Brian Stelter's guests on CNN was Mollie Hemingway of the conservative site "The Federalist." She said President Obama spent much of his presidency attacking Fox News.
"He did not spend much of his presidency attacking Fox News," Stelter said. "He occasionally pointed out what he believed was unfair coverage from Fox News."
Hemingway wasn't about to accept that.
"OK, she said. "I guess what maybe you need to realize is that for a lot of people who don't share your political opinions, that's what it feels like." (Yes, the response was nonsensical).
She wasn't done.
"The New York Times completely crapped the bed this cycle," she said. "They should be apologizing for the way they covered it . . . This is a joke."
Another guest, Dan Rather, mused about presidents who try to use the press as a foil.
"Those presidencies don't turn out very well," said Rather, who covered Richard Nixon for CBS during the Watergate scandal.
Disclosure: Donald Trump is the father-in-law of Jared Kushner, the publisher of Observer Media.