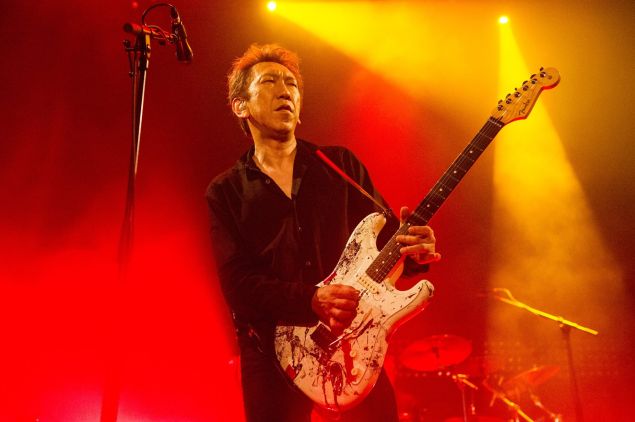 You might not know Tomoyasu Hotei's name, but you almost certainly know his music.
The 54-year-old guitarist is sitting in the foyer of a fancy Manhattan hotel ahead of his second ever New York concert, his translator by his side. Guests, tourists and staff walk by as he drinks his coffee, oblivious to the fact that back in his native Japan, Hotei is something of a living legend.
His first band, Boøwy, formed in 1981 and, with their 1986 full-length, Beat Emotion, became the first Japanese band to sell over a million copies of an album. Two years later, when Boøwy broke up, Hotei began his solo career.
To date, he's sold more than 40 million records. Despite such huge commercial success, he remains relatively unknown outside of Japan. That, however, is something that could change with the release of Strangers, his 16th studio album and his first to be released outside of Japan.
"I had an almost 30-year career in Japan," says Hotei in almost fluent English. "Japan is a great country. It's my home. But the music industry is quite conservative because we only speak Japanese. We make music in Japanese for a Japanese audience. It's a big market, but it's still kind of domestic. And you know—I'm a guitarist. I like to travel and see different cultures in the world, so I decided this is the time to try [to expand]."
To help him bridge the cultural divide between East and West, between Japan and the English-speaking world, Hotei enlisted the help of a number of high-profile musicians and artists. Killing Joke bassist and famed producer Youth helped out with some writing and production, and guest vocalists include Bullet For My Valentine's Matt Tuck, Richard Z Kruspe from industrial rock titans Rammstein and Noko from acclaimed British electronic outfit Apollo 440.
[youtube https://www.youtube.com/watch?v=9mvSkNstigU&w=560&h=315]
"I didn't want to sing in English on my first international album," explains Hotei, who has a very astute and self-deprecating sense of humor, "because my English is awful. I wanted to concentrate on my guitar and sound design."
The most well-known and high-profile vocalist on the record, however, is Iggy Pop, who sings on two of the album's songs. While this is the first time Hotei has collaborated with the New York punk icon, it's actually not the first time the two have crossed paths.
"I thought it was impossible, because he's too big, so I still can't believe it!" he exclaims with genuine enthusiasm. "He's one of my heroes. I used to have his poster in my room as a kid, so it's very exciting. But a long time ago, I met Iggy at the Berlin airport. We had the same flight from Tokyo and I saw Iggy and was really excited. I wanted to go up and get his autograph or shake his hand, but I was too nervous, because he looks a bit scary."
"But at that time he had a Japanese wife and he walked up to me and said, 'My wife loves your music—can I have your autograph?' When this collaboration became real, I went to Miami to record his vocal and I asked if he remembered that I did a signature for his wife and he said, 'Oh! That was you!' "
Of course, as Hotei's music moves farther afield and takes in influence from different cultures, he simultaneously wants to keep true to his Japanese roots.
[youtube https://www.youtube.com/watch?v=RrDmTfzp4e4&w=560&h=315]
"I was born there," he says. "It's in my genes and that's something I can't change. It's part of my identity, and making music I have to include my identity. It'll stay forever."
While Strangers—a varied album of guitar-centered rock that veers from high-octane blasts of alternative metal to moody, more tempered atmospherics—is certainly permeated by that identity, it should serve to make international crowds much more aware of Hotei's name.
Yet his infiltration of Western culture actually began over a decade ago, in 2003, thanks to Quentin Tarantino's film Kill Bill. Few realize it, but the movie's distinctive theme tune, "Battle Without Honor Or Humanity", was written and performed by none other than Hotei. It features as a bonus track on Strangers and is, unsurprisingly, a staple of his live sets. Yet while it's undoubtedly his most famous song, few people actually realize that he's the person behind it.
Nevertheless, Tarantino's use of the track—which was originally written for the Japanese gangster movie New Battles Without Honor And Humanity (also known as Another Battle)—had a profound effect on Hotei's career, despite the fame and success he had already enjoyed in Japan.
[youtube https://www.youtube.com/watch?v=p_IgmJHnXb8&w=560&h=315]
"It changed my life," he says with a smile. "Tarantino watched the movie because he loves Japanese culture, and he contacted my office in Tokyo and I said 'Why not?!' But even though people don't know my name, I'm sure everybody has heard, one time in their life, that riff. Unfortunately, if I play the song at a festival, after my set finishes people will come up to me and say, 'I really enjoyed your Kill Bill cover.' It happens all the time!"
Less modest musicians might be galled by that lack of recognition, but not Hotei. Because while he is now certainly hoping for his international profile to rise, his previous success in Japan ensures his focus is on his music and his art.
Unlike the vast majority of Western rock guitarists, he doesn't want to be famous and he doesn't need to be recognized. In fact, he's absolutely content sitting inconspicuously in this hotel and letting the world go by without noticing him.
"There are not many people in the world who have had this kind of luck with such a phenomenon," he says with a smile, "so it doesn't matter if people don't know my name, as long as my music is well-known. That's why I enjoy living in London, because nobody knows me. I'm free. I really enjoy taking the bus or the underground and going to the park. I can't do that in Japan." He pauses for a split second, allowing his sharp sense of humor to once again come to the fore. "I'm too tall."