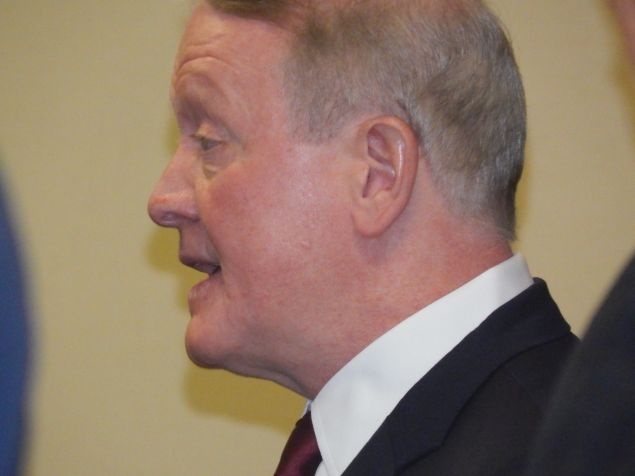 Voters in New Jersey will decide on a ballot question to determine whether funds from the state's recent gas tax hike will be constitutionally dedicated to repairing roads and bridges, and critics have been characterizing the measure as a way for lawmakers to skirt additional votes on how that money is spent. Following his fellow Republican Lieutenant Governor Kim Guadagno's lead, congressman Leonard Lance came out against the question on New Jersey 101.5 FM ahead of the vote.
"Various administrations have borrowed without voter approval. Although our constitution I thought was clear on it, the Supreme Court of NJ circumvented the constitutional provision because there were various state agencies that did the borrowing not the state treasury itself," Lance said. "And I thought that was a circumvention and so I tightened it up by a constitutional amendment that said that any state borrowing without voter approval be it by the state treasury or a authority had to go to the people first."
Though the ballot question has received less attention and less of a lobbying push than a potential constitutional amendment on expanding casino gaming beyond Atlantic City, it would throw a massive hink into Governor Chris Christie and the Democratic majorities in the legislature's plan to fund the ailing Transportation Trust Fund. The debate over how to offset the gas tax hike led to months of gridlock in Trenton, but Christie and the Democrats have been nearly unanimous in supporting the ballot question.
Guadagno's decision to oppose Christie on the question marked the first time she has publicly opposed the governor. She is pursuing the Republican nomination to be Christie's successor when he is term-limited out in 2018, along with Assemblyman Jack Ciattarelli and comedian Joe Piscopo. Assembly Minority Leader Jon Bramnick is also considering a run.
Lance is up for reelection tonight along with the rest of the state's congressional delegation, facing off against grassroots progressive Peter Jacob in the 7th congressional district. Jacob faces long odds against the congressman, who fought against the tide of high turnout for President Barack Obama in 2008 to secure his seat. Somerset County Democrats have lent their support to Jacob's campaign, with chair Peg Schaffer predicting closer margins for Lance's reelection than expected.