When Laura Jane Grace sings the entreaty, "C'mon shape shift with me / What have you got to lose," the answer is "everything," despite the bold punk posturing of the lyric that follows: "fuck it."
Grace is used to spilling her guts for an audience—the precocious punk rocker started Against Me! at 17, in 1997, when, pre-transition, she was known as Tom Gabel.
As the title of Grace's new autobiography, Tranny: Confessions of Punk Rock's Most Infamous Anarchist Sellout (Hachette Books), suggests, the journey from Tom to Laura has not been easy.
Her lyrics, especially on her band Against Me!'s 2016 album Shape Shift With Me, a record written concurrently with her book, are likewise blunt and revealing. As she sings in "Norse Truth": "Walking on broken glass while holding my breath / I wouldn't dare step on a single crack…Just because I can intellectualize it doesn't mean I feel it in my chest."
Speaking from Tempe, Ariz., prior to Against Me!'s penultimate tour date with Bad Religion, Grace reflects on the similarities between releasing a book and a record, a career where punk rock became a painful payday, and how her literal "shape shift" caused loss, offset by the pain of gain.
"It's an interesting thing where people come up to you and say, 'I'm excited about reading your book,' and all I can think is 'I'm fucking terrified; please don't read my book! And if you do, don't talk to me about it.' "
[youtube https://www.youtube.com/watch?v=aGfgnaTnbvU&w=560&h=315]
Grace realizes that's not a response she should give to strangers, so her reply is a gracious, "'thanks, I hope you enjoy it.'"
A similar apprehension occurred when first releasing Against Me! demos and EPS—and the 2002 debut album by the Gainesville, Florida-based band, Against Me! Is Reinventing Axl Rose.
"Maybe back in the day when I was first putting out records [I was] fearful. At this point I'm a little callused to that and my confidence as a musician is stronger," she says. "But the book is more like letting someone read your diary. And you sit in your room knowing that someone read your diary. It's that kind of unguarded feeling. With music and songs, I always play around with metaphor and phrase, and in memoir I have to be more direct."
Indeed, much of the book comes from Grace's detailed journals, which she mined for three years before hooking up with Noisey editor Dan Ozzi for the final year of cutting, shaping, and honing her 303-page memoir. In a diary entry in Tranny, dated February 18, 2005, Gabel wrote, "My earliest memories are of dressing up in my mother's clothes and I am constantly reduced by the shame I feel in remembering."
Four years later: "I need to kill Tom Gabel, destroy his ego."
Though as a teen he didn't know the term "gender dysphoria," Gabel was certain he was meant to be woman, and for lack of a better term, felt "trapped in a man's body." But it took 31 years—of angst-exacerbated booze, drugs and art—for that process to begin in earnest, and when it did, in 2012, Gabel was married to a woman with a young daughter, Evelyn.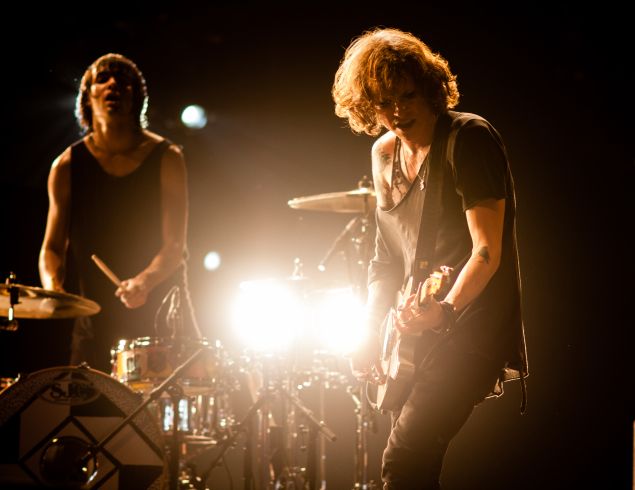 Despite the heavy personal and career risk of hormone-replacement therapy and transitioning, Gabel knew it was destiny, even with uncertain reward and results.
The ultimate decision—when he was "just a faggot in a dress with my dick tucked between my legs"—was agonizing; he was fearful of the commitment to hormones and plastic surgery. At 6-foot-2 with long brown hair and her bright blue eyes often lined in black, Grace, now 36, says her myriad tattoos and stature get more looks on the street than her changing visage, which is feminine, though low-key rather than frilly.
With the landmark album 2014's Gender Dysphoria Blues, Shape Shift With Me, and now, Tranny, Grace's own words and art about her dysphoria, coming out and transition are if not complete, very detailed, and like the auteur herself, constantly evolving.
Completing Tranny took a lot out of her, she says. "I've been surprised; I've been exhausted by the process." When finished, "once you read through the finished thing, you have this realization that, for me, kind of broke me down emotionally," Grace observes. "There's a lot of ugly things there and there's a lot of things that I'm proud of, but I've got to kind of own that now and hopefully learn from that."
If the book, which ends in about 2014 with (spoiler alert!) her divorce, a supportive new community of trans and gender queer fans, and the acceptance of her daughter, has a happy ending, it also marks a new beginning.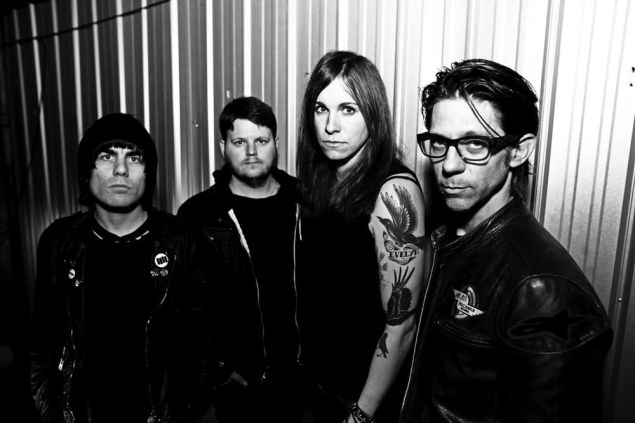 And maybe even some questions have been definitively answered. "Like, O.K., I don't have to keep coming back to these things anymore; that's the past and I've got to accept that; there's a certain amount of catharsis in that," she says. "At one point it became: 'if anybody's getting thrown under the bus here, it's me.' I accept as much responsibility as I possibly can for anything that went wrong, and any time I could possibly be perceived as an asshole, and I potentially was."
Although Grace read a lot of rock biographies, she became a literary autodidact thanks to a 2008 New Year's resolution to read 12 classic novels in 12 months. "Crime and Punishment, War and Peace, all that stuff you're supposed to read in high school that I probably didn't because I dropped out," Grace says. "I have just as much of a huge appetite for reading as I do for music, and my attitude has always been that the more input you have, the more output you have, and that goes for writing music and writing lyrics. Just having the right word, you know?"
Her favorite read was John Steinbeck's final novel, 1961's Winter of Our Discontent, and Grace considered the fact that she completed her own book while living in Oak Park, Ill., two blocks away from Ernest Hemingway's birth home, a good omen.
Writers are known for creative delay tactics, but instead of organizing drawers or falling down an internet rabbit hole, Grace wrote songs.
"Songwriting became my procrastination tool. It'd be like, 'O.K., I have a chapter due, I really should be working on this, but maybe instead I'll pick up my guitar and write a song.' Before, the songwriting was always where the pressure was, and goddammit, if I can't take the pressure I don't know what to do! So the book turned songwriting into an escape, but consequently it became the polar opposite of the book. The book is so much about reflection, rereading the past," she reiterates.
[youtube https://www.youtube.com/watch?v=f3isaRfr9aY&w=560&h=315]
"Coupling the songwriting with that, it had to be immediate. Songs had to be like, 'O.K., what am I feeling now at this very moment?' If I had a crush on someone, I was gonna write a song about it. I'm not gonna think too much about and it'll be fun and there won't be any deep meaning behind it."
That said, a stated goal for Shape Shift With Me was, she told Rolling Stone, a "commentary on living from a trans perspective. I wanted to write the transgender response to the Rolling Stones' Exile On Main St., Liz Phair's Exile In Guyville and the Streets' A Grand Don't Come For Free."
In making such a heady musical statement, is she concerned with her potential role now as a spokeswoman for the trans community?
"It's a pressure that I immediately scoff at in my mind," she replies immediately. "Any time someone hurls a label at you, or an expectation, my thought is, 'Oh, I can't wait to see what it's going to be like when I disappoint you, when I do something that doesn't fit into what your projection of what you want me to be, which I inevitably will.' It's strange growing up in the punk scene and seeing the parallels," she muses.
"Putting people on pedestals and looking for heroes is something that I've never been interested in doing. I can only be myself and say what I'm thinking and say what I'm feeling, and if people identify with that and if people resonate with that, great. If they don't, it's still true nonetheless."