It's getting hairy out there, amirite? Regarding the impending election, my anxiety levels are hovering around an 11 right now, if I'm being honest. And if you're like me, and you simply can't get into that weekend spirit because you just want it to be Wednesday, November 9 already—all votes cast, ballots counted, done and done—then you need to de-stress my friend. There's plenty going on in the art world calendar if socializing is the way you choose to cope. But, if you plan to keep things more low key and prefer to stay in (refreshing Twitter and not showering) then I've got you covered. Since you'll be glued to the interwebs anyway, here's a playlist of digital art that will help you go zen, and provide some much needed relief for your mind until next week.
Yung Jake
Yung Jake is best known for his emoji portraits of celebrities such as Justin Bieber and Pharrell and Internet-themed rap videos. His 2011 song Datamosh is excellent satire about GIFs, net art and meme culture. It also features some trippy visuals that'll get you in the groove. Take the laughs where you can folks.
Michael Bell-Smith
Michael Bell-Smith's 2011 film Art Tape: Live With/Think About takes you on a brief tour of art history, pleasantly curated to the tune of the Talking Heads' This Must Be The Place (Naive Melody). The film begins with a heady scene from a 2001 episode of Law and Order: Criminal Intent starring Vincent D'Onofrio and Kathryn Erbe. While discussing the nude portraits of Lucian Freud, Erbe quips, "You can't put that stuff in your home. You can't live with it." And D'Onofrio replies, "Well, I'm not interested in living with it. I'm interested in thinking about it." Food for thought.

Lorna Mills
Canadian artist Lorna Mills' GIF collage of a mountain sunrise, titled Mountain Light/Time, took over the electronic billboards in Times Square each night at midnight, for 30 days, last March. If you missed it, you can watch this video and pretend really hard that you're standing in Times Square being transported to a digital mountain. Remember to do the same thing before you enter the voting booth next Tuesday.
Rafaël Rozendaal
The Brazilian-Dutch artist cleverly creates public websites that screen waves of colorful gradients on a loop, which I had the pleasure of seeing on view at New York's Armory Show. Anyone can check them out online for free, but if you end up buying one you'll enter into a contract with the artist that requires you to maintain the domain address and public access to the work for the foreseeable future. (Try not too think too much about the ongoing debate surrounding the public and private sector there). He sent his Kiss GIF to us with the hopes that it might provide some much needed healing after this election is over.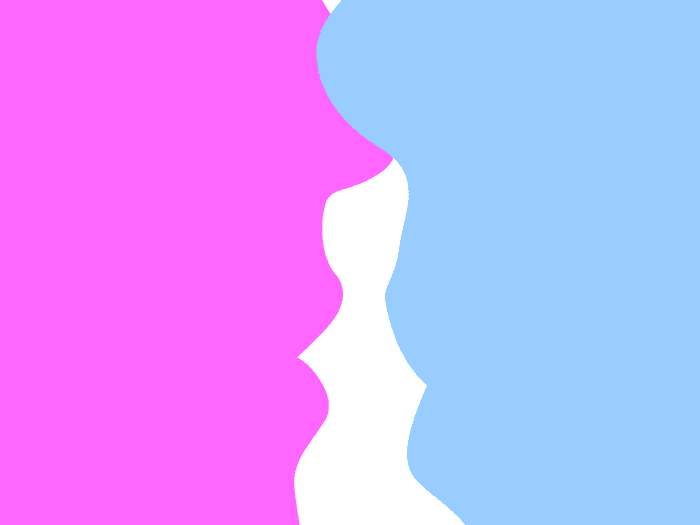 Jeremy Rotsztain
Canadian-born artist and software programmer Jeremy Rotsztain has shown his digital abstractions at New York's Cooper-Hewitt Smithsonian Design Museum, San Francisco's Yerba Buena Center for the Arts and Montreal's Festival Nouveau Cinéma. Lucky for you, it's possible to escape this political season's terrifying reality IRL and tune-in to Rotsztain's floating worlds online. Go ahead, escape for a bit.
Jacolby Satterwhite
New York-based artist Jacolby Satterwhite's film Rectifying Desire was featured in the 2014 Whitney Biennial for its breathtaking combination of performance, digital animation and science fiction-inspired imagery. The artist takes his digital avatar on a journey into another realm, where he dances, vogues and moves in ways impossible in our own world's reality. Our plane of existence isn't the only one out there, so if you're searching for an alternative I hear VR is getting pretty wild these days. (For clips check out Satterwhite's Vimeo page).
GOP Arcade (Chris Baker, Brian Moore and Mike Lacher)
JK, you thought you were going to be able to escape the suffocating anxiety of poll updates and October/November surprises?! Silly you. On Thursday, the New York Times released The Voter Suppression Trail, a traumatic, satirical interactive video game created by GOP Arcade that playfully puts users in the shoes of minority voters as they're blocked by bureaucratic inefficiencies and intimidating poll-monitors. It's really not very funny at all. Sorry, but I had to include this mention because it serves as a necessary reminder that we're living in really real times and you should under no circumstances forget that there's a lot at stake in our upcoming election. At least the game ends with a link to a website that helps voters find their polling locations. Happy voting America!