At first glance, Her Serene Highness Tatiana Desirée Prinzessin zu Fürstenberg looks more everywoman than pedigreed royalty: Dressed in soft cotton pants, shearling boots and a sweatshirt turned inside-out, she could pass for a Lower East Side regular—an artist, a mom, a neighbor. But Tatiana von Fürstenberg is a princess, albeit one marked by loss and difference: Her father, Egon von Fürstenberg, descendant of Charlemagne, and her mother, fashion legend Diane, daughter of a Holocaust survivor, married young, quickly became parents and divorced before Tatiana's second birthday.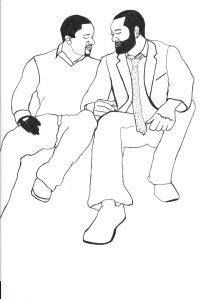 Raised primarily by her two grandmothers—Lily, who survived selections at Auschwitz, and Clara, whose husband was a friend of Hitler and the Reich—Tatiana always felt herself different, not least because she suffers from a rare muscular disorder, Brody myopathy, that limits her mobility. "My body is a kind of prison that never let me do what other kids were doing. Everything I have access to is just out of reach, because I'm in pain, all the time. I've always been an outsider."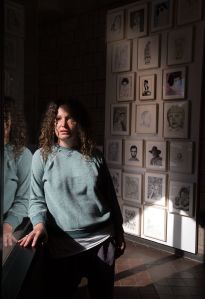 Empathy for outsiders helped inspire von Fürstenberg's circuitous, serendipitous five-year quest to mount "On the Inside," which opened this week at the Abrons Art Center at Henry Street Settlement house, through December 18: Spurred by an online pledge to do a daily "act of love" and a Gestalt workshop that underscored the power of storytelling to "connect humanity and cultivate a culture of compassion," von Fürstenberg solicited thousands of works of art created by incarcerated, LGBTQ artists—works on 8×11 copy paper, on the backs of forms, in pencil and Bic pen, the limited materials available behind bars. With the logistical support of Black and Pink, an advocacy group that works on behalf of LGBTQ inmates, von Fürstenberg gathered 4,000 submissions on paper. She purchased 3,000 with stipends going to individual artists. A small fraction, perhaps 10 percent, are on display at Abrons.
"My goal was to bring the art to a main stage, to bring forward people who are forgotten. I knew I could lubricate some visibility around that." Over nearly five years, she amassed the works that grew into the show at Abrons. Framed and mounted on backgrounds of giant murals, the images and quotations from prisoners' letters move a visitor though gallery areas and themes. Strikingly, no images show their subjects in prison garb, but clad (or not) in mufti, the costumes of life outside, beyond the walls. Von Fürstenberg was particularly struck by the abundance of portraits: "Every single person wants to make eye contact. There's no graffiti, or tattoo art, or still lives. The artists are all dealing with identity and wanting to be seen."
Von Fürstenberg maintains she'll never sell the works, and she has plans for the images beyond the show: an online gallery, a touring exhibit, perhaps, to college campuses. "College students have the most time ahead of them to effect change. And it's good for them to be humbled a bit, think about something besides their own lives."
She scoffs at potential critics of the concept. "I'm saying 'fuck you' to the hierarchy. I'm taking everyone off their pedestal. These are artists, period, who happen to be incarcerated. My goal is to show anybody who comes that we are missing out on 3 million complex, talented people," currently in U.S. prisons. "There's so much talent, so much poetry. We can't afford to lose them."
"On the Inside" will host a discussion, "Taking Action for Prisoner Justice," on Monday, November 14, 6–9 p.m., to explore strategies for moving from art to action. Details at ontheinsideart.com