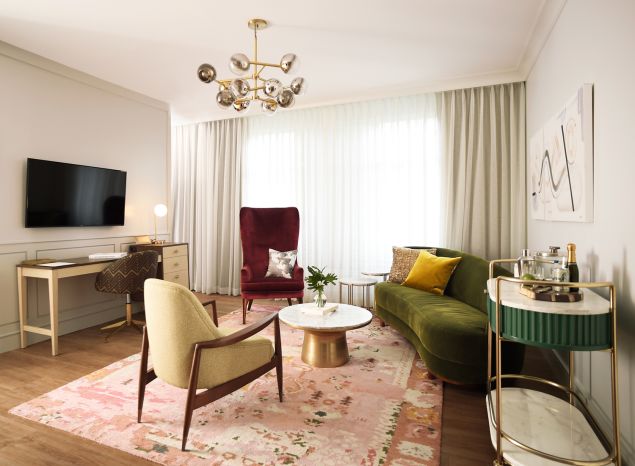 It used to be you went to the hotel gym. Now, you can go to the gym hotel.
Namely, a traveler will soon be able to check into the new Equinox at Hudson Yards. Not the fitness center. Equinox the hotel. (Even though they're the same brand.)
If you're not a gym rat, there's always Restoration Hardware, the hotel, coming to the Meatpacking District.
Or if you ever test drove a mattress at West Elm and fell asleep, that would be fine as long as you were in the West Elm hotel, also slated to open in 2018 at locations in the South and Midwest parts of the country.
There was a simpler time of hot cots and boarding house meals and cash upfront. Now when you choose a hotel, it comes with commercial strings. Cross-branding is the name of this game, and this is why product and services companies are trekking into the hotel industry.
"It's a pretty proven concept. And it works really well when you think about intrinsic value," said Jared Kelso, a senior managing director of Cushman & Wakefield's global hospitality division. "You're getting hotel branding, and you are getting branding for your clothing company, or your furniture company, or your airplane company, or your gym. Yes, from a hotel perspective, you are benefitting from the existing brand, but I think the existing brand benefits from hotels."
A lot of these hotels are hoping their brand will attract their core customers, giving them a head start as opposed to starting without a following, and the combined marketing efforts will reach new fans.
Before Equinox's plans for a hotel were reported in April 2015, the company did a study with its "hundreds of thousands of members" across its more than 80 fitness clubs worldwide about the hotel idea. The results returned a 95 percent interest in staying at an Equinox hotel.
So the team moved forward with a plan to open a chain of 50 hotels around the globe, with the first one at the 72-story mixed-use building at 35 Hudson Yards. (Developer Related Companies has stock in Equinox Holdings and is building the tower.) There the company plans a 223-key hotel, which will reportedly open by 2019 on the 15th through 29th floors of the 1,009-foot tall building. The fitness company currently operates 83 upscale clubs nationally and globally.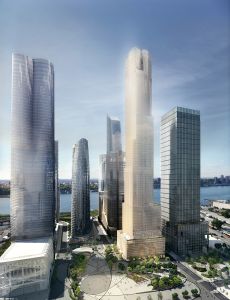 In addition to the loyal Equinox spin-class attendees, it's hoping to attract affluent clientele to match its upscale image and tapped former Four Seasons President and Chief Operating Officer Christopher Norton as chief executive officer to oversee the growth strategy and branding and Yabu Pushelberg as its interior designer.
Its hotel at Hudson Yards will feature a 60,000-square-foot flagship Equinox fitness center at the base of the building with fitness studios, a large spa and indoor and outdoor pools.
"It will be a seamless experience for guests and customers. The reality is that when you are staying at an Equinox hotel, you should feel and you will have access to the Equinox fitness experience," said Josh Wyatt, the president of Equinox's hotel business.
He added, "That is something that is the core reason d'etre for us, which is when people are traveling, they place a higher value on being fit, and they place a high value on their time. Anyone can travel to a five-star hotel and do the time and research about where to find a better gym or a better fitness club. We want to eliminate that waste of time."
But while a gym might make the transition to hotel (given how much a spa and wellness regimen is crucial to a hotel experience), brands like Restoration Hardware pose a seemingly more unusual challenge. But last year, Restoration Hardware leased the 25,000-square-foot 55 Gansevoort Street in the Meatpacking District near its headquarters at 9-19 Ninth Avenue between Little West 12th and West 13th Streets for its first boutique hotel.
The building is expected to have 14 rooms, a restaurant and a showroom space for the brand to feature its products to guests, as Crain's New York Business reported.
A spokeswoman for Restoration Hardware declined to confirm its hotel plans as the company has yet to officially announce its concept. The brokers that handled the transaction, CBRE's Paul Amrich and Barry Finkelman, declined to speak to CO.
Meanwhile, Restoration Hardware's CEO, Gary Friedman, told The Chicago Tribune last October that it is "trying to blur the lines between home and hospitality and residential and retail," when asked about a new 70,000-square-foot store in the Windy City, giving some insight into his company's plans.
The products themselves may not be a draw, but the brand's reputation could be.
"I don't think anyone is going to say, 'I want to see what this door knob looks like in my hotel room,' and that's going to cause someone to stay," said Bjorn Hanson, a clinical professor at New York University's Jonathan M. Tisch Center for Hospitality and Tourism. "But to someone who thinks, 'Restoration Hardware has really unique offerings—variety and quality—and therefore that is what I would expect of the hotel,' it will be unique."
Brooklyn-based furniture company West Elm, a subsidiary of Williams-Sonoma, is also embarking on a plan to open hotels across the country. The company has announced outposts coming to Savannah, Ga., Detroit, Minneapolis, Indianapolis and Charlotte, N.C. (New York has not yet been included in these plans.) West Elm is working with hospitality management company DDK on its hotel business. The hotels are slated to begin taking reservations in late 2018. The company, which has 93 stores internationally, is planning to open stores near or onsite at its hotels. And the interiors will be designed with West Elm furnishings.
"After 26 consecutive quarters of double-digit comparative growth, including our successful entry into the commercial furnishings market with West Elm Workspace, we've created an active bond with our customers that can extend beyond home and work," Jim Brett, the president of West Elm, said in a prepared statement in September at the time of the official launch of the hotel business. "By adapting the framework design of each hotel to reflect the mood and identity of its host city, we will continue to engage the adventurous spirit of our customers as they follow us to our next level of hospitality."
While branding is important as it helps to start a business with a customer base, it's not enough to convince travelers to put their money on a brand alone, said Larry Korman, the president of extended stay hotel chain AKA, which has five locations in the city and others around the country and in London. That's why Equinox brought in Norton from Four Season and West Elm is moving forward with DDK.
"Branding definitely matters and helps differentiate and justify a higher average daily rate, higher occupancy—assuming the individuals associate the brand with something that warrants a higher rate to them with an actual or perceived value," Korman said via email. "But just having a cool brand outside of real estate and to connect that brand's identity to a hotel is not enough. If that operator is not good and experienced at hotel operations they will not be able to achieve [high] expectations."
Product or service companies launching hotels isn't really a new trend, and history has shown that these types tend to excel.
It's difficult now to remember that the Hard Rock was a restaurant (Hard Rock Cafe) long before it was a hotel brand. Co-founder Peter Morton opened the first Hard Rock Hotel in 1995 in Las Vegas. Today, Hard Rock International, which is owned by the Seminole Tribe of Florida, commands a chain of 168 cafes, 23 hotels and 11 casinos around the globe. The company announced this June plans to open a ground-up, 445-room Hard Rock Hotel in New York with Extell Development Company at 159 West 48th Street between Avenue of the Americas and Seventh Avenue. The hotel will open in an area once known as "Music Row," which plays on Hard Rock's brand as a place that celebrates rock and roll culture and its heroes.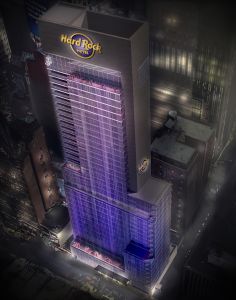 "We're both proud and eager to showcase the Hard Rock Hotels experience in New York City, a destination whose spirit and limitless energy aligns perfectly with our brand," outgoing Hard Rock CEO Hamish Dodds said in a press release in June. "With Hard Rock Hotel New York being an entirely new build project, we are able to develop a hotel with customized amenities and programming that will deliver a one-of-a-kind music experience tailored for New York City."
The 114-room Baccarat New York, a product of crystal-maker Baccarat, opened at 28 West 53rd Street in March last year. Starwood Capital Group, the parent company of Baccarat, sold the hotel to an affiliate of Sunshine Insurance Group for $230 million two months later, as was widely reported. However, the company continues to operate the hotel under Starwood Capital Group affiliate SH Group.
And Virgin, billionaire Richard Branson's conglomerate, has broken ground on a 465-room, 39-story Virgin New York hotel at 1225 Broadway between West 29th and West 30th Streets—it's second hotel ever. Virgin also has plans to open hotels in California, Texas and Tennessee. (The Virgin megastores, which used to sell music and videos, are pretty much on the ash heap of history, but the hotels are going strong.) The building is being developed by Lam Group for a 2019 opening.
And this trend is certainly not limited to the U.S.
Clothing company Armani has branded hotels in Dubai and Milano. LVMH Moet Hennessy Louis Vuitton, the parent company of Louis Vuitton, has hotels in Europe and the Caribbean. And Italian sports car maker Ferrari's plans to open a hotel in Spain were widely reported in 2014. A spokeswoman for the company, however, contradicted those reports.
"Currently, there are plans to open Ferrari Land, a Ferrari-themed amusement park with PortaAventura in Spain in 2017, but no plans to open a hotel so far," the spokeswoman said.
And while, some have predicted that the inflation of hotels rooms in New York City may be causing a hotel bubble, demand remains high. About 90 percent of the city's roughly 110,000 daily rooms were occupied each day in September, according to the latest data from STR, a hotel data and analytics company. And city tourism organization NYC & Company has forecasted that there will be 59.7 million visitors (domestic and foreign) in 2016. That's way up from 43.8 million a decade earlier.
"The demand has kept pace with the supply growth for 10 years," Kelso said. "Citywide occupancy hasn't fallen. So there continues to be demand for product in New York. And I think hoteliers are going to have to work a little harder to differentiate themselves, and I feel that brands have an interesting way to do that."
This story originally appeared in Commercial Observer.