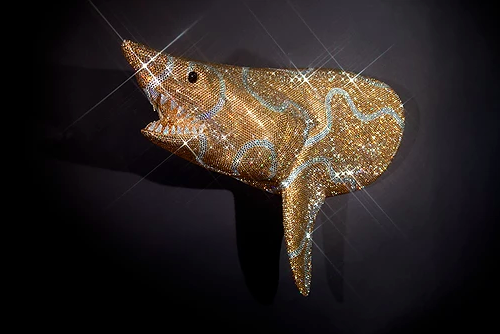 As a DJ, the disco ball is a consistently present object in my life, but as someone who is concerned about nature and the level of extinction that is faced by some species, conservancy is also something I pay attention to.
Kevin McHugh is a New York artist and a veteran of the nightlife scene. Inspired by his fishing trips with his father as a child, he developed an interest in the beauty of sea life. Kevin began creating fiberglass renditions of sailfish and sharks adorned with different materials, everything from iridescent mother of pearl and brilliant crystals to leather and lacquer.
The pieces are meant to change the way people perceive the notion of trophy fish, by transforming them into stunning works of art. Conservancy and education have always been a part of Kevin's work, and he has worked closely with not only conservation groups such as Shark Savers, but also The Billfish Foundation, the Ibiza Preservation Society, and Oceana. 
Look out for Disco Shark hanging out over the club goers in Ibiza, Coachella, and various venues in New York.
This post is from Observer Short List—an email of three favorite things from people you want to know. Sign up to receive OSL here.