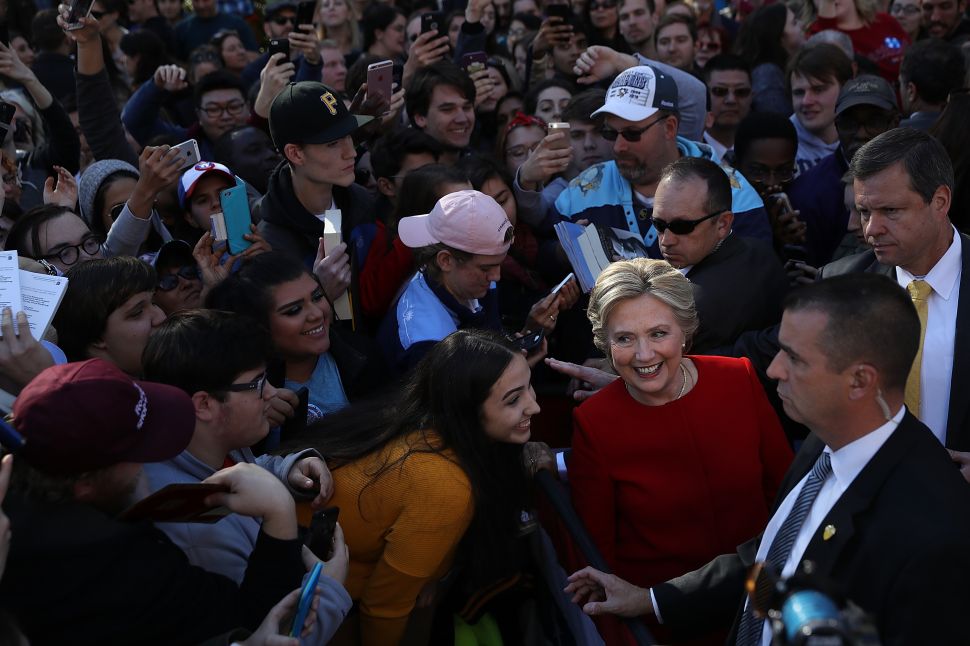 Even with the 11th hour letter from FBI Director James Comey indicating the investigation into Hillary Clinton's mishandling of classified information was back on, polls continued to show the former secretary of state leading Donald Trump.
Now Comey has concluded that the new information that led him to continue looking into Clinton's email wouldn't change his decision not to indict her, and the election is Tuesday. The polls are still close, but all but a couple outliers continue to show Clinton with a lead.
State races are a little different, especially in swing states. The Observer's Cliston Brown believes Clinton will win, but that Republicans will keep the House and keep the Senate close. Brown reported on the situation in several swing states. Some of his analysis I disagree with, as I think Trump has a better shot in some of those swing states than Brown gives him credit for, such as North Carolina.
In the Tar Heel State, early voting indicates that while more Democrats have cast ballots than Republicans, Clinton is underperforming in the state compared to President Barack Obama in 2012 while Trump is overperforming Mitt Romney's 2012 performance. Also, more than 800,000 independents voted, and last election they broke for Romney. None of this is conclusive, as party identification doesn't necessarily equal a vote for the party candidate, and Trump is no Romney—meaning independents could break for Clinton this time. Still, this state could be too close to call.
But beyond the individual states, late last week it became apparent that the Left is starting to tamper expectations of a Clinton win. Politico's Shane Goldmacher worried on Friday that the polls might be wrong.
"What if Clinton's vaunted data operation and ground game don't deliver? What if there is, in fact, a 'silent majority' of Trump fans?" he fretted. "What if Clinton's banked stash of early votes is insufficient? What if, as President Barack Obama's former campaign manager David Plouffe not so affectionately describes nervous Democrats, the 'bed-wetters' are right?"
Of course, Goldmacher wrote this before Comey announced the newly collected emails didn't change his decision of whether to indict Clinton. He has since written that Clinton is poised to "lock it up."
That doesn't change any of his earlier points, however. All those what ifs still exist even with Comey's latest announcement. Comey also made the announcement on a Sunday, 48 hours before the election. A lot of voters might not have even heard about it. The announcement also did nothing to assuage beliefs that Clinton did nothing wrong, and many will see it as yet more evidence that Clinton is above the law and able to get away with things that would end other careers.
In addition to Politico, Nate Silver of FiveThirtyEight wrote an article last Thursday claiming "Clinton's position is worse than Obama's." Silver posited that Clinton's electoral firewall was weaker than expected, and that she might lose New Hampshire. RealClearPolitics currently gives Clinton just a 0.06 percent advantage, but that's only due to an extreme outlier poll showing her up 11 points.
Couldn't Clinton win Nevada to make up for the loss of New Hampshire? Or Florida? Or North Carolina? Well … of course she could. All those states remain highly competitive," Silver wrote. "The point, as we've said before, is just that Clinton's so-called firewall is not very robust. If you're only ahead in exactly enough states to win the Electoral College, and you'd lose if any one of them gets away, that's less of a firewall and more of a rusting, chain-link fence."
Silver still gives Clinton 2-to-1 odds of winning the election but that still gives Trump a 35 percent chance. On Sunday, Silver released a new article telling readers not to ignore the polls but insisted it was a very close race.
A month ago I wrote about polls being wrong in a number of major instances over the past few years. I wouldn't be surprised if they were wrong this time around. At this point I think Clinton will end up winning, as the polls show, but it's clearly going to be much closer (maybe not electoral college-wise, but popular vote-wise) than people thought it would be.
And isn't that really embarrassing for Clinton? Even if she wins, if it's not an absolute landslide it will show, yet again, that she is so deeply unpopular that she could only barely beat the most unpopular candidate (a man the media calls a sexist, racist demagogue) in modern history. If she gets less than 50 percent of the popular vote, and Republicans keep the House and maybe the senate or only lose the senate by one or two seats, it will be hard for Clinton to argue she has a mandate.
Her foundation will still be under investigation (though some in the FBI claim it has stalled), and a majority of the American people would have voted against her. She won't have majorities in both houses of Congress, and she certainly won't have veto-proof majorities like Obama had for his first two years. Her presidency will be crippled.
Maybe the Left should be lowering expectations.
Disclosure: Donald Trump is the father-in-law of Jared Kushner, the publisher of Observer Media.