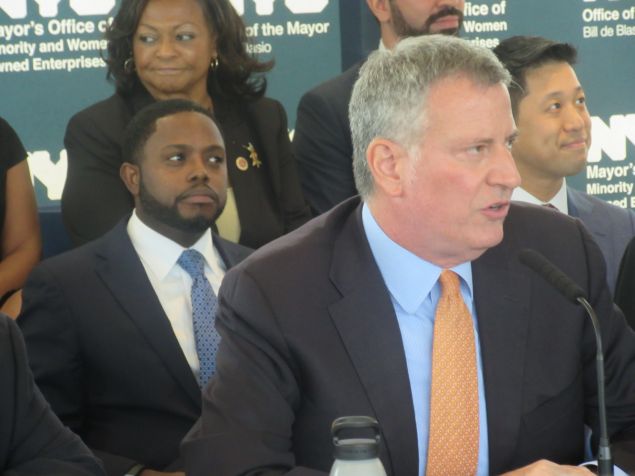 Starting next year, affordable housing developers will be required to commit at least 25 percent of costs supported by the city's Department of Housing Preservation and Development to certified minority and women-owned business enterprises—a new effort the city says aims to increase the participation of MWBEs in affordable housing development.
Beginning on Jan. 1, affordable housing developments constructed on public land valued at a minimum of $2 million or receiving at least $2 million in city subsidies will have to participate in the MWBE Design & Build program. The 25 percent requirement applies to the design and construction phase of projects subsidized by HPD.
The city's MWBE procurement requirements—Mayor Bill de Blasio recently announced a new 30 percent MWBE participation goal to bet achieved by 2021—do not apply to HPD's affordable housing projects.
"This new program will ensure that more MWBEs can expand their pipelines and build their capacity while providing quality affordable housing for New Yorkers across our city," HPD Commissioner Vicki Been said in a statement to the Observer. "We look forward to working with our many partners to strengthen the pool of M/WBEs participating in all our efforts to build a more diverse and equitable city."
All payments to certified MWBEs performing construction or offering professional services will meet the requirement. Developers who do not fulfill the stipulation but do attempt to  identify, reach out to and hire MWBE contractors—including by contacting the Department of Small Business Services and advertising opportunities widely—will be charged with a penalty in the form of liquidated damages. The penalty will be based on a number of factors, including how much of the MWBE participation goal the developer met.
The agency said it would link developers with MWBEs, share pre-qualified lists created by a variety of city agencies and hold networking activities.
Juliet Pierre-Antoine, deputy press secretary for HPD, said there were some projects and developers who went above and beyond to provide opportunities to MWBEs while some did not.
"The truth of the matter is this is a requirement, but the fundamental goal is to expand business ventures for MWBEs so we want to make sure that they meet this requirement," Pierre-Antoine said in an interview.
After HPD announced the Housing New York plan—which aims to create 80,000 below-market housing units over 10 years—it launched the Building Opportunities initiative in which it formulated a pre-qualified list of MWBE developers and issued a Request for Proposals for six development sites open exclusively to MWBEs on that list. The agency also said it is working with partners to provide professional development, networking and mentoring programs for MWBE developers through low-cost financing options.
And more than 50 firms have participated in the agency's Building Capacity Course since it launched in 2014, a course that offers gives MWBE and nonprofit developers in affordable housing development guidance on issues such as site selection, project financing, construction and property management.
The announcement comes on the heels of the release of Comptroller Scott Stringer's annual MWBE report card for fiscal year 2016. He gave the city a grade of D+ for the second year in a row, saying that out of $15.3 billion the city spent on goods and services, only 4.8 percent went to MWBEs.
But HPD was the only agency to receive an A for the second year in a row (Stringer gave the agency a D for fiscal year 2014.) 
At the end of September, de Blasio announced a new vision for the city's MWBE program. That included the appointment of Deputy Mayor of Strategic Initiatives Richard Buery as the city's new MWBE director, the new 30 percent MWBE participation goal and a new MWBE office. The mayor appointed Rev. Jonnel Doris as the city's senior MWBE adviser in July.
Buery asserted Stringer's statistics were inaccurate, and noted that the de Blasio administration awarded $697 million in contracts to MWBEs—a 52 percent increase in dollars from the previous year. Buery also said contracts went to MWBEs 14 percent of the time, compared to 8 percent the prior year and that the city is on track to meet its 30 percent goal. 
The story has been updated to clarify that the new MWBE requirement applies to the portion of the project that is supported by HPD.