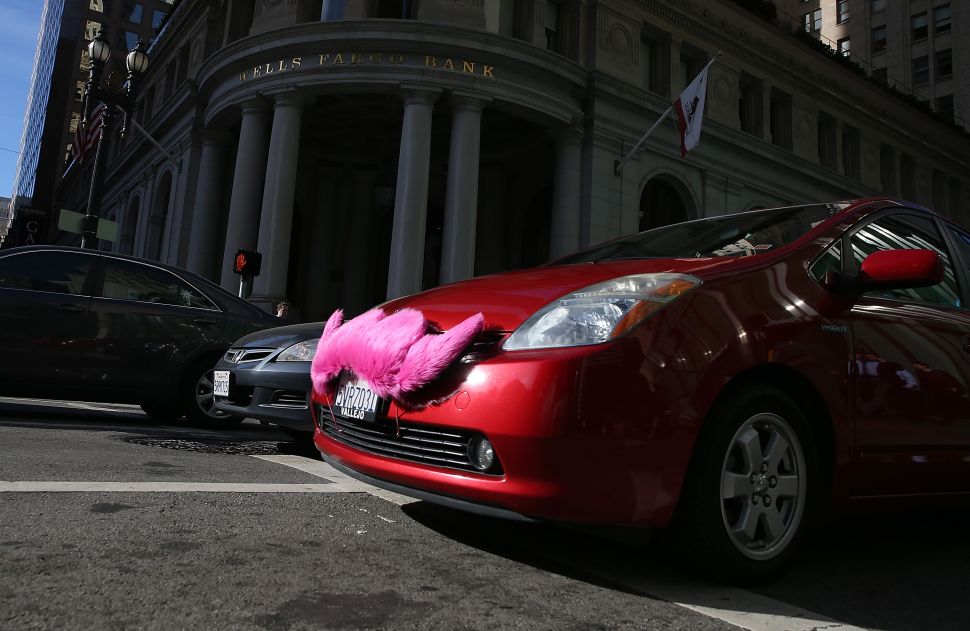 Welcome to 'Last Week Was A Beta,' our O RLY? look at the week that just went KTHXBAI!
Last week I got a message from Lyft that said that the company had important news. Woah, I thought. It's heady times for ride-hailing, right? Uber got beat in China not long ago, but man did they put up a fight. The company dusted itself off and put self-driving cars on the streets in Pittsburgh. While here in New York consumers can see the war for domination on the dash of every driver, all of whom are taking rides for more than one company. Juno's the one I see the most often. And then there's that thing with the minivans.
So I was eager to see how Lyft was gonna throw down. I got on the subway and rode it up to Midtown, then I hiked out to some cavernous building on the west edge of Manhattan. When I came into the announcement room, they had like eight of these way too cushy white chairs set out facing this projection screen built into this very thin wall. "That is a screen that can move away for a big reveal," I thought. "They are gonna move that screen and show us Lyft's new robot car that can change like a Transformer into a helicopter, right in front of us."
Not so much.
The screen did move, but instead of a car, they showed us this new lightup thingee that they are using to replace their glowing mustache (which replaced the original fuzzy ones). When a driver has one of these new thingees and pulls up to get you, it may display your name. Which is pretty much on par with dropping a billion each year to win China, as Uber did. Definitely. Go big or go home, right Lyft? Maybe there will be special Christmas tree versions next month? Uber CEO Travis Kalanick must be freaking out.
So that's how my week started.
Meanwhile the rest of the world was watching Facebook go all "Wut?" about the whole fake news controversy. In short, there were a bunch of sites making serious money from ads sitting alongside stories related to the election that were either completely made up or mostly made up, but they still struck a nerve and got shared like crazy. Could it have swung the race? We'll never know, but the narrative has given Clinton-supporters someone to be mad at and who doesn't like being mad at Zuckerberg after all?
This weekend, Zuck rolled out his plan to deal with it in a Facebook post, and it pretty much comes down to this: internet robots will fix it—maybe. The site will find ways to scrape signals that some posted source is garbage and feed that back into its software, so it can automate identifying B.S. and either kill it or warn users that a link is not trustworthy. He could have used people but the problem is he fired the best ones for that job. Whoops!
And it just so happened that as Facebook's fumbling led tech news, I found myself at a Facebook event. It didn't have anything to do with the fake news thing; it was an event about Menlo Park's various efforts to encourage social good, from emergency preparedness to giving. That didn't stop the company's hired PR team from emailing me the night before to say that I was only allowed to ask the staffer I had an interview with questions about the program he was going to speak on.
What kind of questions do you think they were worried I would ask? Hmm?
If there would have been someone from the Facebook's news engineering team there I would have liked to have asked them about that Lyft story, had I stuck around long enough to write about the new glowing name tag. Would that, I would have asked, been flagged as "fake news" or just "really not important" news?
And—in case you were getting anxious—there is a connection here.
See, Lyft wants to further this fiction that it is selling a different, friendlier, cuddlier product than its competitors, when really they are all selling the same thing: a ride.
Similarly, there's a reason Zuck got all awkward turtle over the content controversy. The truth is, his company has a lot in common with the Macedonian news manufacturers. Both the social network and the content farms have, in the end, the same business model: to hold your attention, it doesn't matter how.