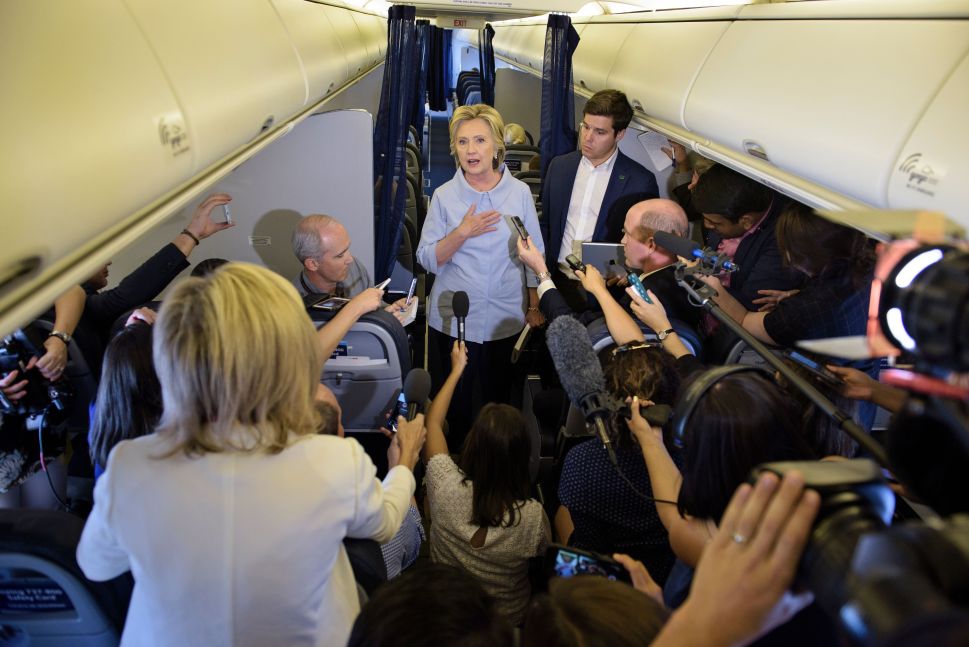 In April 2015, the Clinton campaign held a private dinner party with at least 65 journalists and pundits in attendance. Individuals from CNN, CBS, The New York Times, NBC, MSNBC and more came together under the campaign's stated goal of "framing the race" to help Clinton win. Many of the above media outlets were indeed the Clinton campaign's biggest surrogates throughout the 2016 presidential election.
This past election cycle was unprecedented in terms of the bias and lack of objectivity exercised by the mainstream media. The emphasis on mainstream media blaming "fake news" for Donald Trump's election is an attempt to distract and divert the feedback loop developed between the Clinton campaign and much of the press. Throughout the 2016 election, the media obsessed over Trump to elevate his candidacy. He was their preferred opponent for Hillary Clinton—after they had thoroughly subverted Sen. Bernie Sanders' campaign for the Democratic nomination.
Several journalists from The New York Times, which formally endorsed Clinton twice, created propaganda for the Clinton campaign rather than independent journalism. The Times' Mark Leibovich allowed Clinton campaign communications director Jennifer Palmieri to "veto what you didn't want" from his interview with Clinton. Maggie Haberman was listed by the Clinton campaign as a friendly reporter with whom they could plant stories. Haberman also allowed Clinton campaign staff to proofread her pro-Clinton stories.
The Times' Patrick Healy published a "heroine" piece planted by the Clinton campaign about New Hampshire Clinton campaign volunteer Laura Donahoe. Jonathan Martin was revealed to have been coached through a story on the Clinton campaign by manager Robby Mook. Jason Horowitz solicited a quote from Clinton campaign chair John Podesta on a hit piece about the relationship between President Obama and Sanders.
The New York Times wasn't alone. Politico reporter Ken Vogel had Democratic National Committee (DNC) communications director Luis Miranda review an article before he sent it to editors as part of an agreement with the DNC. Politico has since called Vogel's actions "a mistake." Glenn Thrush also allowed Podesta to approve articles.
CNN published an anti-Sanders Op-Ed written by Clinton lobbyist Maria Cardona—it was proofread by the DNC.
The Intercept reported in May that an Op-Ed ostensibly written by Atlanta Mayor Kasim Reed and intended to discredit Sanders was actually written by a Clinton lobbyist and proofread by a Clinton Super PAC, which sent the article to CNN. CNN regularly featured pundits with financial ties to the Clintons, yet failed to disclose those ties before the pundits praised Clinton. DNC interim chair Donna Brazile was revealed to have obtained CNN debate questions while working for the network and forwarded them to the Clinton campaign. CNN also allowed the DNC to compile questions to be asked during interviews with Republican candidates on air.
In the WikiLeaks release of DNC emails, The Washington Post was exposed to have hosted a joint fundraiser with the Clinton campaign. The paper published hyperbolic hit pieces on Sanders throughout the primaries, including the editorial board calling his campaign "fiction-filled" and an article published with the title claiming that nominating Sanders would be "insane." Fairness and Accuracy in Reporting's (FAIR) Adam Johnson pointed out the Post published 16 hit pieces on Sanders in the span of 16 hours in early March. Harper's Thomas Frank wrote also a detailed piece on how WaPo sabotaged Sanders during the primaries.
Wall Street Journal reporter Laura Meckler received a letter leaked to her from DNC communications director Miranda and used it to write a hit piece on Sanders during the primaries. Miranda used the same reporter to criticize Sanders in the media over convention platform appointments.
The Associated Press was cited by the Clinton campaign as a publication in which they could plant stories with friendly journalists Matt Lee and Bradley Klapper, including discussions regarding the private email server scandal. Robby Mook's assistant emailed fellow Clinton staff members asking what time would they prefer the story be published by the AP. They also called the Democratic primaries for Clinton before California even voted, citing anonymous superdelegates. 
MSNBC halted negative coverage of former DNC chair Debbie Wasserman Schultz after she called the network's president, Phil Griffin, to complain. Two days after Clinton campaign staff discussed how to attack Sanders on campaign finance by citing a Democratic Senatorial Campaign Committee (DSCC) retreat he attended several months earlier, MSNBC reporter Alex Seitz-Wald wrote a Sanders hit piece using the very same criticisms. Seitz-Wald, like many other pro-Clinton journalists, started out at John Podesta's Center for American Progress. Seitz-Wald also propagated the chair-throwing myth at the Nevada Democratic Convention to discredit Sanders and his supporters. Meet the Press host Chuck Todd held a private party for Jennifer Palmieri while she was working as the Clinton campaign communications director.  MSNBC host Joy Reid regularly pushed false narratives in order to help Clinton, especially in regards to WikiLeaks. Rachel Maddow premiered ads from Clinton Super PACs on her show.
CNBC correspondent John Harwood emailed Clinton Podesta on a regular basis, soliciting access in exchange for friendly coverage on Clinton.
Several prominent bloggers—MTV News' Jamil Smith, Guardian columnists Sady Doyle and Jessica Valenti, Tech LadyMafia founder Aminatou Sow, America's Voice Gabe Ortiz and Latino blogger Elianne Ramos who was later hired by the Clinton campaign—were selected by Clinton campaign staff to attend a conference call in which they could disseminate information they wanted the bloggers to propagate "without our fingerprints."
Vox's editor in chief, Ezra Klein, was cited by Clinton campaign staff as an attack dog they could use to push out a story they were putting together.
All these outlets and networks played significant roles in perpetuating false narratives in favor of the Clinton campaign. This includes the "Bernie Bros" myth, the whitewashing of the Sanders campaign, and adding superdelegates to Democratic primary tallies, even though they don't cast their votes until the Democratic National Convention.
The DNC and Clinton campaign manipulated mainstream media coverage to further Clinton's candidacy, especially in the Democratic primaries.
Clinton's lack of press conferences during the primaries and general election are symptomatic of her not willing to deal with any media not entirely subservient to the campaign's political agenda. As the mainstream media offers more excuses to avoid responsibility and accountability for this election, major press reforms are needed. Admitting the vast amounts of unethical, pro-Clinton coverage among media elites would be a good start.