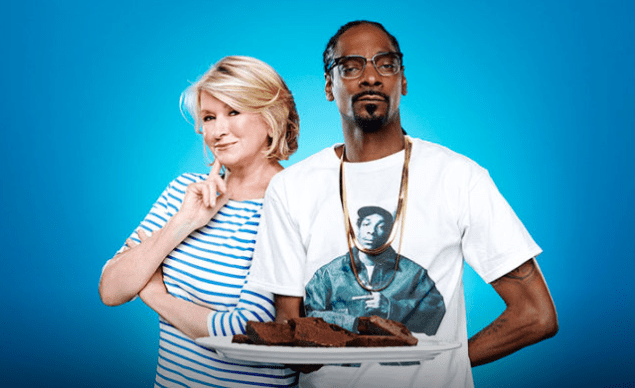 There have certainly been some unlikely duos on TV, but usually they're not hosting a cooking show.
Enter food and style maven Martha Stewart and rapper slash weed connoisseur Snoop Dogg as they team up for Martha and Snoop's Potluck Dinner Party. It's a cooking show/dinner party hybrid where the pair complete to see who can rustle up the best dishes.
The show is billed as a "half-baked evening of cocktails, cooking, conversation and fun, where nothing is off limits" and will feature a bevy of guest stars including Seth Rogen, DJ Khaled, Kathy Griffin, Wiz Khalifa, Ashlee Simpson, Evan Ross, Robin Thicke and 50 Cent.
The show jumps right with the weed jokes as Snoop declares things like, "I'm not high right now but whoever gave us this show, they must have been," and "When you mix the best of 'high society' with the best of 'high society,' you never know what's gon' pop off."
Despite its name, the show isn't actually a real potluck. Instead, Martha and Snoop whip up all the dishes themselves, working side-by-side in their personally decorated kitchens. Gold and purple populate Snoop's area, while Martha's is almost entirely pristinely white.
After all the cooking concludes, the pair present their dishes to their guests who then vote on which host's dish most pleased their palate. There's nothing like a little competition between friends, right?
While this pairing may strike some people as new and unusual, the two actually first cooked together in 2008 when Snoop showed up on Martha's self-named show. He made a return to Martha's series in 2009, and they also hung out at the Comedy Central Roast of Justin Bieber. So, in reality, the twosome have been in each other's worlds for quite awhile.
Now they've come together for this eclectic cooking show, one that's equal parts kind of ridiculous and amazing at the same time. But, mostly it's just really pretty fun to watch.
There's Snoop mixing up drinks, Martha laughing at Snoop, and herself, plenty of double-entendres with references to things like bowls, buttermilk baths and cockfights, and it's surprisingly educational as well—with actual recipes! Also in the opening episode, Martha drops a tidbit about her time in prison. Hopefully there's more of that to come!
This dinner party is ideal because it includes everything that you want at the table for good conversation. With these two there's clearly the male-female, black-white dynamic in play, but there's also a generational thing going on, as the pair span a thirty-year age gap. They have it all covered!
Along with being enjoyable on a surface level, here Snoop and Martha are also showing that two people, not matter how different their background, beliefs and personal situation, can not only be friends, but can learn from and appreciate each other as well.
That's a pretty big statement from this little show, but it's right there for all to see. The pair probably didn't set out to be that kind of example to anyone. Most likely they just wanted to do a quirky show together. Well, they've accomplished that, and more.
In cooking terms—it's all very well done.
However you look at it, you have an open invitation to join Martha and Snoop's party and take a seat at their table. For many reasons, this will be like no other dinner party you've ever attended.
'Martha & Snoop's Potluck Dinner Party' airs Mondays at 10e/9c on VH1.