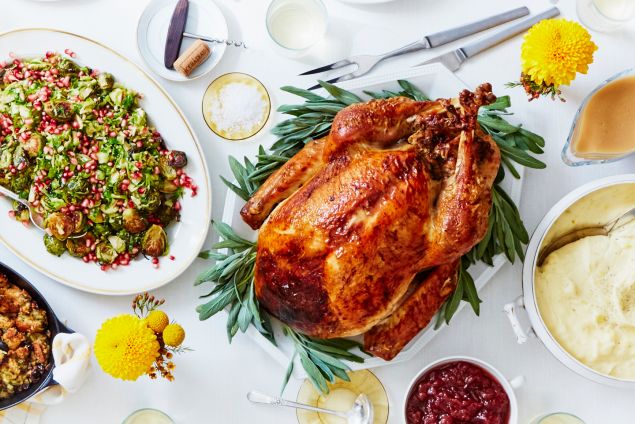 A few months ago, I tried Martha Stewart's subscription meal service, Martha & Marley Spoon, and was very impressed—I even ranked it in the top tier of these startups (and I've tested a lot them). What I loved about it is the meals made for refreshingly simple dinners I didn't dread cooking after a long day of work.
Rather than easy evening meals, however, the newest product from Martha & Marley Spoon offers something completely different—the ingredients and instructions to make one of the most stressful and complicated meals of the year, AKA Thanksgiving dinner. Except with Martha Stewart's Thanksgiving Box, prepping and cooking a homemade Thanksgiving dinner for a big family is as easy and stress-free as it gets.
"This special kit really takes the guesswork out of cooking a great Thanksgiving meal. We've given you the ingredients for the perfect turkey dinner and you can add a few of your own dishes to keep your favorite family traditions alive," Martha Stewart said in a release.
Just like when you order from Blue Apron, Hello Fresh or a regular box from Martha & Marley Spoon, pre-portioned ingredients and step-by-step instructions are shipped to your door. The only difference here is that the box is a one-time purchase and contains the ingredients for one big meal instead of three. There are two options: the sides and dessert box (with ingredients to make mashed potatoes, stuffing, brussels sprouts and an apple pie from scratch for $119) and the feast box (which includes all of the sides and pie as well as a 12-14 lb. turkey for $179). Both serve eight to 10 people. I hosted 10 and had plenty of leftovers.
I planned my feast for this past Saturday and invited friends over for a Friendsgiving. The frozen turkey arrived Monday (so it would have ample time to defrost), and the sides came the next day. For those ordering for Thanksgiving day, your turkey will arrive on between November 17 and 19, and the sides will arrive between November 22 and 23.
One helpful extra with this box is that in addition to the step-by-step directions for cooking the food, it also came with a pamphlet detailing how you can offset some of the day-of stress by prepping and cooking some of the food in the days leading up to the big event. I cooked the mashed potatoes and prepared the pie crust the night before, for example. Also included were additional recipes for turkey sandwiches and other leftover lunches.
I followed the directions exactly, and everything came out perfectly. The recipes—which are all Martha's or passed down through her family—were not only delicious, but made from mostly organic ingredients as well. The turkey was free-range and actually came from a fourth-generation family farm in northern New Jersey that happened to be only a short drive from where some of my guests live. That's not to say everything was healthy though. The traditional Thanksgiving dinner is obviously comfort food, and this was no different. If there's one thing I've learned through this experience, it's that Martha Stewart lovessss butter.
The last day to order is Wednesday November 16. Order here.