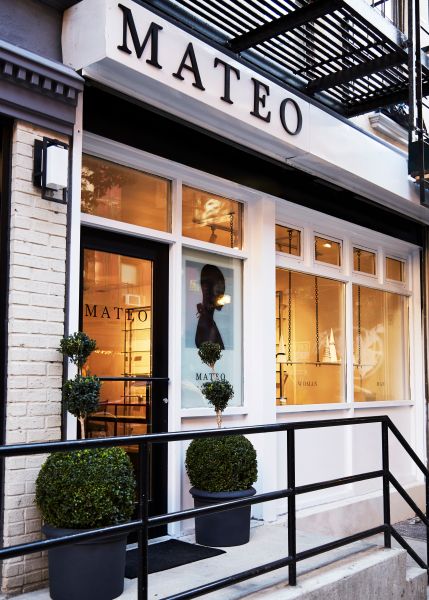 Elizabeth Street in Lower Manhattan has become something of a jewelry destination, as cool and independent as Midtown's Fifth Avenue jewelry row is exclusive and uptight. Elizabeth Street is the longtime home of Me&Ro and Love Adorned and now the fashionable block between Prince Street and Houston is acquiring a new fine jewelry tenant: Mateo New York.
"I love the aesthetic and the vibe of downtown," explained Mateo New York's designer, Matthew "Mateo" Harris. "Most jewelry stores are so stuffy and intense that it makes people almost nervous to walk through the doors. I did not want that for my space."
Mateo New York's jewelry—which encompasses both a women's and men's range—is graphic and modern, focusing on linear forms and geometric shapes. Harris wanted his physical retail location to embody the same visual persona, but without any hint of austerity.
"I was looking for something that was intimate and inviting and friendly and I think I've found that space," he said. The store, which is a little over 300 square feet, is a study in pared-down warmth. It features lush black carpet, hand-cut marble shelves, floating mobiles and wood and leather chairs. "Everything is warm, cozy and welcoming," Harris affirmed.
He designed the space personally, bringing it to life in the course of a month, though his mother did help out along the way. "My mom was literally on FaceTime with me non-stop, telling me what to get and what not to get and how to transform the space," he laughed. A seamstress turned interior designer, she is still based in Jamaica, where Harris grew up.
To open the store in such a short time, Harris enlisted multiple crews to work simultaneously. "We had painters in here, a carpenter; we even had security and people doing the glass all at once," he explained. "It was a full-on, intense month." Despite the difficulty of today's retail environment, for Harris, having a physical store location is imperative to the Mateo New York brand identity. "You have to see jewelry, you can't just buy it online in my opinion," he said. "I want people to come and touch and feel the tactile nature of the jewelry and see how it looks." He noted the success of recent trunk shows in which he's been able to interact with customers on a personal basis.
"I personally wanted to have a conversation and a dialogue to know what customers truly want," Harris said. "I can sit here and say that I know who my customer is, but the truth is most designers don't know because they're not in the stores. I wanted to create a space where I get to meet people one on one and have a conversation."
Starting this Friday, directly following Thanksgiving, Harris will get his chance to connect with the women and men who love his jewels when Mateo New York opens its doors at 244 Elizabeth Street. It's a fantasy come to life for the designer, who nearly placed his first boutique in his second-home of Luxembourg, where he lives for half of each month.
"At first I was going to open a store there," the designer explained, "but then I said 'no.' The brand is truly a New York brand; this is where it started in 2009." In the personal fashion that seems to be both Harris' life and design philosophy, he said he originally considered Luxembourg simply because, "I just so happened to have met the love of my life there."
The Mateo New York boutique opens on Black Friday.