In Manhattan, there's a singular marker that announces the official beginning of the holiday shopping season. It's not the swan call of Black Friday discounts or the sweet promise of the first snowfall (though, those do help usher the shopping season along). Instead, it's the arrival of over-the-top department store windows, stuffed with holiday cheer, tons of glitter and, sometimes, fine clothing.
There are five mainstays on the holiday window circuit: Barneys New York, Bloomingdale's, Bergdorf Goodman, Saks Fifth Avenue and Lord & Taylor. We can confirm that each mega store is worth at least a five minute visit, before the window displays are cleared with the arrival of 2017. Though you might assume that each shop boasts a vitrine that is similar to the next, featuring a take on Santa, wrapped presents and at least a tree or two, you might be surprised to find otherwise. While Barneys New York did hone in on a theme of Peace, Love and Joy, their exterior display was delightfully nondenominational, and even included an appearance by the cast of South Park. On the other hand, Saks Fifth Avenue (almost) sent us into a sugar-induced coma with their hyper sweet theme of Land of 1,000 Delights, the design of which included plenty of candy.
Barneys New York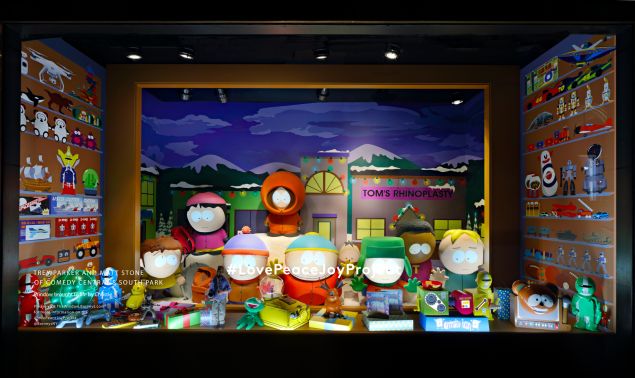 The cast of South Park might not particularly remind you of the holidays, but Barneys took a chance on unconventional imagery for the 2016 season. Thus, Stan, Cartman, Kyle and Kenny are gracing Fifth Avenue with their presence, whipped up by Trey Parker and Matt Stone, the creators of the Comedy Central show, with help from Christie. "In the show, the jokes come first, but making a window is like creating a work of art. I'm really excited that this is something from South Park that I can actually show my daughter," quipped Parker.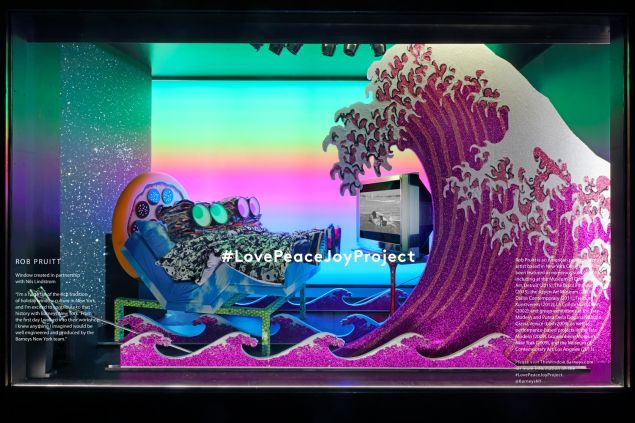 They aren't the only personalities who lent their creativity to the department store: Nick Cave, Rob Pruitt, Ebony G. Patterson, We are Prism and Studio Job all participated, too. This year's theme was Love, Peace and Joy, in a nod to "the world's current climate of chaos and divisiveness," according to Barneys. The shop allowed each artist to interpret the theme in their own aesthetic and filled the windows of their Uptown and Downtown shops with the results. While Pruitt displayed Love with a cardboard couple watching TV (along with the addition of a few sparkly Hokusai-style waves), Cave produced two of his well-known Soundsuit sculptures. Serving to blur race, gender and class, one figure sits in lotus position in a glimmering jumpsuit while the other is composed of eight objects, including a knit fabric, colorful hair and metal.
Job Smeets and Nynke Tynagel of Studio Job used their window to recreate The Love Boat, from the '70s TV show of the same name. According to Smeets, his version has more of a Titanic feel, though it features influences from Salvador Dalí and Dada. "It's a boat that would never be able to float; it would sink immediately, because there's giant holes in its vessel," he pointed out. Studio Job was also tasked with creating graphics for merchandise that coincided with the windows, ranging from bomber jackets to placemats, plus puzzles, cup holders, pins and t-shirts. Barneys is also hosting Studio Job and Nick Cave pop-ups in their stores, so it's clear that this collaboration took quite a bit of work, from all parties involved.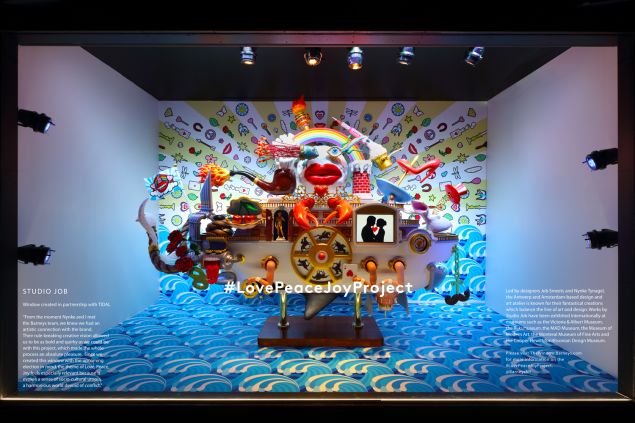 "It took a long time and it was very complex thing," Smeets admitted. "I think it [took] five months, from beginning to end. At least 50 emails a day and a million different phone calls." But Studio Job is happy to see their realist designs disseminated to the public at-large. "I love it, I love to go all the way. It's the same as in fashion, to go from haute couture to ready-to-wear. We do the high-end stuff, but we also do the merchandise, I find that so creatively interesting. It's also social, so people can buy a souvenir of the event."
Bloomingdale's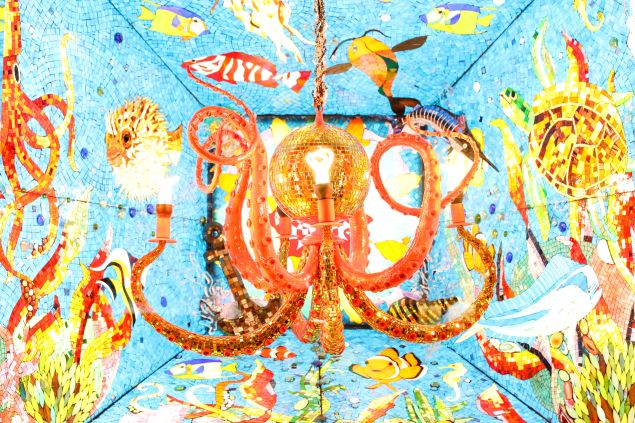 One thing we could all use more of, especially in the year 2016, is light. Which, coincidentally, is the theme of Bloomingdale's windows. The storied department store also factored freedom into the theme (albeit unofficially), by tapping a number of artists to interpret what light means to them, in the form of a chandelier. Eight artists took part in the window decoration process, including Inma Barrero, Erika DeVries and Jonah Meyer, Abby Modell, Sean Augustine March, Susanne Bartsch, Allison Eden, Esmeralda Kosmatopoulos and George Kroenert.
Each artist developed a sub-theme, which related back to the underlying Light theme. Eden, for example, chose Sparkle and used that idea to recreate an underwater world, inspired by her childhood in the beachside town of La Jolla. Brilliant was the buzzword chosen by Bartsch, which she associated with inspiring people in her life. "The chandelier represents the center of my solar system and resembles the face of Leigh Bowery, a performance artist I brought to New York in the early eighties," she explained to Observer.
"The Brooklyn Museum contacted me to ask if I would be interested in making a piece for the Bloomingdale's holiday windows. I loved the charitable aspect behind the project and it brought me back to my childhood when I used to do windows in my mother's boutique," said Barrero, touching upon Bloomingdale's philanthropic tie-in. Each of the chandeliers will be auctioned on Charity Buzz, with 100 percent of the proceeds benefitting the Child Mind Institute. Barrero's theme was Reflections, so mirrors played a big role in her creation, which also features twisted metal, found objects, glass, wood and clay.
"The piece becomes part of the environment, absorbing the natural light and reflecting it back together with the images of the people nearby…It is for me a reminder of resilience. The mirror reflects the ever changing light emphasizing the ephemeral with the wire and porcelain emphasizing the resilience of the human spirit," she mused.
Bergdorf Goodman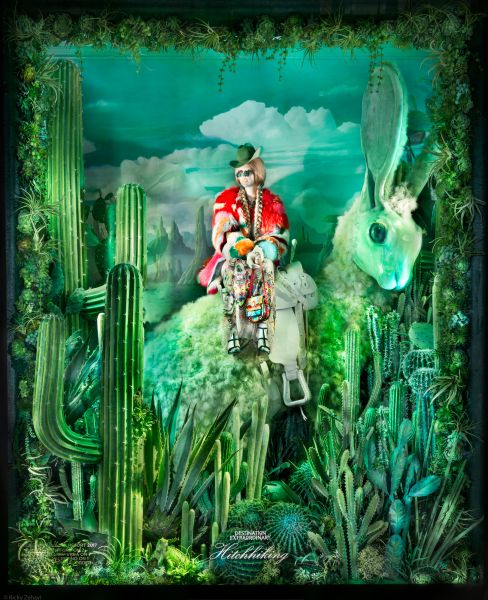 For the 2016 holiday season, Bergdorf Goodman went green, but in the most literal sense. With the theme of Destination Extraordinary, the earthy hue took over their Fifth Avenue presence. With tropical plants and plenty of cacti, viewers of the windows are transported to faraway locales, or perhaps just a bit further uptown, to the Natural History Museum.
David Hoey, the store's senior director of visual presentation affirmed that notion. "This year, we were inspired by the drama of nature," he said. The windows are like delirious remakes of classic giant dioramas seen in a natural history museum." According to a press release, Hoey was further inspired by Henri Rousseau paintings and 12th century Chinese watercolors of mountains, which might explain the timeless feeling the vitrines exude.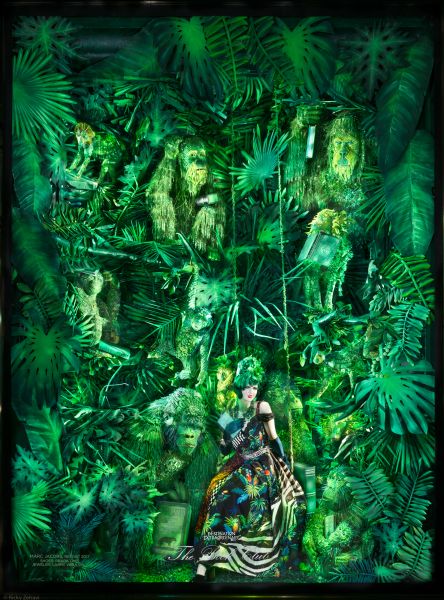 Around 100 artisans began the design process nine months ago, creating five subthemes such as The Hitch Hiker, The Winter Garden and The Scenic Route. In the spring, production for the scenery began and on November 1, a two-week installation process was set into motion. The clothing selection is one of the last steps in the design process, but these fashions are just as important as the scene they sit in. In fact, the Bergdorf team likens it to costuming a play or musical, as they consider the mannequin in each window to be a character in a story. This year, their selections do not disappoint, as a Marc Jacobs resort frock swings on a vine in The Book Club window, while a white and gold Gucci frock stands its ground in the already opulent Winter Garden.
Saks Fifth Avenue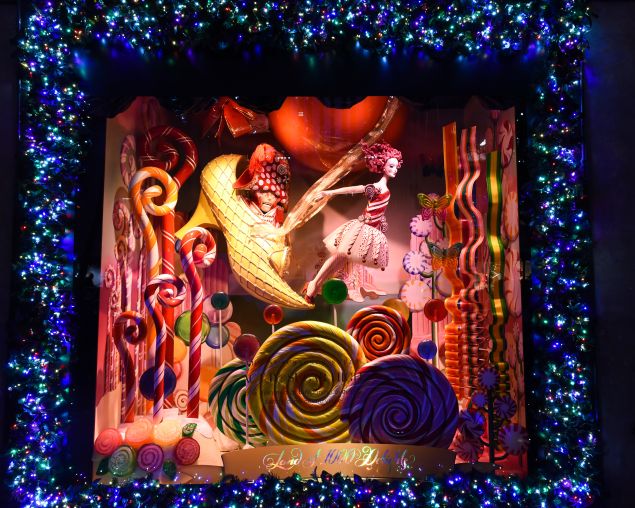 According to Mark Briggs, the chief marketing officer at Saks, this year's colorful vitrines were created in contrast to last year's white-on-white color palette. "Everything from our light show to our center six windows to our in-store décor is bright and vibrant. And what is not only bright and vibrant, but also fun? Candy!" he exclaimed, perhaps already on a sugar high. The theme this year, Land of 1,000 Delights, was conceptualized to celebrate sugary treats–and festive fashion.
The Observer was curious to see if we could have a taste of Saks' candy, but we were distraught to find that wouldn't be possible. "The candy décor in our holiday window displays isn't edible," Briggs admitted. "However, our stores will use actual candy—gumdrops, crystalized rock candy and more—as décor nationwide. Additionally, select locations will host holiday candy-themed events throughout the season."
To complete the spectacular displays, 250 people worked over 100,000 hours. With over 300,000 lights and 2,000 oversized candy ornaments, the vitrines took 12 months of planning to reach completion. In fact, Briggs referenced looking forward to attending a visual brainstorming party this December, for the Holiday 2017 windows.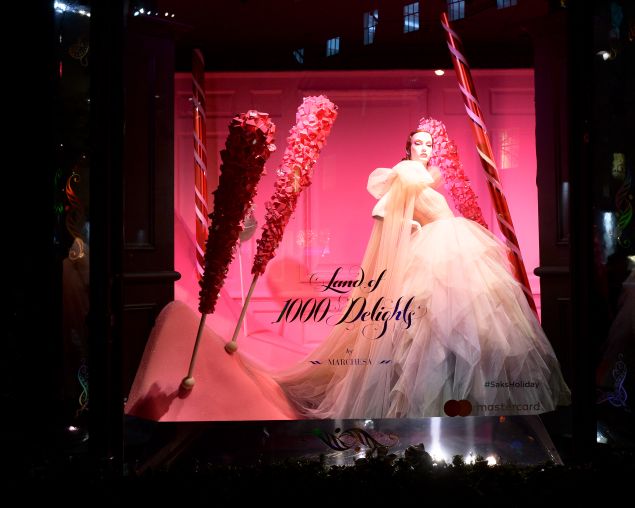 For the 2016 windows, designers such as Jason Wu, Carolina Herrera, Altuzarra, Erdem and Marchesa each created a one-of-a-kind custom dress. They were tasked with culling inspiration from holiday treats, including peppermint and cake frosting. And yes, you can purchase four of those custom designs, only at Saks.
Lord & Taylor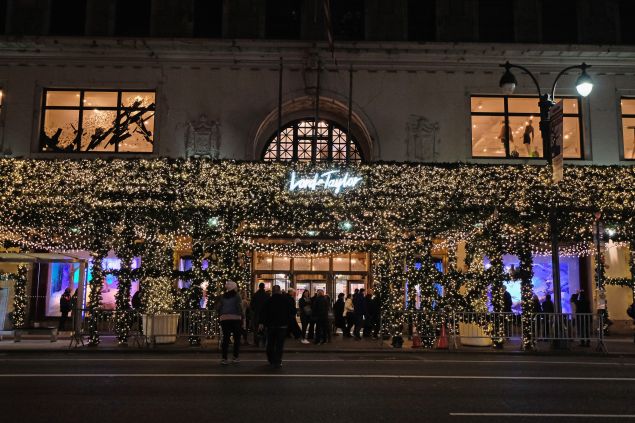 A theme among many of these windows is that consumerism is slightly less visible, at least when compared to the windows that are displayed during the rest of the year. Rather, the stores use over-the-top displays to wow customers, thank them for their loyalty and, of course, to spread some holiday cheer. Such is the case at Lord & Taylor, where no product is displayed in their windows. "A major difference between our holiday windows and our show windows throughout the year, is that the Fifth Avenue animated windows never feature commercial product–so the sky is the limit when we determine our theme," explained Dennis Frenette, senior vice president of merchandise presentation.
If you've walked past the shop's facade on 39th Street and Fifth Avenue, you might have picked up on the Enchanted Forest theme. Accosting passerby's with over 9,000 feet of garland, foliage and lights, the façade is just an intro to the rest of the creations for Lord & Taylor's 79th annual holiday display. The rest of the vitrines are filled with animated scenes of adorable animals, including bunnies, mice, foxes and geese, bounding across snowy landscapes.
It took a team of 75 to put the whole spectacle together, spanning nine months of work and 35,000 hours of toiling by craftsmen, artists and engineers. "The windows are constructed off-site at Spaeth Design and then six weeks prior to the unveiling, they are reconstructed in Lord & Taylor's basement," described Frenette. "The displays are then raised on hydraulics to street view." Just because this forrest is enchanted doesn't mean it was magically whipped together overnight.