"I can't even watch these stupid Sunday shows anymore."

– Sean Hannity, Fox News Channel, Nov. 6, 2016
FBI director James Comey announced his latest "never mind" decision Sunday afternoon but it was too late for the major Sunday shows to relay the news.
He said all those recently discovered Hillary Clinton emails amounted to nothing, nothing at all. They were just duplicates of stuff his staff had already reviewed.
So the cable newsies had to catch up Sunday afternoon and evening with headlines like "FBI Clears Clinton Again" on the bottom of the CNN screen and "Sunday Surprise from FBI on Clinton Emails" on FOX (FOXA) News Channel.
READ RELATED: Donna Brazile Attempted to Mislead CNN about Al Gore in 2008
Comey's original announcement, a week ago Friday, hurt Clinton, the Democratic presidential candidate, and helped the underdog, Republican Donald Trump.
In the polls, the damage was serious, although Clinton has recovered, somewhat, in time for Tuesday's balloting.
Another boost to Trump came last Wednesday night when news actor Bret Baier of Fox reported—falsely and recklessly—that the FBI had discovered new information that would result in the indictment of someone in connection with the Clinton Foundation.
Trump's vice-presidential choice, Gov. Mike Pence of Indiana, was still trying to make something of all this misinformation Sunday morning when he spoke with host Chris Wallace on Fox News Sunday.
"But Governor," Wallace said. "Trump has no hard evidence that she's going to face an indictment. That's overstatement."
Perhaps Pence and Trump got that false impression Wednesday when listening to Baier tell Brit Hume on Fox that he had two FBI sources assuring him that a full-throttle investigation of the Clinton Foundation was underway and that an indictment was coming soon.
This fraud fell apart the next day (last Thursday) as other news organizations also checked with their FBI sources and found out Fox had reported a false story. The truth made Baier seem either gullible and naïve or simply cynical and craven.
More scrupulous, less-biased reporting showed that the investigation stalled months ago, several outlets reported. This was the theme of The Rachel Maddow Show Thursday night on MSNBC when she carefully took apart Baier's false exclusive.
But someone forgot to tell Fox News actress Megyn Kelly on The Kelly File, which aired at the same time as Maddow's show, in the 9 p.m. slot. Kelly was either ignorant of the new reporting or just pretending to be when she berated her guest, Richard Socarides, a Democrat.
After he told Kelly "The politicization of the FBI in this particular instance is disgraceful," she snapped back at him.
"What—what did the FBI do?" Kelly said. "The FBI disgraced itself? They're trying to investigate potential crimes! That's what they do!"
Her voice and demeanor took on a haughty air. Then it got louder.
SOCARIDES: "There is no FBI investigation of the Clinton Foundation."
KELLY (interrupting): "Not true! Not true! That is not true! . . . We have at least two sources in the FBI."
Kelly said Fox's FBI sources had told Fox that the investigation of Clinton "has progressed." Socarides calmly tried to explain to Kelly that ABC News had debunked the story. This didn't stop Kelly from beating her dead horse of a Fox scoop.
"It's nice for you to just cherry-pick the reports, Richard, and completely disregard the FBI agents," Kelly said.
Kelly could have corrected her mistakes and Fox's mistakes Sunday night, live on the air, after Comey's latest announcement.
Instead, she interviewed Republican Congressman Trey Gowdy of South Carolina and Reince Priebus, the chair of the Republican National Committee. Both assured Kelly that Clinton was still bad, no matter what the FBI believed.
During the backlash from Fox's phony scoop, several TV personalities, including Maddow, told their viewers how much they like and respect Baier as a "journalist."
This word is a relative term at the right-wing network. The performers on camera who don't point at guests and shout at them are called "journalists."
The others—like Sean Hannity and Bill O'Reilly—are called "opinion" hosts. Kelly pretends to be a blend of both. Her commentary and Baier's reporting last week illustrated how shallow and biased Fox can be when trying to sabotage Democrats and rig an election with smears.
Early in the Obama presidency, Baier made his Fox reputation by interviewing President Obama about the Affordable Care Act and constantly interrupting him.
Conway called him a 'pervert.' She was not referring to Trump, accused by a dozen women of sexual assault.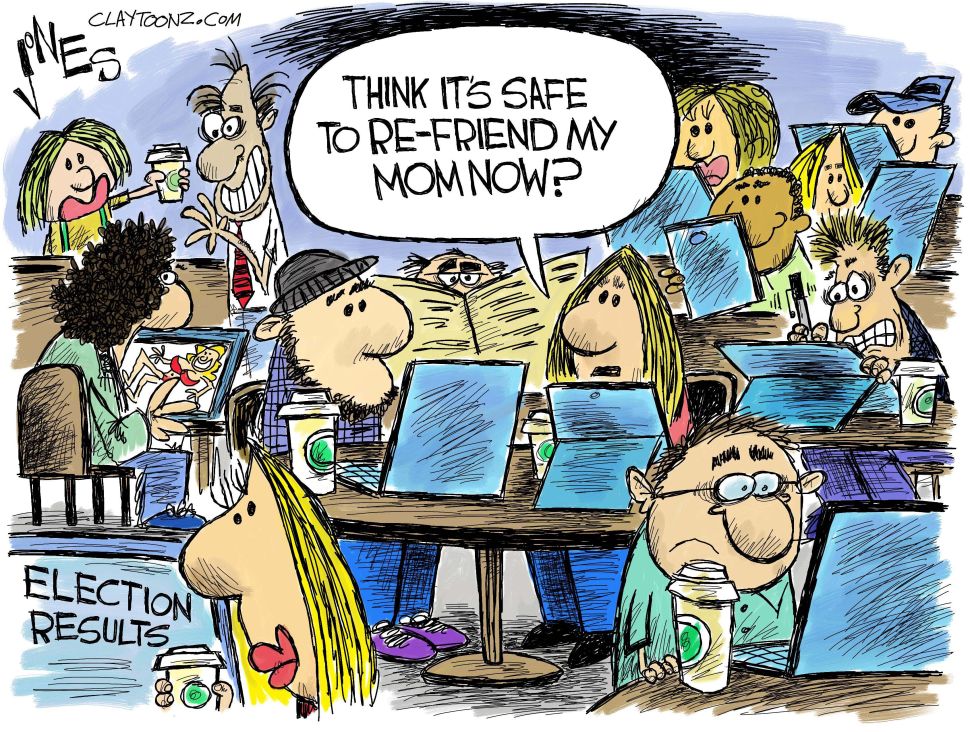 Baier also was a loyal defender of Roger Ailes, the former Fox emperor who was forced out last summer during a sexual harassment scandal.
"It's not the Roger I know," Baier said then. "I can't say enough good about Roger."
If Baier can plead ignorance about such a big story in his own building, how can he possibly be trusted when he "reports" scurrilous lies from his Clinton-hating "sources" at the FBI?
Might Baier be swept away in the Fox hole housecleaning expected after the election? Perhaps we can find at least two "sources" who will tell us what we want to hear about it. In the meantime, Baier and Kelly will anchor Fox's coverage on Election Night.
Hand me the remote . . .
FOX NEWS SUNDAY Wallace asked Pence if Trump's "polarizing" comments about Mexicans resulted in a boost for Clinton from a larger-than-expected early Hispanic vote in several key states.
"Well, I, eh-eh, ya know, I'm, I'm really not, I mean the truth is that Hispanic Americans have the same concerns," Pence said.
WALLACE: "So you think all those Hispanics are coming out to vote for Trump and not for Clinton? Really?"
PENCE: "No, uh, uh no, I'm saying, I'm saying that, that, the American people want change and . . ."
THIS WEEK ABC host George Stephanopoulos showed video of Trump accusing Nevada officials of "rigging" the election because voters in line were allowed to cast ballots on Saturday after official closing time.
"That's ridiculous," said John Podesta, a top Clinton aide. "If he's losing, everything's rigged . . . The American people see through that."
Priebus stopped by to tell Stephanopoulos "Hillary Clinton is crooked. She has potentially broken the law. She may have committed serious crimes."
But when the host asked the RNC chair if he agreed that the Nevada voting was "rigged," Priebus ducked the question, pinning the observation on the Trump campaign and not the RNC.
When Priebus began to accuse the Clinton team of destroying Blackberries with hatchets, Stephanopoulos told him "You're just throwing out a lot of words there."
FACE THE NATION David Ignatius of The Washington Post told cbs host John Dickerson that there is still fear that a home-grown, lone-wolf terrorist might attack a polling place on Tuesday.
As for the FBI, Ignatius said "It's a law-enforcement agency that is in turmoil. That's something that everybody should be worried about after the election."
Regarding the fluctuations in polls, John Heilemann told Dickerson "Hillary Clinton has never been behind in this race, not for one day."
Jamelle Bouie of Slate said Trump "repels" college-educated white voters while driving blacks and Hispanic voters to the polls to vote against him.
STATE OF THE UNION On CNN, one of Jake Tapper's guests was Sen. Al Franken of Minnesota, a Democrat.
They discussed a new Trump ad about money that features images of investor George Soros, Fed chair Janet Yellen and Lloyd Blankfein of Goldman Sachs.
All, Tapper pointed out, are Jewish.
"When I saw the ad," Franken said, "I thought this was something of a German Shepard whistle, a dog whistle, to a certain group in the United States. I'm Jewish, so maybe I'm sensitive to it. But it clearly has sort of an Elders of Zion kind of feel to it, international banking plot or conspiracy, and then a number of Jews. It does speak to a certain part of his alt-right base. It's an appeal to some of the worst elements in our country."
Franken then discussed the FBI leaks piped directly to Fox. He called the leakers "rouge elements" in the bureau who were trying to affect the election. Franken said there would be Senate Judiciary Committee hearings on the continuing FBI fiasco under Comey.
"He should be able to control the FBI," Franken said.
Tapper also reported about how Trump was whisked off a stage in Reno Saturday night by Secret Service agents who thought they heard the word "gun" shouted when a protestor tried to hold up an anti-Trump sign.
In that Donald Trump, Jr., tweeted a false message about his father surviving an "assassination attempt," Tapper asked Trump campaign manager Kellyanne Conway "Should they be spreading this information?"
Instead of answering, Conway praised the Secret Service. Tapper asked Conway about how Trump talked about the American military leadership helping the fight against ISIS in Iraq and elsewhere.
"What a group of losers we have," Trump said.
Conway pivoted away from this question by changing the subject to sexual text messages on the laptop computer of Anthony Weiner, who is married to Clinton aide Huma Abedin. That computer held the recently found emails.
Conway called him a "pervert." She was not referring to Trump, accused by a dozen women of sexual assault.
RELIABLE SOURCES Brian Stelter's media watchdog show on CNN included a segment about Trump's scapegoating of journalists.
"They're scum," Trump said in a video clip. "They're horrible people."
He also showed Trump promising to "open up our libel laws" so that "we can sue them to win lots of money."
"This," Stelter said, "is the ugly, new normal."
Joining him was media critic David Zurawik of The Baltimore Sun who said journalism fundamentally changed when The New York Times decided about Trump "We'll call him a liar on Page 1."
MEDIA BUZZ The Fox News Channel show about the media included, late in the hour, a brief conversation between host Howard Kurtz and reporter Ed Henry about Baier's bogus story regarding the FBI and the coming indictment.
"That was a mistake," Kurtz said. "Bret Baier said he was sorry."
Perhaps Kurtz and his production team couldn't locate video of Baier's false report or of his on-air skinbacks of recent days. They showed nothing of them.
Instead, Kurtz simply read a script. Then he added a gratuitous piece of double-talk.
"The lead of Bret Baier's story was that there is an FBI investigation into the Clinton Foundation," Kurtz said. "And Fox stands by that."
MEET THE PRESS Host Chuck Todd showed Tim Kaine, the Virginia senator who is Clinton's vide-presidential running mate.
"People within the FBI are actively working to help the Trump campaign," Kaine said.
In that American intelligence officials have said Russians tied to that government have hacked and stolen emails from the Democratic National Committee and fed them to WikiLeaks, Podesta told Todd: "Donald Trump has adopted, essentially, Russian foreign policy."
Newt Gingrich (R-Fox) stopped by to tell Todd "The elite media has blindly refused to tell the truth."
Tom Brokaw, the senior savant at the network, mentioned the Fox scoop about the FBI. Brokaw said Baier is an "otherwise a respectable reporter, on Fox" who erroneously reported that the FBI had "an avalanche of evidence" about the Clinton Foundation and the impending indictment.
"Turns out not to be true," Brokaw said.
Nevertheless, he said, the word got out and spread quickly before it could be countered with real facts.
He noted that Trump aide Conway said it doesn't make any difference whether it's true or not because "it's in the minds of the voters" and that's what the Trump side wanted.
"That's not a way to run a democracy," Brokaw said.
Disclosure: Donald Trump is the father-in-law of Jared Kushner, the publisher of Observer Media.