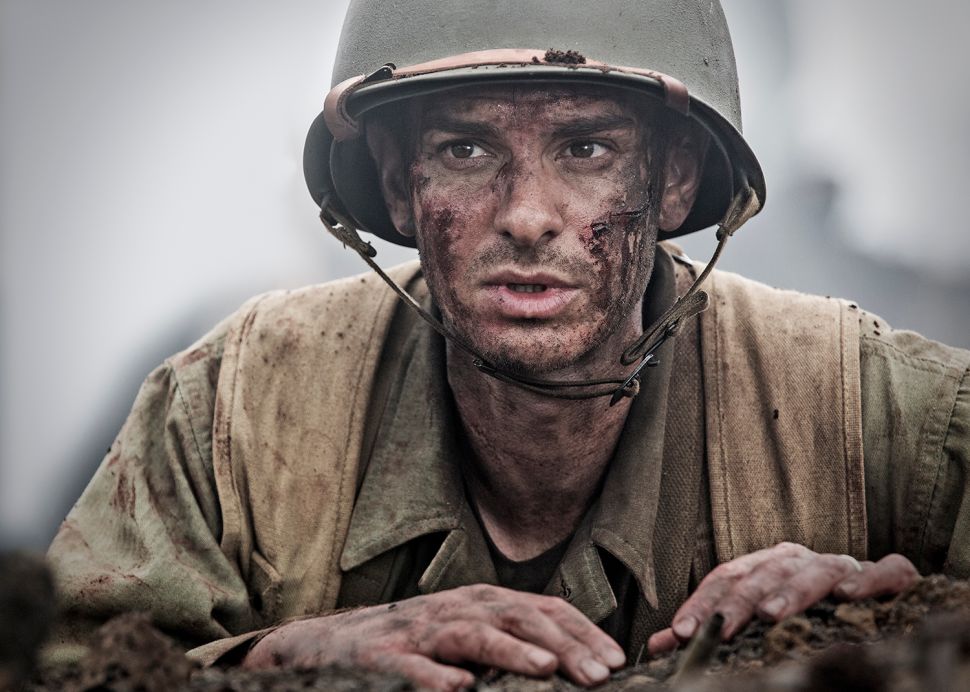 Like the voters who plan to stay home on Election Day because they don't like the candidates, potential filmgoers who avoid Hacksaw Ridge because they object to Mel Gibson will be the losers. Hacksaw Ridge, the true story of a conscientious objector who played a big role in winning World War II by enduring relentless punishment on and off the battlefield, saved countless lives on the front lines in the bloody Battle of Okinawa without ever carrying an assault weapon and became one of the most decorated heroes in military history without firing a single shot, is the best war film since Saving Private Ryan. It is violent, harrowing, heartbreaking and unforgettable. And yes, it was directed by Mel Gibson. He deserves a medal, too.
---

HACKSAW RIDGE★★★★
(4/4 stars)

Directed by: Mel Gibson
Written by: Andrew Knight and Robert Schenkkan
Starring: Andrew Garfield, Sam Worthington and Luke Bracey
Running time: 131 mins.

---
Shot entirely in Australia, though set in Virginia and Japan, this is the passionate, heartfelt saga of Desmond Doss, a naive, uneducated and unsophisticated hick from the Blue Ridge Mountains who turned pacifist after a near-tragic childhood accident incurred in a childhood scuffle with his older brother. So convinced that taking another man's life was the most egregious sin in the Ten Commandments, Doss hated aggression so much that when he went to the movies on a date he could hardly sit through newsreels. This was doubly hard to reconcile with incidents in early sections of the film showing Desmond's challenging family life with a loving, overly religious mother who was often savagely beaten by his drunken, abusive father (Rachel Griffiths and Hugo Weaving, two of Australia's best actors, playing with perfect backwoods American accents); his strong faith in the church of Seventh Day Adventists that guided his way and lit his path to manhood and beyond; his head-over-heels love for a pretty nurse (Teresa Palmer) who became his wife and partner forever; and his voluntary enlistment in the army after Pearl Harbor as a medic, hoping to save lives instead of taking them, ready and anxious for combat while refusing to compromise his religious principles that forbid him to bear arms. Andrew Garfield is so good in both the quiet, human moments and the chaotic battle sequences that it's hard to believe he's the same callow youth who played Spider-Man a few years back. Basic training was hell when the men in his barracks turned on him, beat him up and labeled him a coward, and he narrowly escaped a court martial for refusing to carry out orders on Saturdays, which was his church's Sabbath. Then Gibson drops a grenade when Doss and his entire unit land in the middle of the Battle of Okinawa and the real hell begins.
One of the ghastliest war scenes in the Pacific, the real Battle of Okinawa in 1945 lasted for three whole months of horror and destroyed 82,000 lives, and before Gibson is through, I felt like I had experienced—and survived—every hour of the devastation. The screaming noise and nerve-crushing tempos of battle fury come crashing down like nothing since Saving Private Ryan. Burning bodies, severed limbs, stepping on intestines and sleeping in foxholes with rats crawling out of severed heads are common. The real bravery came when Doss, defying orders to retreat, lowered injured and dying survivors over the top of Hacksaw Ridge with ropes, exposed to the line of enemy fire and advancing Japanese bayonets, in a supreme act of heroism that can only be described as miraculous. Even the men he saved regarded him with awe. The exemplary script, by Robert Schenkkan and Andrew Knight, balances genuine emotions with the rampaging, hair-raising insanity that shows the futility of war through the eyes of a man who believed in God without cynicism. Doss' comrades are played with the DNA of individuals under fire, by a perfect cast that includes Sam Worthington and an uncharacteristically endearing Vince Vaughn. In a moving postscript, captured in film clips that do not lie, the real Desmond Doss talks about the incident, which paved the way for the end of the war, and show his various medals of honor, including the Purple Heart. He passed away in 2006 at age 87, still humbly eschewing any personal credit for his heroics.
Mel Gibson recreates the life of an extraordinary patriot at a time when a troubled world, guided by a sadly compromised American leadership, could use a role model. The one who redefined the word hope on Hacksaw Ridge is a good place to start.