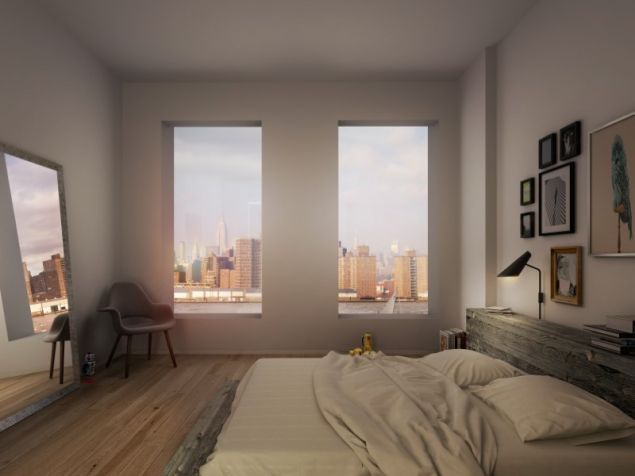 Swanky eatery Mr. Chow has long been a celebrity-adored restaurant, with locations in London, Beverly Hills and Miami, as well as Tribeca and 57th Street.
There is not yet a Brooklyn outpost, but perhaps it'll be coming up next—after all, the restaurant's co-founder and owner, Michael Chow, and his wife Eva Chun Chow just purchased a $5.77 million Dumbo penthouse in a luxe new development.
The three-bedroom, 3.5-bath abode is located on the 12th floor of 1 John Street, and features 10-foot ceilings throughout, as well as oversized windows and wide-plank flooring.
The 2,567-square-foot duplex has a fancy kitchen, obviously, which is equipped with a stone counter island, Gaggenau appliances, a Bosch dishwasher, wine fridge, and Italian cabinetry.
The master suite is on the upper floor of the duplex, with a master bath outfitted with hand clipped stone mosaic floors, a freestanding tub, double showers and vanities, per the listing shared by Sotheby's International Realty brokers Karen Heyman and Alan Heyman.
Chun Chow, who gave up her fashion line after marrying her celebrity restaurateur husband in 1992, is on the board of the Los Angeles County Museum of Art, and is also known for throwing "the most glamorous parties in all of L.A." Indeed, in 2014, the Chows hosted a fundraiser for President Obama and guests that included Kim Kardashian and Kanye West at their 11,600-square-foot Los Angeles manse.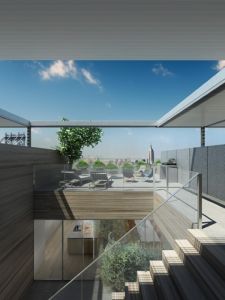 Perhaps now the couple will be hosting some of those fêtes in their brand-new waterfront penthouse, though it won't be able to hold quite the number of people as their sprawling estate on the West Coast. No matter, we're rather excited to see how the Chows will decorate their new abode, considering their custom-designed Los Angeles home also houses much of their impressive art collection, which includes pieces by Ed Ruscha, Peter Blake, and Jean-Michel Basquiat.
We wonder if the pair is planning on spending a bit more time on the East Coast. A few years ago, Chun Chow said, "London in the '60s, New York in the '80s—Los Angeles is the pioneering city at the moment with this exciting, full-blown energy. It's at its height right now." Perhaps New York is back in the running?