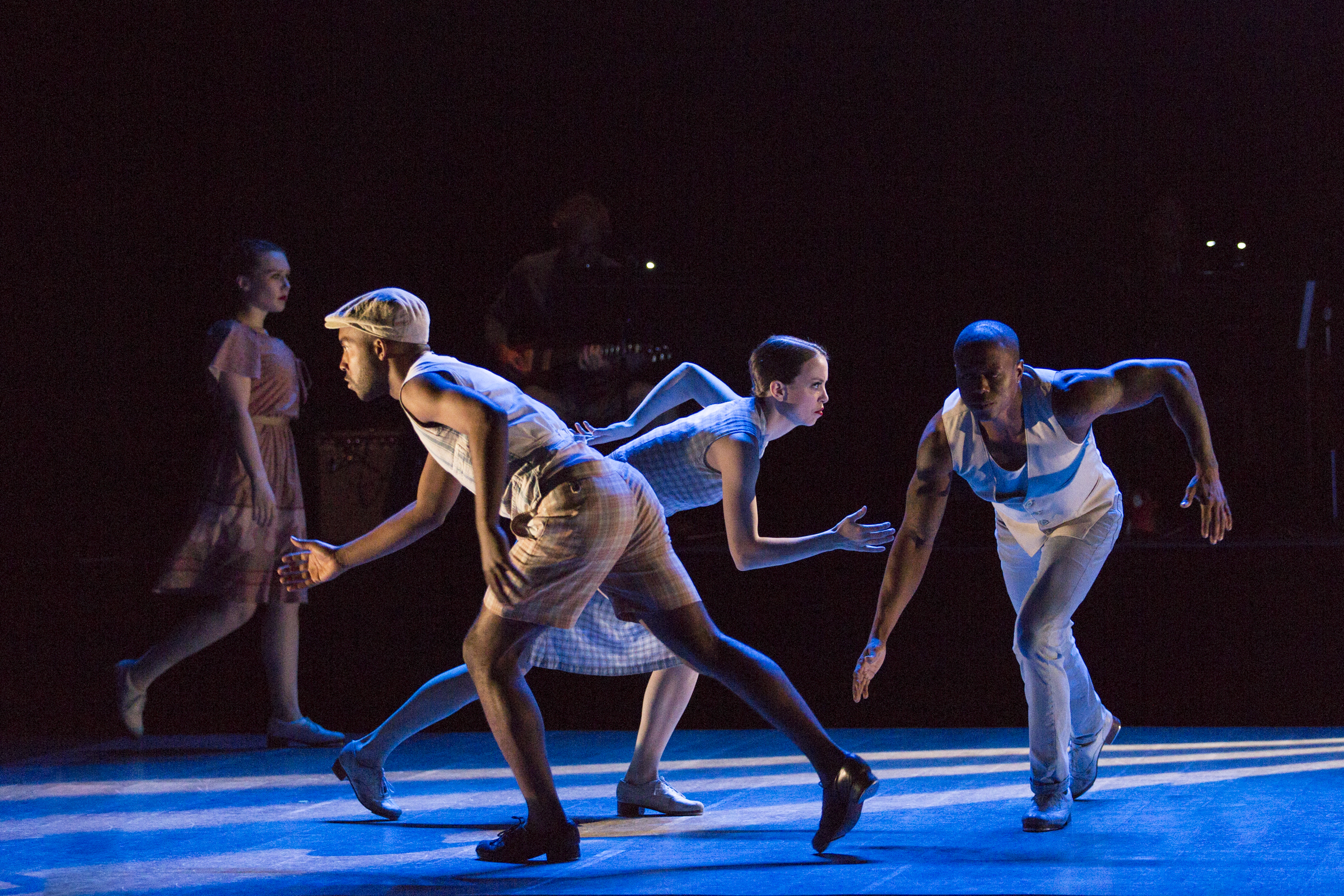 One of the pleasures of watching Dorrance Dance—the tap group founded and run by Michelle Dorrance—is registering the contrast between her and the phenomenal Savion Glover, who has dominated the field for so long. Glover has clearly grown to resent what presumably seemed to him the audience's patronizing reaction to his early cuteness and charm, and has come to project a surly aura of go-fuck-yourself-ism that defied his audiences to resist him—difficult to do, given his amazing aptitudes. It has become, for me at least, a trial to watch him: I know when I'm not wanted.
But if Glover has become the Miles Davis of tap, Michelle Dorrance is Dizzy Gillespie—the message is joy. Is she the technical phenomenon Glover is? No, she isn't, and neither is anyone else, but she loves her art form and she wants you to love it too—not her, but what she and her colleagues are up to. The relief! And since she's abundantly talented as both dancer and choreographer, you do indeed love her. Her recent two-week season at the Joyce, which featured nine dancers including herself, and a five-person musical ensemble led by the prodigious Toshi Reagon, had the audience reeling with pleasure.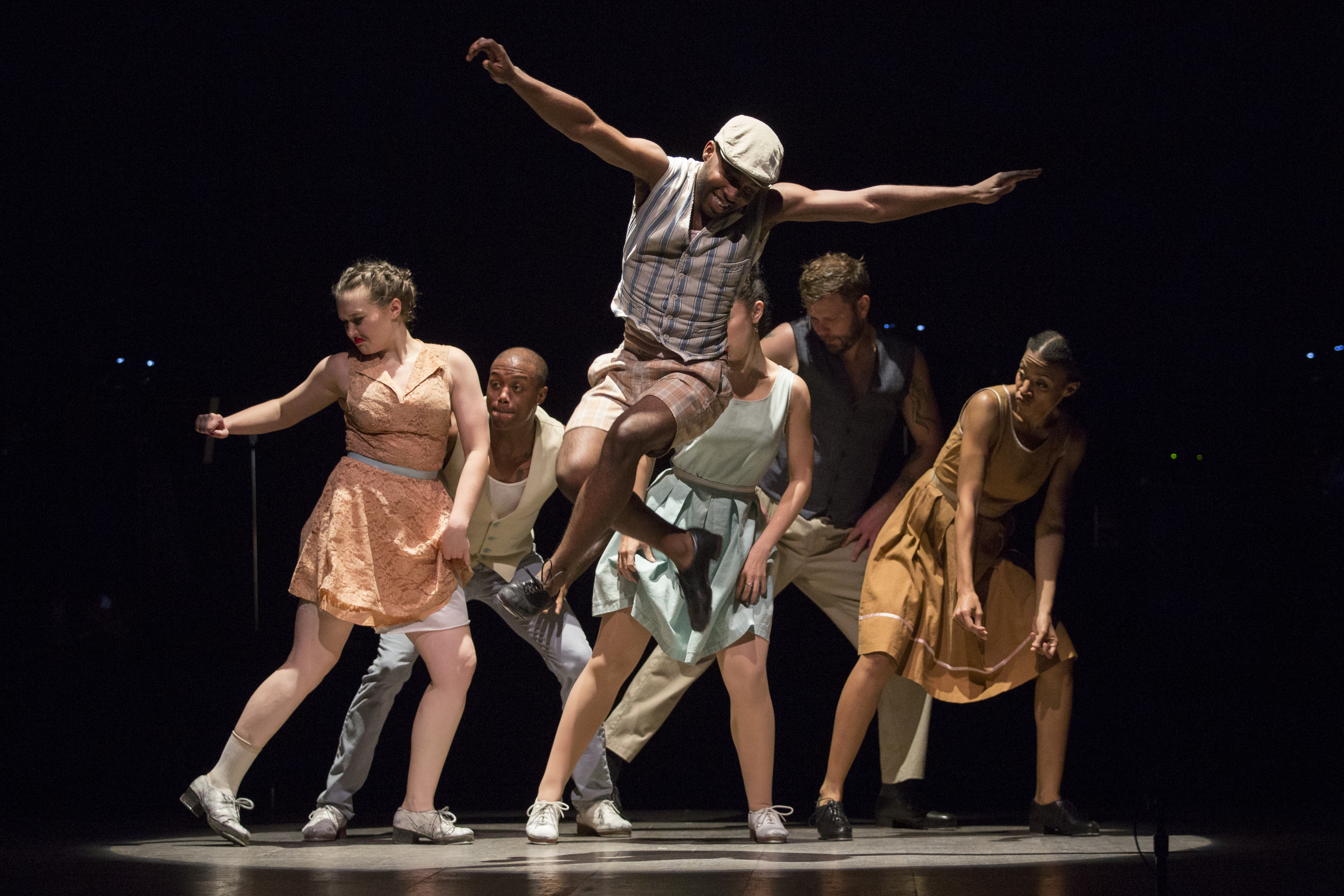 Dorrance is tall, lanky, angular, and it's not just her tap shoes that sparkle—her legs are everywhere, her body keeps swinging and swaying, her face is animated (sometimes too animated—there's an occasional touch of the smiling sickness). Her two principal co-dancers are also formidable, most strikingly Dormeshia Sumbry-Edwards, a veteran of the honor roll of recent tap history: After Midnight, Black and Blue, Bring in 'da Noise, Bring in 'da Funk. She's worked with Gregory Hines and Spike Lee and Michael Jackson (she was his tap coach). She's won countless awards. And when you watch her long solo in the current Dorrance The Blues Project, you see why. Here is effortless and endless invention as she ranges around the stage, delicate in detail yet accumulating force. You never want her to stop. And you quickly forget you're in the presence of tap virtuosity—this is just remarkable dancing, generous, secure, ego-less, and captivating.
Derick K. Grant is the other powerhouse, also with an immaculate pedigree. He manages to be both dazzling and just so slightly held back, but he too is also all over the place, not locked in one position while drumming his taps. Grant—like Sumbry-Edwards, like Dorrance herself, like all their colleagues—loves to move. And Dorrance keeps them all moving, as one burst of activity flows into another: now a couple, now a threesome, now a solo, now the whole gang.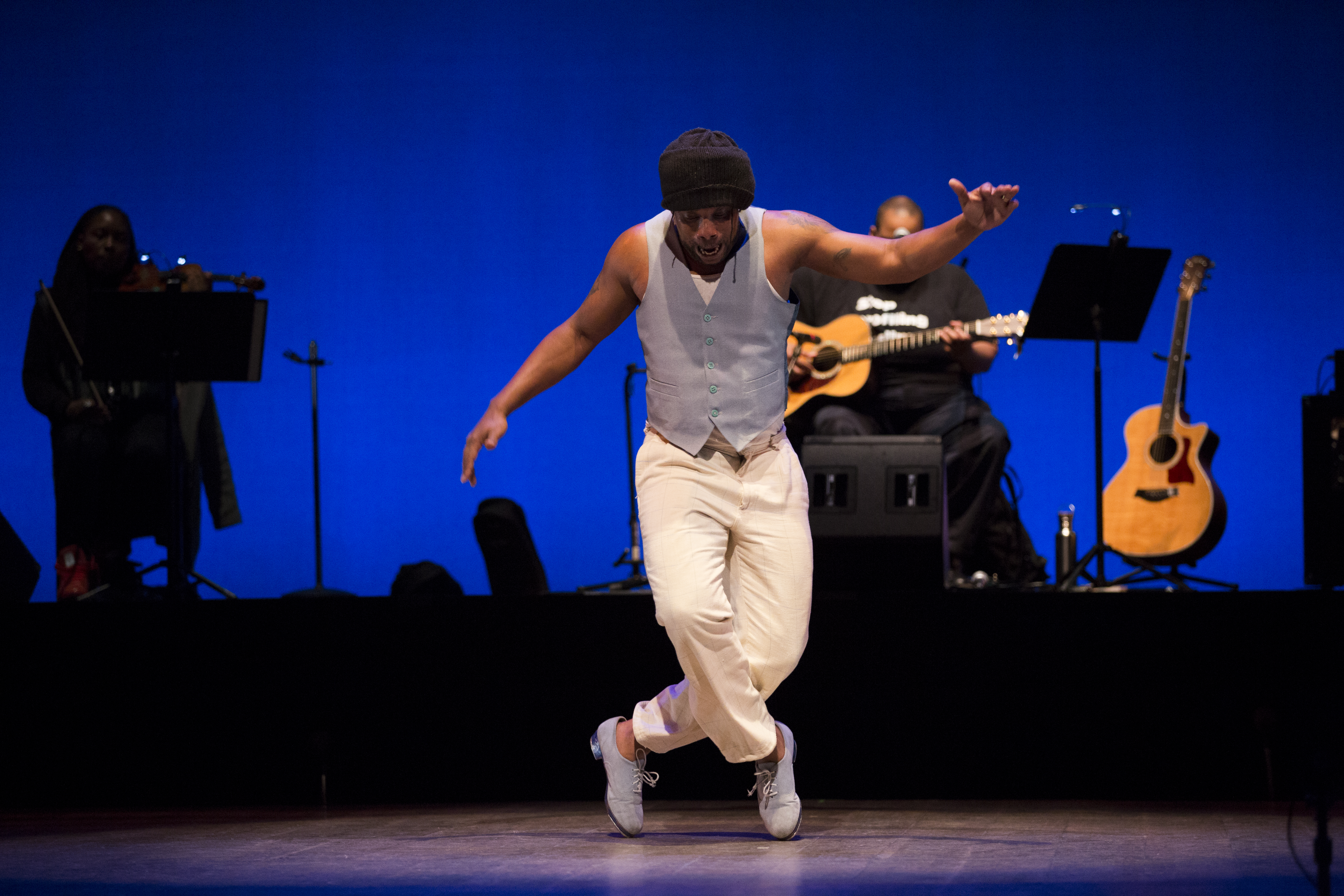 The Blues Project embraces a number of styles from the hoedown to the Lindy Hop, by no means all of them blues-related, but the overall tone and approach are consistent; this isn't a revue, it's a progress. Nine very individual dancers who complement rather than challenge each other, all of them fully charged and unflagging, create a tumult of pleasure and excitement. Dorrance is in charge, yes, but she's encouraged the others to fling in their individual ideas and quirks. And all of them are in constant touch with the astounding Toshi Reagon and her fellow musicians performing up on a conspicuous riser at the back of the stage—at times the dancing seems to be accompanying the music rather than the other way round.
What's so gratifying is that despite occasional moments of cuteness and/or flirtation with the audience, the overarching impression is of the dancers' pure-of-heartness and good will—towards each other, towards tap, towards us.