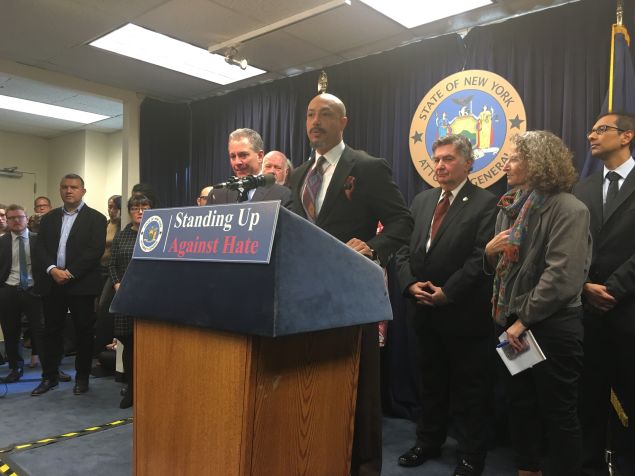 New York Attorney General Eric Schneiderman and the National Action Network's Kirsten Foy joined together with civil rights leaders to kick off an effort to counter hate crimes in the wake of President-elect Donald Trump's victory last week.
The attorney general announced he had issued a bulletin to law enforcement agencies and district attorney's offices statewide that identifies hate crimes statutes and emphasizes the need for law enforcement to properly identify incidents as possible hate crimes right away. The NYPD has seen a 31 percent increase in hate crimes in the past year—during Trump's incendiary anti-immigration campaign—particularly against Muslims and Jews, according to Schneiderman.
"We stand ready to commit whatever resources we can to ensure equality as we prepare for a possible uptick in hate crimes or other violations of New Yorkers' civil rights," Schneiderman said at a press conference in his Manhattan office. "And I would urge you that we are very committed to doing this in solidarity, both with the activists and those who are on the front lines and have confidence and access to vulnerable communities who are often afraid to come forward and speak to law enforcement."
The bulletin focuses on hate crimes against immigrants, religious minorities, ethnic and racial minorities, women, LGBTQ New Yorkers and other vulnerable communities.
Earlier today, he held a roundtable discussion in the city with immigrant community leaders and advocates to discuss concerns about the rise in hate crimes, harassment and rhetoric targeting immigrant communities.
At the press conference promoted as an effort to "stand up to hate," Schneiderman was flanked by the heads and representatives of the New York Civil Liberties Union, the Catholic Charities of the Archdiocese of New York, the Anti-Defamation League, the Islamic Center at New York University, 32BJ SEIU, the New York Board of Rabbis and the NAACP New York State Conference.
In an interview with 60 Minutes Sunday, the president-elect said he plans to deport or incarcerate up to 3 million undocumented immigrants who he said are "criminal and have criminal records, gang members, drug dealers." He also said he plans to institute aggressive stop-and-frisk policing as a national policy and announced a ban on Middle Eastern immigration to the United States and the establishment of a Muslim registry.
Asked by a reporter today whether there is a connection between the increase in bias attacks and Trump, Schneiderman said it's unclear what the Queens-born businessman's reign will look like—but there has been a verifiable surge in such crimes. The prosecutor alluded in particular to neo-Nazi graffiti found last week in upstate Wellsville, which included a swastika surrounded with the words "Make America White Again"—a clear echo of Trump's "Make America Great Again" tagline.
"The statistics are what they are, but 'Make America White Again' does resemble a slogan we heard a lot last year, so you can draw your own conclusions," Schneiderman said. "Look, we don't want to imagine problems that don't yet exist. We don't know what is gonna really happen. One thing we know is that we do have an uptick in bias-related violence."
Last night, fliers glorifying the KKK were found distributed on cars in Patchogue. This morning, a swastika was discovered on an uptown B train in Manhattan.
On Saturday, swastikas were found drawn on four dorm room doors at The New School in Lower Manhattan. And just a day before, a 19-year-old Muslim woman said a Caucasian couple yelled at her to remove her hijab as she rode a bus in Queens.
Gov. Andrew Cuomo launched a statewide telephone hotline—(888) 392-3644—for reporting bias and discrimination earlier this week.
Foy—a top aide to the Rev. Al Sharpton— took a jab at Trump's pledge to restore law and order in the country and his promise to augment the use of the stop-and-frisk policing method throughout the country. The activist also ripped the president-elect for decrying protests against his election on Twitter, and pointed to assaults against Muslims, women, LGBT individuals and "anyone for who they are" as the real crime.
"You ran on a law and order platform, Mr. Trump," Foy said. "Why don't you stand up for law and order when people are being victimized for the hate you spewed during tour election?"
He added his and others' fear and indignation has to do with the fact that "bigotry won the election."
"We are not gonna allow for bigotry to whitewash our gorgeous mosaic," Foy said, speaking of faith leaders and advocates standing behind him. "What you see behind you is the real America. What you see behind you is the future of America and what we are fighting is its ugly head in election. But we are not gonna shrink and we are not gonna shy from our responsibility to one another."
Disclosure: Donald Trump is the father-in-law of Jared Kushner, the publisher of Observer Media.