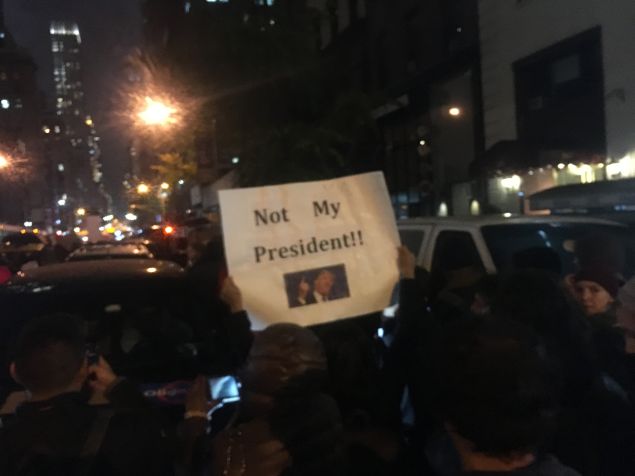 Donald Trump may have clinched the Electoral College last night, but thousands of New Yorkers marched from Union Square to Times Square to Trump Tower to say he's "not my president."
With chants of "fuck Trump!," "show me what democracy looks like!," "Trump's a bitch!," "my body, my choice," "fuck your wall!," "we reject the president-elect" and "we reject the fascist-elect," the protestors poured into the streets and paraded the 43 blocs to the incoming commander-in-chief's Fifth Avenue headquarters. They held posters bearing phrases such as "Love Trumps Hate," "Not My President!," "Don't Make America Hate Again," "Fuck Fascism," "Build Love, Not Walls. Latinas Contre Trump" and "She got more votes" and "No fascists sexists racists in our White House.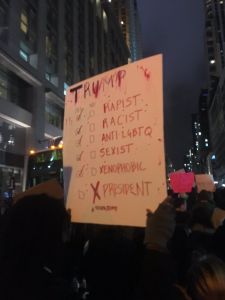 Alex Rivera, a 25-year-old Brooklyn resident, called Trump's victory "ridiculous" given his lack of experience in government—especially compared to Clinton.
"He's not qualified," Rivera said. "He's completely, his whole platform was just predicated on heightening fear among American citizens, basic xenophobia, racism, misogyny and so I think something needs to change. We had a very qualified person with Hillary and so it's just completely, it's just such a sham. I think everyone sees that everything's a sham and they're completely dissatisfied."
He said protesting tonight was a way to cope with frustration over the result of the election and a feeling of not having his voice heard.
"It makes people feel like they're participating in some way," Rivera continued. "I feel like it's bringing about some kind of empowerment, after feeling completely disillusioned and disempowered through the election process."
Another demonstrator, 52-year-old Andrew Means, came tonight from Pennsylvania, a state Trump shocked pollsters by winning. Means, who is originally from Brooklyn, said he felt "disrespected as an African-American" at the Queens-born businessman's success.
He recalled the president-elect's long history of offensive and inflammatory remarks about minorities and women, which he said brought the standard of the United States "below the gutter." But he says the solution is simple: get rid of Trump before he inaugurated in January because he "doesn't have a clue what's taking place" so anything could happen.
"There's not telling and I'd rather not wait to see," Means said. "Let's get him out before he gets in. Impeach him. They've got 12 women basically that accused him of fondling (them) and other charges. Get him out now."
He also said he told his 16-year-old daughter there was a bright side because he wanted her to see that there's still optimism in the country.
The protesters also targeted a number of Trump allies and surrogates, including Vice President-elect Mike Pence, former Mayor Rudolph Giuliani and New Jersey Gov. Chris Christie—shouting "Fuck Pence!," "Fuck Christie," and "Fuck Giuliani."
Copeland Barrett, an 18-year-old Brooklynite, blamed millennial apathy for Trump's win.
"I think the 11,000 people who voted for Harambe is absolutely ridiculous," Barrett said. "I think the third party voters who split up the Democratic Party vote is ridiculous and I think that the fact that so many people didn't go vote just because they thought it wouldn't matter is ridiculous. I know at least 20 people who didn't vote and I think that's insane and that's why I'm doing this."
And despite the fact that Trump secured the necessary 270 electoral votes to get into the White House, she said it's close enough to demand a recount.
"I mean, I trust them," Barrett continued, referring to the numbers. "I'm gonna accept the fact but I wanna do something to change it. I wanna see if there's anything we can do."