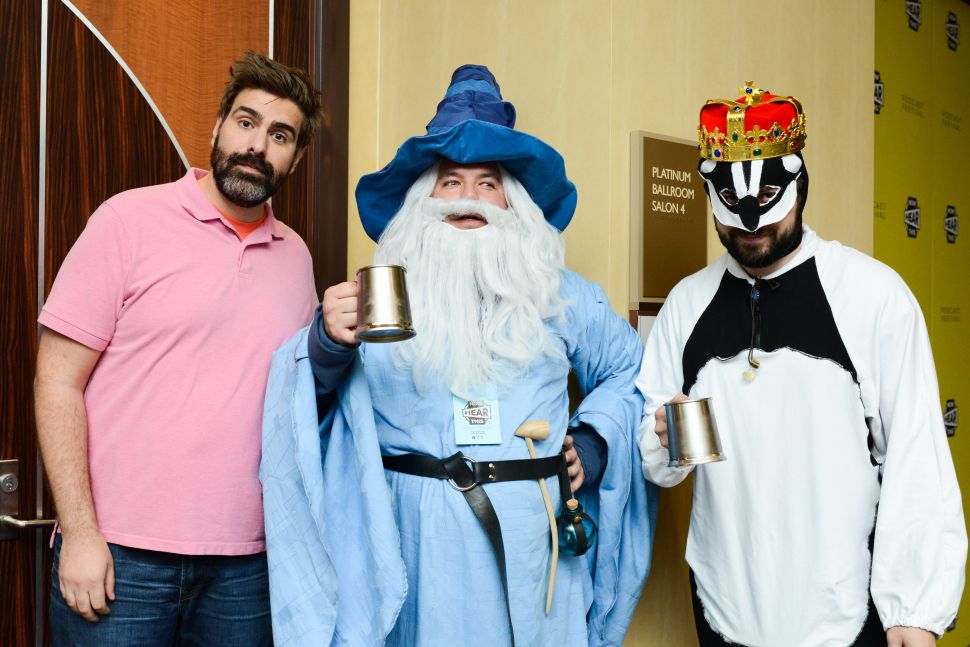 This past weekend was an epic one of commuting for Los Angeles's pop culturally obsessed. To start with, there was a smattering of rain, which tends to cause the same shivers of anxiety that snow flurries cause drivers inside the Beltway. Then there was the surfeit of overstuffed festivals, including the EW PopFest at The Reef downtown, Stan Lee's Los Angeles Comic Con at the LA Convention Center, and Tenacious D's Festival Supreme over at the Shrine. But the biggest gambit of them all, both in terms of scope and driving time, existed somewhere between 45 minutes and two hours from the city, depending on when you left and just how on point Waze was at that moment. That was where—at the Harbor Boulevard exit off the 5—the podcast convention Now Hear This had taken over Anaheim's Convention Center Marriott, just across the street from the happiest place on earth.
While far from the only podcast convention—indeed, the well-regarded LA Podcast Festival had been held at the Sofitel across from the Beverly Center a mere month earlier—Now Hear This was trying to be something different: a fan-facing, 30 show, 6 stage podcastapalooza. No mere trade show, its ambition was to become something akin to San Diego's Comic-Con, only for people who can tell the Sklar brothers apart.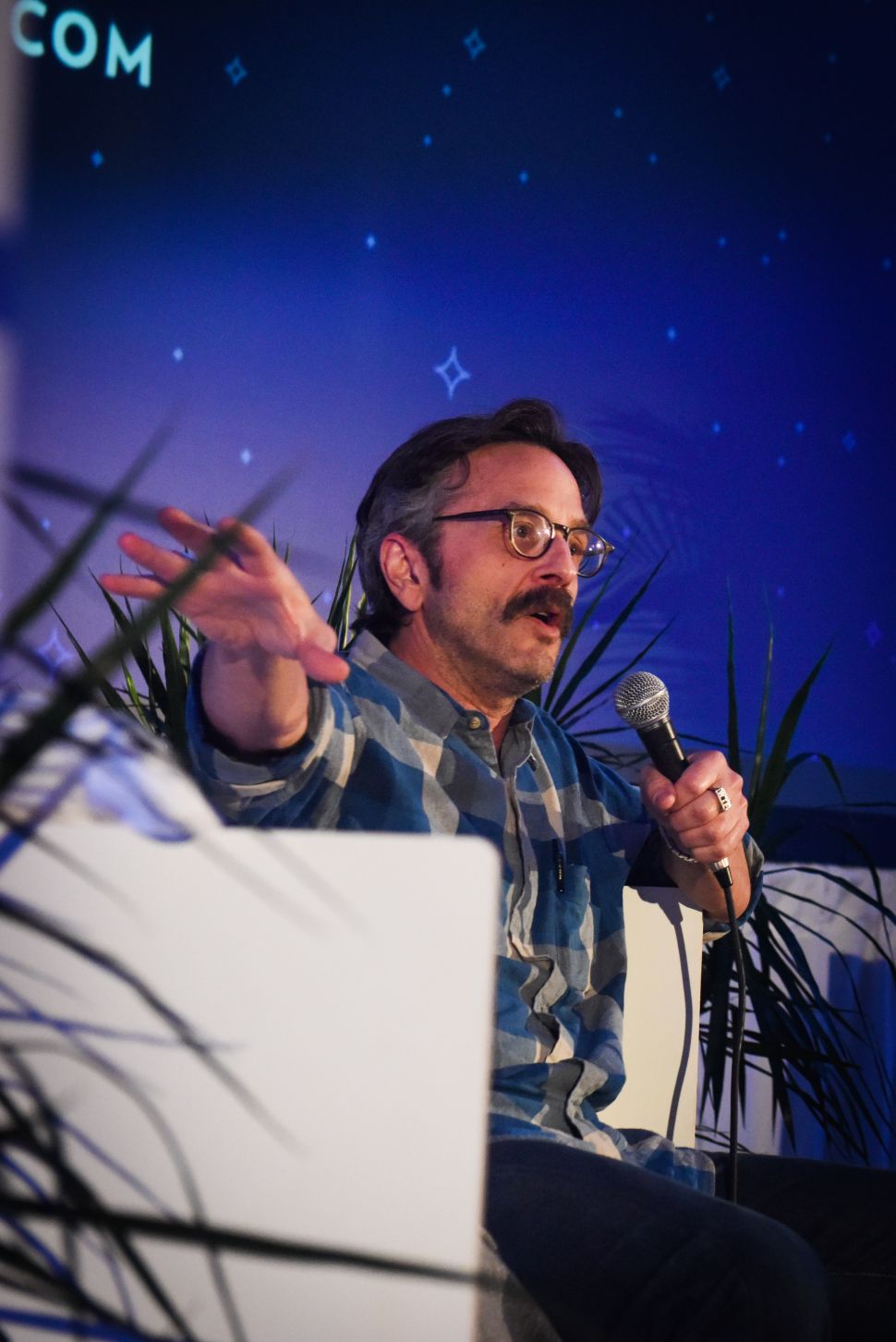 Now Hear This was created and operated by Midroll, the Scripps-owned podcast advertising network and, sure enough, their most popular shows dominated the three-day lineup. These included WTF with Marc Maron, who drew a standing room only crowd Saturday afternoon, Scott Aukerman's Comedy Bang! Bang!, Casey Wilson and Danielle Schneider's Bitch Sesh, and Spontaneanation with Paul F. Tompkins, the show chosen to close out the festival on Sunday. While many of the podcast hosts were pleased with their comped hotel room and healthy (by podcast standards, at least) day rate, Midroll's apparent preference for shows from Earwolf, their in-house network, and general all-around bigfooting in the otherwise genteel world of podcasting, did raise a few eyebrows.
"The overall concept was, let's make sure that it is not just Earwolf, that it is not just Midroll shows that we sell adds for," says Midroll's chief revenue officer Lex Friedman, citing the heavy presence of both NPR and Slate podcasts. "We wanted it to be network and show agnostic."
Friedman insists that was the idea with Now Hear This was not for Midroll to squeeze the existing podcast festivals into submission by swinging around their bankroll, but to create a convention of and for the lovers of podcasts, a listenership that has grown some 75% in the last three years. (The statistic most people in the podcast business like to use is that as many people listen to them as use Twitter).
"We wanted this to be first and foremost a fan festival," says Friedman. "We have been presenters at Podcast Movement, but that is really for podcasters. This is more for people to enjoy their favorite shows. We are friendly with LA PodFest and many of our Earwolf shows present there. Here though, there is a wider breadth in terms of both the types and number of shows. We weren't trying to do it better; we were trying to do something different."
While there was a smattering of exceptions, for all the talk of variety, comedy dominated the three-day festival. That was in part because that is Earwolf's specialty, and in part because those are the shows that tend to play well to a boisterous audience over the Halloween weekend. "The scripted performance, like a nonfiction play, is a trickier thing to pull off both for the audience and the performers in this kind of setting," says Friedman.
For Jimmy Pardo's decade-old podcast Never Not Funny, Now Hear This was an opportunity to unleash his show's superpower. The long time Conan O'Brien warm up man is among the premiere crowd work comedians in the country, and he was working one that was well aware of what they were in for. "It's always great to do be able to do the show for a group of people who know all the inside jokes," says Pardo. "It seemed like everyone had a great time."
The smattering of attendees I spoke to (including one who came all the way from Alaska) generally concurred. The primary complaint was an embarrassment of riches, or rather improvisers: I Was There Too from Drunk History's Matt Gourley was on at the same time as With Special Guest Lauren Lapkus, leaving a real Sophie's Choice for improv geeks.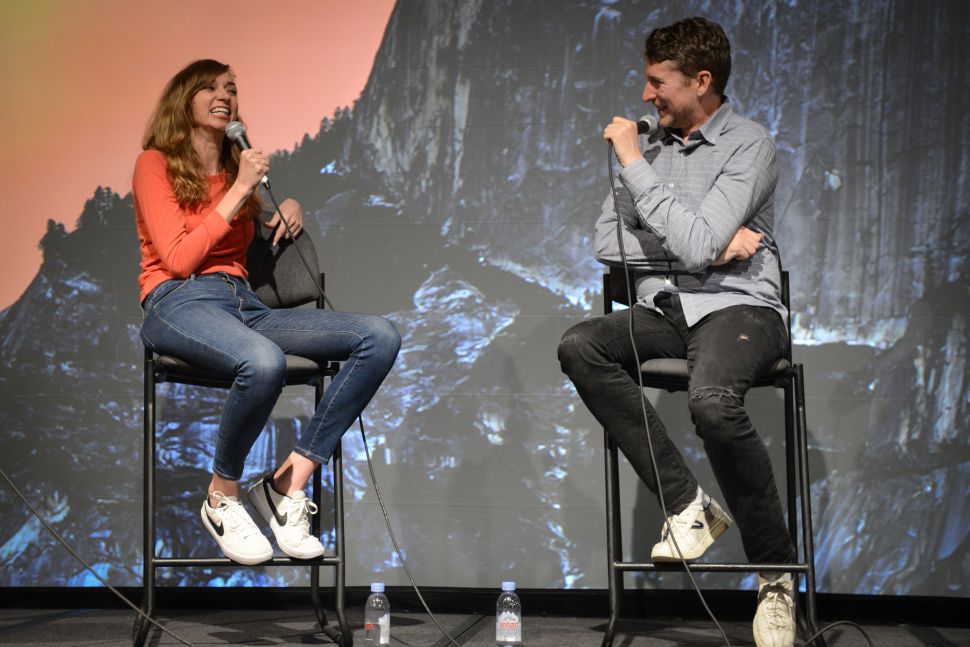 But was the first-ever Now Hear This a financial success? Is there gold in them there podcast devotees? According to Midroll, they sold somewhere north of 1000 three-day passes, which ran between $150 for standard issue to $280 for the upgraded VIP. The fancy pass got you in the fast line and allowed access to a lounge that offered unlimited tacos, Pepsi, and access to the talent. (Though truth be told you were just as likely to run into the likes of The New Yorker writer Susan Orlean, co-host of Crybabies with Sarah Thyre, in the general admission Happy Hour lounge where the merch table was.) Midroll shared that the attendees were split evenly between Southern Californian and out-of-towners.
As much as the show was for fans, it did serve to reinforce the sense of community within L.A.'s fast-growing pond of podcasts. Like many of the hosts at Now Hear This, Pardo guested on another show while he was there, doing Ronna and Beverly with Jessica Chaffin and Jamie Denbo, another Earwolf show. In turn, Denbo's husband, the actor John Ross Bowie from ABC's Speechless, was a guest on Pardo's show. To manage the soul crushing two-plus hour drive, Ross Bowie blasted the entirety of the original Broadway cast album of Sweeney Todd in his Prius.
"We know we are going to do this again, and we know we will do it differently," says Midroll's Friedman who plans to keep the festival in California, but probably not Anaheim. Maybe it was the commute?