Back in 2012, longtime NY1 news anchor Pat Kiernan made real estate waves with his purchase of a $2.03 million townhouse in Brooklyn, located at 135 Bedford Avenue.
At the time, it was the highest price ever paid for a single-family home in Williamsburg, and the Canadian television host, known for his "In the Papers" segment, his wife, Dawn, and their two children made their way over the bridge, from their Upper West Side co-op all the way to Brooklyn.
Apparently, the Kiernans made another purchase in Williamsburg shortly thereafter. In 2013 they purchased a two-bedroom, two-bathroom duplex at 171 North 7th Street, for which they paid $860,000.
It is perhaps understandable that the 1,200-square-foot condo didn't get quite the same level as attention as the 2,600-square-foot home four-bedroom townhouse. There's nothing wrong with the condo, but nothing that stands out as particularly noteworthy—even the listing, shared by RealDirect brokers Doug Perlson, Aimee Denaro and Leia Furer, notes that "You're not paying for a doorman or billiards room in this small North Williamsburg building, so you get a lot for your money."
Well, it seems that Xavier Plewa and Lauren Lewis were taken enough with the duplex garden condo that they doled out $1.06 million to take ownership of the space—a bit less than the $1.23 million the unit was listed for in November.
The condo has private outdoor space, as well as an extra room that could function as a "home office, playroom, or third bedroom," suggests the listing.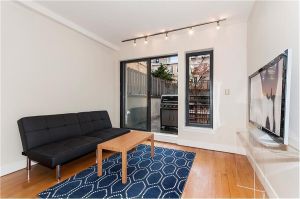 It's not entirely clear why Kiernan, who has been the morning news anchor for NY1 since 1997, decided to pick up this condo in the first place, but perhaps he was just so taken with Brooklyn a few years ago that he decided it was a sound investment opportunity—the townhouse he purchased the year prior was recently renovated before Kiernan moved in, so it doesn't seem likely he ever actually resided in this duplex, but you know never.
He recently wrote a children's book entitled "Good Morning, City," which he apparently finished in approximately one month (it is being released in the next week). It's essentially about early morning in the city, something Kiernan is especially well-informed of—he told the New York Post, "I get up every morning at 3:08 on the dot . . . if I get up at 3:09 I know I will be late. I have been traveling the same route for the past 19 years. So I know all the timing of the lights and the flow of traffic." Hear that, Brooklynites? All you have to do to see him is travel the streets at 3:00am! Well, or just turn on NY1 in the morning.