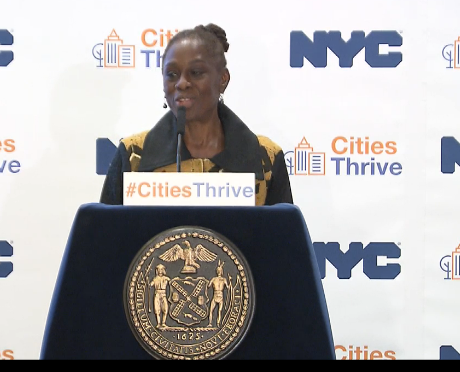 First Lady Chirlane McCray today encouraged President Barack Obama and Congress to enact more robust mental reform legislation to combat the country's mental health crisis
This week, McCray launched Cities Thrive, a nationwide coalition that seeks to drive mental health reform on a local and national level across America. The two-day conference at Gracie Mansion featured elected officials, public health advocates and mental health professionals throughout the country consisting of both Democrats and Republicans.
"Now clearly, none of us are waiting on the federal government to address the mental health crisis in our communities," McCray said. "We're doing what cities have always done: delivering for our people through sheer grit and ingenuity. But the mental health crisis is too big for any one city to overcome on its own. We need the federal government to join us."
One of the coalition's primary goals is to advocate for comprehensive mental health reform, said McCray, who launched ThriveNYC in November 2015, a set of 54 city initiatives approaching mental health as a public health challenge involving multiple city agencies and combating the stigma surrounding the issue.
McCray noted that the Comprehensive Addiction and Recovery Act—which addresses the opioid epidemic—passed with bipartisan support and was signed into law by Obama this year, but that Congress only has a few weeks left to push through "real and lasting reforms." This, she said, prompted the coalition to draft a letter urging Congress "to take action before it's too late," a letter to which she encouraged attendees to add their names.
Cities Thrive is calling on Congress to include $920 million in the 2017 omnibus spending package to implement CARA, calling the opioid crisis a "national problem" that requires a "national solution." It is also asking the Senate to pass the Helping Families in Mental Health Crisis Act and the president to sign it.
The act includes the creation of the position of assistant secretary for for mental health and substance abuse use disorders in the Department of Health and Human Services and more treatment for young mental health patients.
"For that to happen, we need both houses of Congress to provide robust funding for all of the mental health programs they have already approved," McCray continued. "Hear that? They already approved them."

Coalition members will now meet with their members of Congress on mental health issues at least once a year. McCray said that they will work with Washington to craft legislation "that builds on the work that we've already done"—making a reference to the recent presidential victory of the mercurial Donald Trump.
"We don't know exactly what the next president and the next Congress are thinking when it comes to mental health, which makes this coalition—this group of people—all that more vital," McCray said. "Together, we can make sure our leaders in Washington understand the urgency of the mental health crisis."
The first lady also said the coalition is requesting that every founding coalition member recruit at least five more cities or counties—which she says will lead to the participation of more than 300 cities by 2018—and to pursue at least one new local initiative each year.
The coalition is also asking members' cities to engage with it to lead a share national agenda, noting that they are going to organize a variety of opportunities to strengthen the coalition with phone calls, days of action and congressional advocacy.
Mayor Bill de Blasio, a liberal Democrat, spoke of his relationship dating back two years with Oklahoma City Governor Mick Cornett, a Republican who is president of the U.S. Conference of Mayors. De Blasio noted how he and Cornett—who was in attendance at the conference—were able to join forces to address the country's mental health crisis.
They also worked together to encourage Congress to pass  a transportation bill in December 2015.
He described their "odd couple" partnership as proof "there is power and there is hope in bipartisanship," remarking that Oklahoma "took an important stand on behalf of addressing the issue of incarceration and the issue of mental health."
"We're about to go into unchartered territory, there's a lot we're gonna have to work out," de Blasio said. "But one thing we know is that bipartisanship is one of the answers. When we can reach it, it has a special power."
The mayor said McCray "felt a moral obligation to tackle the stigma head-on" and that she is going to "take that culture change to the grassroots."
"It's gonna reach people that have been never reached before," de Blasio continued. "It's going to get people the treatment they never knew they could possibly reach because she had the audacity to think there was a better way."
Disclosure: Donald Trump is the father-in-law of Jared Kushner, the publisher of Observer Media.