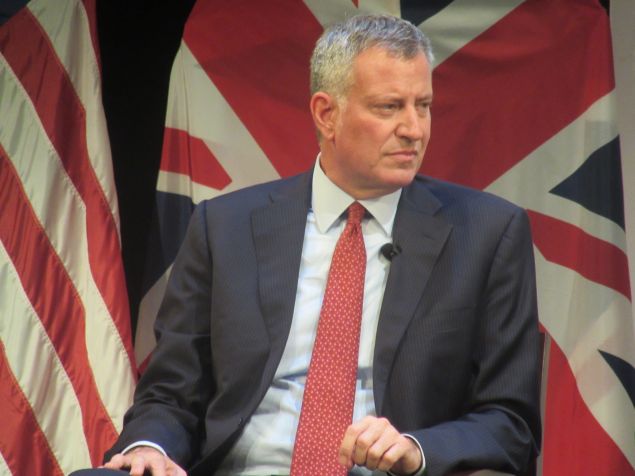 A day after Mayor Bill de Blasio promised legal action to block President-elect Donald Trump's proposed Muslim registry plan if implemented, he refused to give specifics on what that action would look like—or how the city would handle a retaliatory cut to federal funding to the New York City Housing Authority, the public hospital system or the NYPD.
At his anti-hate address at Cooper Union yesterday morning, de Blasio vowed that if Trump were to move forward with a proposal to require Muslims to file their personal information with the federal government, he would fight it in court, echoing an assertion he made to the incoming commander-in-chief during a private meeting last week. He also said the city would provided undocumented New Yorkers with lawyers to protect them and their families if the government tries to deport them, and said New Yorkers should keep applying for the municipal identification program because the city won't turn over their records to Washington.
Today, though, the mayor was short for details on what that legal action would look like, and would only insist that he and others across the country will fight it.
"On the legal action, look, a registry by religion has no precedent in the entire history of the United States. It just doesn't," de Blasio told the Observer. "The notion of a religious registry goes against the United States Constitution and I will take legal action and I think mayors all over the country will take legal action and a number of other people will take legal action to stop something that's blatantly unconstitutional."
However, President George W. Bush attempted to create a database of immigrants from Muslim-majority nations in the aftermath of 9/11, and many have suggested Trump will look to it as a model for his own system.
The mayor also couldn't say how the city would fill a hole in its budget should the Republican-dominated federal government respond to his noncompliance with Trump's mass deportation plan by slashing outlays for city agencies and entities. Even under President Barack Obama, the mayor has repeatedly had to beg Washington to preserve anti-terror appropriations for New York, and to provide more money for the cash-strapped housing authority and Health + Hospitals system.
"Look, we're gonna seek to resolve these issues when we can but if the federal government asks the city of New York to do something that we think is against our vital interests, we're prepared to stand up," de Blasio continued. "I'm not gonna speculate about the funding issues because it's way too early to tell."
De Blasio noted that the city has laws delineating when it turns over undocumented immigrants the U.S. Immigration and Customs Enforcement agen—60 different offenses in areas such as major violent crimes, major drug offenses and "anything related terror." But he reiterated that the city will never surrender people without proper paperwork who have committed minor and nonviolent offenses.
He did say that, whether Trump acts through Congress or executive order, the president-elect will have to go through "a lot of different hurdles to bring any vision to fruition."
"I don't think people should assume he simply flips a switch and everything changes in this country," de Blasio said. "And I remind you as I said yesterday, right now, he's a smart man, he knows that the vote total for his opponent is 1.7 million in her favor right now. So he does not have the kind of mandate for the people of this country for some of the more extreme plans that he put forward."
The mayor also refused to confirm reports that providing security for Trump is costing the city more than $1 million a day, but said he has asked Homeland Security Secretary Jeh Johnson about getting a reimbursement for the city.
"The conversations with the Secret Service to lock down the plan only really happened in the last few days and we know the situation's evolving depending on what the Trump family does," de Blasio added, noting the mogul's wife and youngest son intend to remain in New York. "So we're gonna be careful about citing officer numbers or dollar figures."

Disclosure: Donald Trump is the father-in-law of Jared Kushner, the publisher of Observer Media.