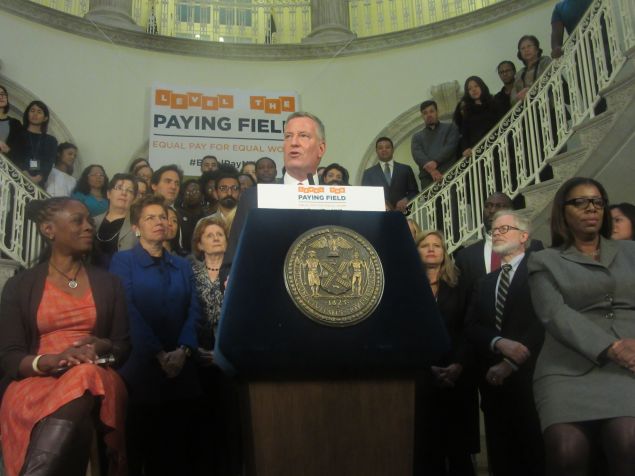 Hours after the conviction of two ex-staffers of New Jersey Gov. Chris Christie for the 2013 lane closures on George Washington Bridge, Mayor Bill de Blasio declared himself "not surprised"—and that the GOP Garden State governor hasn't given "good enough answers." 
A jury found Bill Baroni, former deputy executive director of the Port Authority, and Bridget Kelly, former deputy chief of staff to Christie, guilty of a scheme engineer a traffic jam on the New York-New Jersey span in retaliation for the Democratic mayor of Fort Lee not endorsing Christie's reelection. Their defense attorneys said they would pursue retrials for them, while the U.S. Attorney's office said it is "proud" of the ruling.
Christie, for his part, released a statement in which he dismissed claims that he had any knowledge before or during the lane realignments and the assertion that he approved them as "untrue."
"I certainly think he still has not given us good enough answers," de Blasio, a liberal Democrat, told reporters after an unrelated press conference in City Hall. "I think everything we've heard suggests a pretty lurid tale. And I suspect there'll be further ramifications in New Jersey for certain."
Christie's office did not immediately respond to a request for comment.
New Jersey Working Families Alliance director Analila Mejia called on the legislature to conduct impeachment proceedings against Christie if he does not step down himself. Jersey Assemblyman John Wisniewski is looking to reassemble the Legislative Committee on Investigations to examine Christie's actions in the Bridgegate scandal.
The mayor says he's not shocked by the results, saying that he hopes that people who commit such acts are no longer in the public sector and saying that the fact that they were caught "will lead to further examination."
Last month, David Wildstein—a former PA official appointed by Christie who pleaded guilty to conspiracy in the Bridgegate case—said Gov. Andrew Cuomo colluded with Christie to cover up the real reason for the disruptive lane shutdown. Cuomo, de Blasio's bitterest rival in the Democratic Party, has dismissed the claim as "gossip" but said that he did not remember how he first learned of the incident.
Neither governor has faced any formal charges of wrongdoing. Port Authority Executive Director Pat Foye, a Cuomo appointee, has told the Observer in October that the trial has damaged the bi-state bridge, airport and tunnel-operating entity's reputation.
Christie and de Blasio have scrapped several times, with the Republican governor trashing Democratic mayor's policing policies, and the mayor ripping the former presidential hopeful's stance on accepting Syrian refugees. Also, in 2015, de Blasio's former NYPD Commissioner Bill Bratton called Christie "a fool."