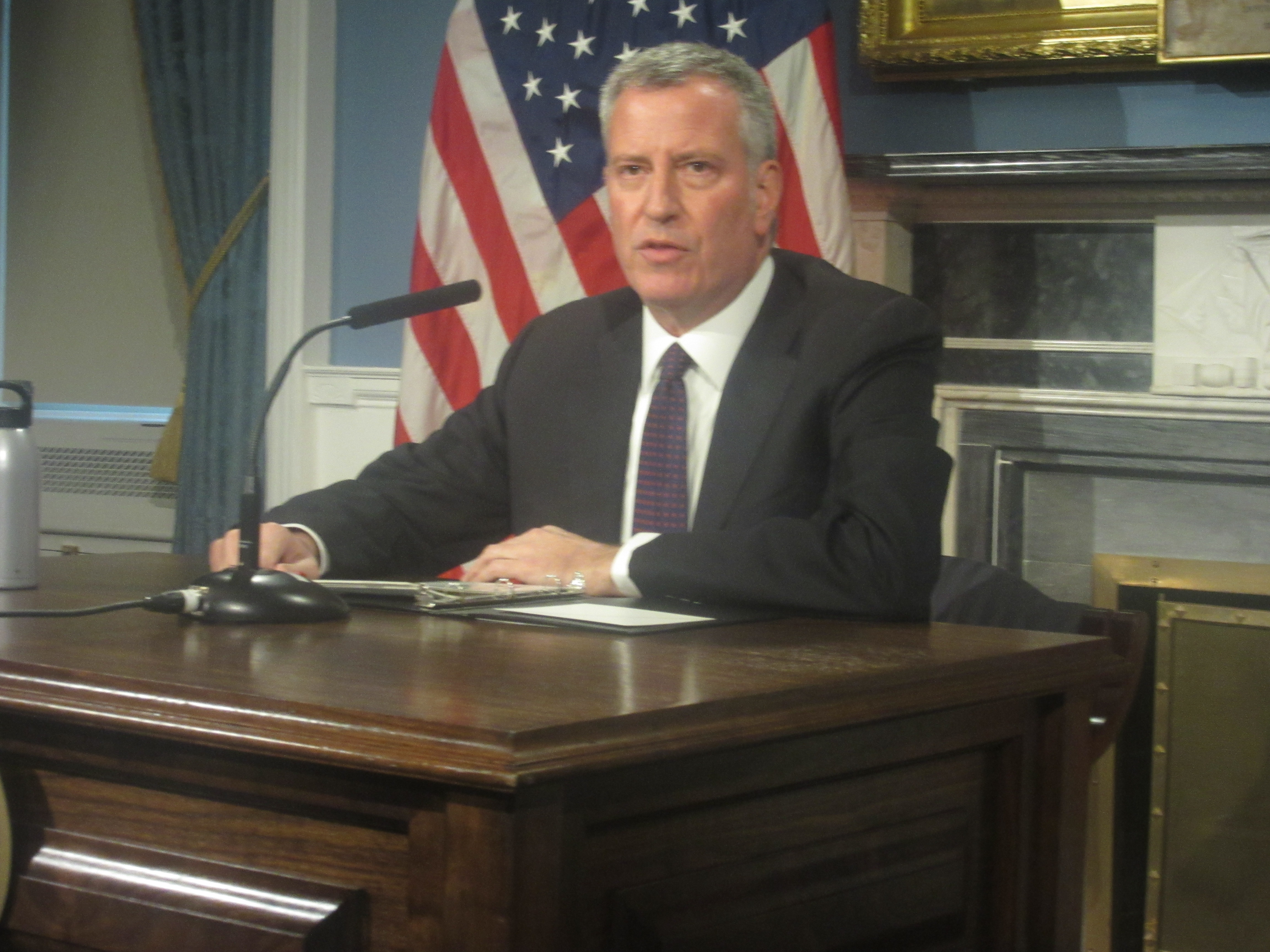 Mayor Bill de Blasio said President-elect Donald Trump will be in for "a real fight" if he tries to lay hands on the files of New York City's municipal identification program—and the resistance won't just be from the left.
De Blasio launched the IDNYC program last January, in part to help undocumented immigrants in need of a government-verified proof of identification do things like open a bank account. Groups such as the American Civil Liberties Union were concerned the I.D.s could lead to the creation of a database of people lacking proper paperwork—prompting the administration to promise to flush the records at year's end should a deportation-happy candidate take the White House.
The liberal Democratic mayor asserted today that a powerful "libertarian streak" running through the Republican Party would rouse many conservatives join progressives in protecting those documents should Trump attempt to seize them.
"So on something like that, I think because it touches that button directly of whether people's personal privacy is gonna be respected, I think that's one where there'd be a real fight," de Blasio said, adding that the city might wipe the files either way. "As you know, there's been an ongoing plan regardless of any electoral activity of how long records are kept."
"Given this new reality, we're certainly going to assess how we handle it," he added.
The municipal I.D. program was also targeted recently by Manhattan Board of Elections Commissioner Alan Schulkin, who said in a secretly recorded video published by the conservative Project Veritas that the program encourages voter fraud—something the mayor vehemently denied.
De Blasio said today that Trump may have the power to change some federal laws but that the Constitution reserves many rights and powers of states and localities.
"That's how it was built," de Blasio said. "In the 1780s they didn't say, 'Here's this land mass, that's America and we're creating one national government and that's it."
De Blasio said he would with his former boss, Democratic presidential nominee Hillary Clinton, tonight but he would not disclose what exactly they would discuss. As for concerns about security around Trump Tower, Trump's namesake building, de Blasio said the city will only have to deal with it for a couple of months as Trump will move into the White House but said the NYPD is equipped to deal with any issues. He also said he expects protesting.
"Look at the bright side, the holidays are coming up and Midtown will be all messed up anyway," he said.
Yesterday, de Blasio held a press conference in City Hall's Blue Room where he told reporters he hoped Trump would not forget his hometown and promised that all citizens' rights would be protected. The Queens-born businessman's win came as a blow to the mayor, who had expressed confidence early in the evening that Clinton would win.
Disclosure: Donald Trump is the father-in-law of Jared Kushner, the publisher of Observer Media.