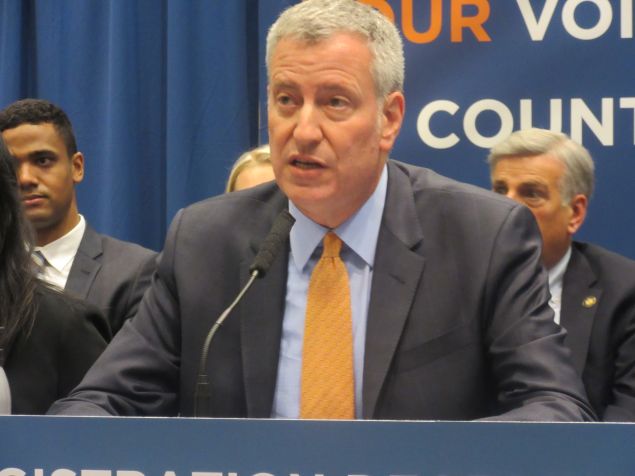 Mayor Bill de Blasio pledged that President-Elect Donald Trump's proposal to implement the use of stop-and-frisk nationwide are not going to fly with him—noting the federal government can threaten deny New York City money, but can't force it to change its policing methods.
On the campaign trail, Trump promised to restore law and order in the United States and called for stop-and-frisk to spread across the map. During the first presidential debate, then Republican nominee Donald Trump said the policy was successful in New York, even as his opponent Hillary Clinton and moderator Lester Holt pointed out that a federal judge ruled it unconstitutional in 2013.
De Blasio promised that, so long as he is mayor, the city would abide by Judge Shira Scheindlin's decision.
"It's really important for people to know: they can threaten to take away money but they cannot tell us how to police our streets and we are not going back to a broken policy of stop-and-frisk," de Blasio told Hot 97 this morning. "That will never happen under my watch."
As Public Advocate, de Blasio opposed the NYPD's practice of stopping and searching individuals—particularly young men of color—without a warrant and often without pretext, a practice his predecessor Mayor Michael Bloomberg ardently defended. Bloomberg appealed Scheindlin's ruling, but de Blasio dropped the suit after entering Gracie Mansion.
Police continue to employ stop-and-frisk in select situations, but the use of the tactic has dropped precipitously.
De Blasio asserted that targeting minority neighborhoods for pat-dowsn ultimately did not help increase safety in the city.
"It was not only morally wrong, it absolutely did not make us safer," de Blasio said. "When we took away that policy, the city got safer three years running and the goal has to be to bring community together and you can't do that when you have the unconstitutional use of stop-and-frisk creating a wedge."
De Blasio and his two top cops, former NYPD Commissioner Bill Bratton and current Commissioner James O'Neill, have advanced a cooperative "neighborhood policing model" as an alternative to Bloomberg's strategies.
The mayor also weighed in on the rise in hate speech and hate crimes since Election Day—the Southern Poverty Law Center says there have been 201 incidents of hateful harassment and intimidation since the election. many with direct references to the Trump campaign. He said the city will "bring the full force of NYPD to bear" to combat such behavior.
"There's no question we have seen an uptick around the country in hate speech and hate crimes and we have to be very, very clear we won't tolerate it," de Blasio said. "In this city we don't tolerate it."
And he expressed disappointment over Trump's appointment of Trump for President CEO Stephen Bannon as his chief strategist and senior counselor. Bannon was charged in a domestic violence case in 1996 and ran Breitbart, a news site he promoted as a platform for the "alt-right" movement, a loose-knit group associated with white nationalism and anti-Semitism.
"This means that an organization that's been closely linked to white supremacists is going to have a representative in the White House," de Blasio said.
In his wide-ranging interview with Hot 97, de Blasio admitted that he was shocked at first by the election results but that "it quickly turned to a sense of mission." He also said that any effort by a Trump administration or a Trump-stacked Supreme Court to restrict access to abortion would "create an extraordinary upheaval" and that "we have to organize people to fight back."
Disclosure: Donald Trump is the father-in-law of Jared Kushner, the publisher of Observer Media.