Nothing is simple when it comes to women. If you're a man reading those words, you may be blithely nodding along; your thoughts quickly flickering back to the confusing ladies in your life — did they really just expect you to read their minds? If you're a woman reading those words, your thoughts are probably catching a different key: the endless multitasking, the societal assumption that you're less than, the unsolicited scrutiny of your appearance and wardrobe. Again, nothing is simple when it comes to women.
Beloved early aughts WB series Gilmore Girls, which has returned as a Netflix reboot, A Year in the Life, is a show driven almost entirely by that complication. It dabbles in all of those examples, and then some. Anchored around the ever-bantering mother-daughter duo (bolstered by the dialogue from the show's creator Amy Sherman-Palladino) the series doesn't focus on strong women tasked with solving mysteries or chasing after bad guys while wearing unrealistic stilettos; the strong women of Gilmore Girls are tasked with the equally demanding mission of being ambitious, loving, and complicated. Lauren Graham (who plays Lorelai Gilmore) has called the show "sneakily feminist." That ethos is laid out pretty clearly in season one, when Lorelai tells Rory why she has to put school above her new beau, Dean. "Guys are great," she says. "You don't get knocked up at 16 by being indifferent to guys. But babe, guys are always going to be there, okay? This school isn't. It's more important. It has to be more important."
In a recent interview with the Observer, the show's costume designer, Brenda Maben, spoke about the wardrobe details that echo that sneaky feminism. Maben, who has been with the series since its first episode, and is back for the Netflix redux, also touched upon the task of dressing female characters so they feel relatable, but also original. Though the choices may appear almost haphazard at times—how hard is it to put someone in a vest?—every detail of a character's costume reflects a deliberation process and a conscious choice to get an element of their personality across. Nothing is simple.
"Each character, I feel, marches to the beat of their own drum," Maben said. "I tried very hard not to have fads come into play, I tried to keep nice, clean, classic lines, but with fun infused in them." Starting at the show's "ground zero," as Maben called it, she built character closets from scratch and sought out looks that reflected who these women were, and who they wanted to be. You can't judge a book by its cover, but you can tell a whole story in an outfit.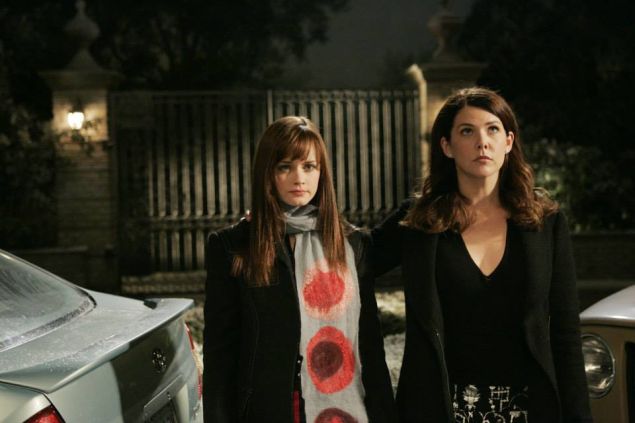 "Lorelai was working at an inn and she was saving her money because she wanted to buy her own inn. It was basically work suits, and then when she was at home, the directive was jeans and t-shirts. She loved rock 'n' roll, she loved The Bangles and groups like that, so maybe sometimes she wore a concert t-shirt." Maben also spoke of the finer pieces in Lorelai's closet. "Supposedly she knew how to sew, so the mindset was, 'She made that. She knitted that, she manufactured it herself.'" Then, of course, there were her more conservative outfits, reflected in her choices for Friday night dinners at her parents' house. "That was a throwback to how [Lorelai] was brought up," Maben said.
As close as they were, Rory and Lorelai's style was never similar and their clothing choices reflected the complex women they were. "With Rory, she is a book worm," Maben said. "When she went to Chilton, she didn't really care about her clothing in the beginning. She was more about what was between the two covers of the book. [Out of uniform] she was just very conservative; khaki pants, maybe jeans, sweaters. Nothing that had a whole lot of style to it, because she wasn't the one who did that."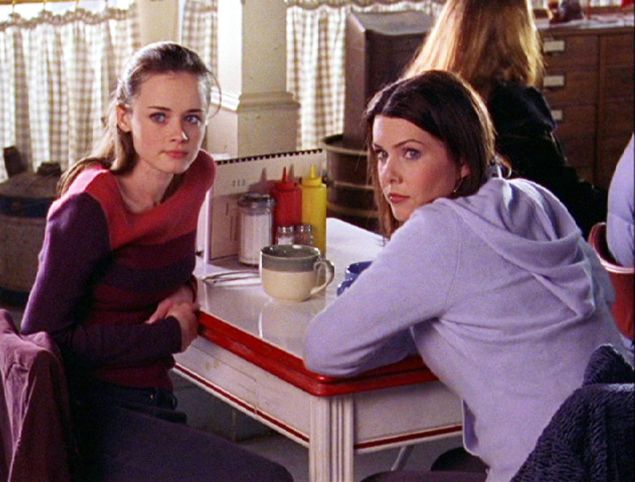 When the Gilmore girls' styles changed, even slightly, it was a reflection of changes within their lives and inner workings. "There was always a discussion each and every year, each and every season," Maben said of the women's evolving styles. "Because Lorelai and Rory were kind of growing up together."
"Once Rory got to college, [she] definitely her look changed. She became closer to her grandparents, she started wearing a lot of tights, skirts, the college look." Maben also cited Rory losing her virginity to Dean as an important moment in her style evolution too. "That was reflected in just showing a little more skin—not a lot more—but she just wasn't so closed up. The collars of her shirts were opened as opposed to always being closed. Stuff like that."
With the few trailers that have been released in promotion of the reboot, fans have been scouring the frames for signs of spoilers. While not too much is given away—wait, are Luke and Lorelai together?—the subtle style switches give a hint as to how these complex characters have marched on in the years since the finale. "[Rory] has been to Europe, Logan is still around a little bit (and so are the other guys as we can see in the trailer), and she's grown up into her own person," Maben said of Rory's new look. "She knows what she wants, she's on the road to becoming successful, she's still following her dream, so her clothing style has definitely progressed. The same thing with Lorelai."
Then of course there's the wardrobe choice that surprised all Gilmore fans who saw the trailer: Emily Gilmore—arguably the third Gilmore girl—in jeans and a t-shirt, a far cry from her usual elegant fare. "Yes, she has on a t-shirt and jeans, but she does have on her necklace. I can't tell you much about it," Maben teased. "But it's a huge left turn for her."
When costuming complex, dynamic, feminist female characters, even something as seemingly simple as a t-shirt tells a story. While Gilmore Girls tackles a host of topics handled by everyday women, the clothes chosen by Maben and her team highlight the individuality of the show's characters. The show proudly bares the complexities and multitudes that compose a woman. After talking to Maben, it's clear that even something as unassuming as a shirt collar tells a story. It's in those details that we can understand even more fully the Gilmore girls and their evolution into the Gilmore women.