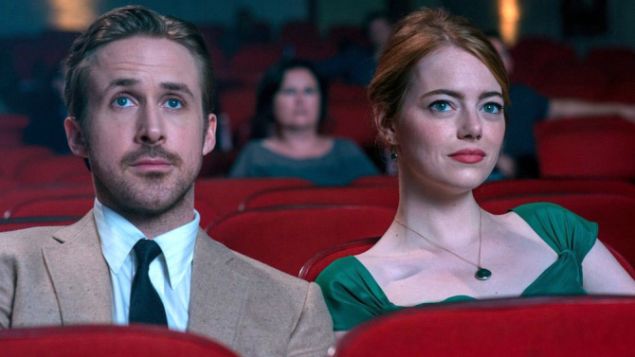 The most challenging phenomenon to predict about the upcoming 89th Annual Academy Awards – scheduled for February 26, 2017 — is the power of the black-lash to last year's #OscarsSoWhite fiasco. Right now, the frontrunner, Toronto audience award winner La La Land, is the poster child for the whiter-shade-of-pale Hollywood bubble movie, which may work against it
            Damian Chazelle's lyrical, semi-hipster musical love-song to Los Angeles won't even open until December 16th but expect a mad rush to the theaters for this must-see film. The follow-up to Chazelle's precocious Whiplash (which I prefer) pairs darlings Emma Stone and Ryan Gosling as an aspiring actress and jazz musician who spar, then smooch in Hollywood love.  Right now, it has the benefit and curse of being the one to beat – which makes it likely cannon fodder. In the spirit of full-disclosure – I'm an original member of GoldDerby.com where 20 out of 26 experts predict La La Land as the future winner. And I'll say this travesty: in the post- Glee, smash-hit Hamilton era, the modest singing talents of box-office draws Stone and Gosling may make more seasoned Academy members of the Vincente Minnelli generation pine for the musical stylings of Judy Garland or Cyd Charisse's dancing.
            The primary competition for Best Picture, Kenneth Lonergan's Manchester by the Sea, opened this past weekend to a very healthy $241,000 in limited release. It's a character-driven New England downer drama starring an Oscar-bound Casey Affleck as a Boston handyman gobsmacked by past and present tragedy and wracked by guilt with Michelle Williams and newcomer Lucas Hedges in strong support. Bring Kleenex but also be aware that this movie is about as culturally diverse as a lobster trap.
            And then there's the Christmas release Fences, Denzel Washington's transfer of August Wilson's Pulitzer Prize winning 1983 drama about a former baseball player turned trash collector trying desperately to provide for his family in 1950s Pittsburgh. There have been sneak screenings in New York and Los Angeles, and cries that the race (the Oscar race!) is over. Washington helms and is on track for Best Director, along with a stab at Best Actor (although Affleck above is currently the frontrunner), while Viola Davis as his on-screen wife has downgraded her star turn to supporting to put her at the top of that heap where she has a better chance of picking up a statuette.
            A relatively quieter film (and that's an absolute compliment) is Jeff Nichol's beautifully wrought, historical romance Loving. The resonant story of Mildred and Richard Loving (contenders Ruth Negga and Joel Edgerton) focuses on how this small-town interracial couple struggled against the miscegenation laws of their native Virginia following their 1958 marriage. The drama, now in theaters, never surrenders to agitprop or courtroom shenanigans but instead evokes an ordinary pair that in Romeo and Juliet fashion, simply wanted to be able to love each other and live in peace with their children but were restricted by the differences in their skin color. As powerful a story of race and grace as can be seen on the big screen this year, it's a personal favorite that keeps me putting my thumb on the scale for Best Picture, although it may be a lost cause.
            Observer favorite Mahershala Ali drives the opening third of Barry Jenkins' Moonlight, which has displaced Nate Turner's disgraced Birth of a Nation in the break-out African American indie spot. The character-driven coming-of-age story of an inner-city African American gay male will reap Film Independent Spirit and Gotham awards – but it's unclear yet, despite the critical favorite's high placement on many end-of-year and awards list, whether it has the power to make Best Picture. Certainly, it's likely to have the honor to be nominated, along with potential hopefuls Silence, Arrival, Lion, Nocturnal Animals and Sully.
            At the very least Moonlight's breakout star Ali, who is also killer in the Netflix series Luke Cage, is very much on track to take the Best Supporting Actor Oscar, in a night that will assuredly reverse the #OscarsSoWhite curse.