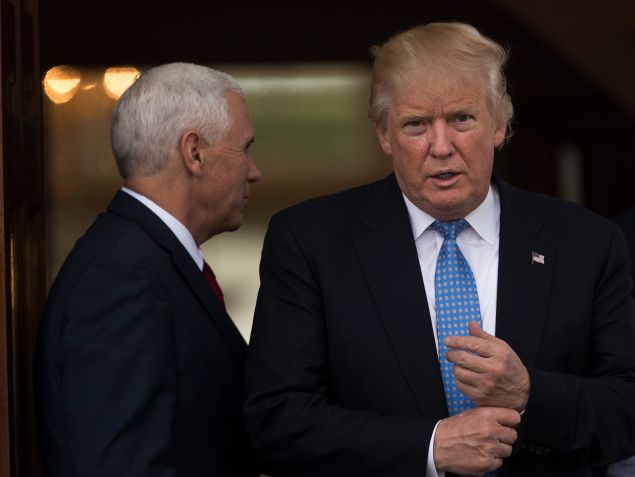 Unpredictability was the rule in 2016, and some in New Jersey are hoping that will be the case next year. While the Republican nominating contest in the race to succeed Chris Christie is less decided than New Jersey Democrats', Lieutenant Governor Kim Guadagno and Somerset County Assemblyman Jack Ciattarelli are favored to lead in racking up county endorsements and raise money.
Early backers of president-elect Donald Trump, however, are hoping to piggyback on president-elect Donald Trump's momentum in the deeply blue state and bring Guadagno and Ciattarelli's lack of support for the former reality TV star back to haunt them.
Commissioner Steve Rogers of Nutley and Ocean County entrepreneur Joe Rullo are both hoping to outrun their establishment rivals by capitalizing on the volatility Trump has stirred up in the Republican base nationwide. They were early and enthusiastic supporters of the real estate developer, along with comedian Joe Piscopo, who also intends to run.
State Senator Mike Doherty, one of the most ideologically committed Republicans in the state and Trump's most vocal supporter though much of the campaign, said he expects that early fervor to help all three.
"I know all of them. Steve Rogers was a big supporter of Donald Trump, Rullo was a big supporter and I think also Joe Piscopo. So that could help in a primary."
Steve Lonegan, former mayor of Bogota and a leading voice on the right in state politics, agreed that Guadagno and Ciatarelli's shared reticence to back Trump could be a disadvantage for both. He said Christie's outside chance of a job in Washington could tip the scales toward Guadagno, and that he would expect for her fundraising apparatus to be more developed at this stage.
"Both of them did not back Donald Trump. So that hurts both of them in a primary and with the Republican base, obviously. I thought most people thought Guadagno would be acting governor, that's pretty much up in the air, that could make a huge difference," he said. "Whoever has like $250,000 in the bank by the end of this year is going to be the strongest candidate."
As for the candidates themselves, Rogers said he expects the winds of change that so benefitted Trump will "blow right through New Jersey." But he declined to criticizehis more established rivals.
"I'm certainly not going to criticize them. It's going to be up to them to defend their records and I'll leave it at that with them. I'm the outsider, everybody knows that. People know that I have a strong resume regarding my military career and my law enforcement career," he said. "My focus is on the Democrat, I'm looking past them.
Rullo, meanwhile, pointed to his own perseverance during a campaign where Trump faced harsh criticism from many within his own party and a turbulent electoral forecast.
"I will tell you that I'm really disappointed in a lot of establishment Republicans." "There was a lot of other candidates and I stuck by him. And when things got dirty during the campaign I could have backed out."
Lonegan, though, had his doubts about either one. Asked about Rogers, Rullo and Piscopo, he offered a clipped response on their odds against former Goldman Sachs executive Phil Murphy, who has all but cleared the Democratic field.
"You could've said Moe, Larry and Shemp," he said. "First of all you need to have the ability to raise money, and lots of it. You need to take on a guy who has millions of dollars by kicking him had on his left-wing, liberal agenda. And no one is doing that. These guys aren't going anywhere."
Disclosure: Donald Trump is the father-in-law of Jared Kushner, the publisher of Observer Media.