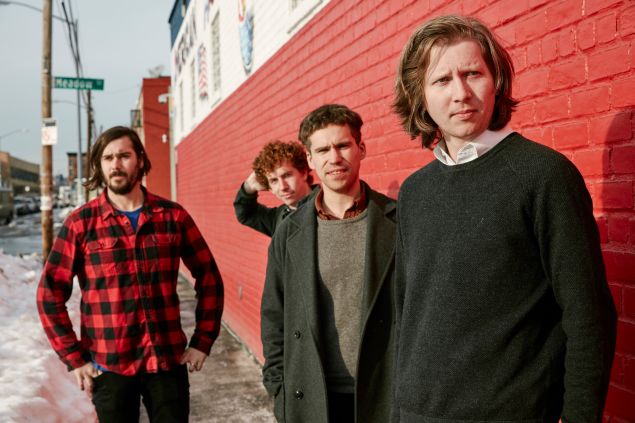 There's poetry buried in the music of New York punks. Philosophy, too.
As the Beats transformed into the Hippies, a mutant spawn was born. Ed Saunders led The Fugs through a song about nothingness on their scuzzy first album while simultaneously running a pacifist zine and protesting the war in Vietnam. Later on, New York's now-trending "downtown" era gave us Patti Smith, Richard Hell, Tom Verlaine, David Johansen and Johnny Thunders.
Smith became an established literary identity. Hell's memoir never quite took off the same, but his work still sells in galleries. Verlaine still tours Television around wherever an NYU undergrad builds a shrine to their legacy, and Johansen still has a sense of humor when resurrecting his Buster Poindexter alter-ego to sing "Hot Hot Hot."
Frank Zappa always asked if humor belongs in music, and our city has emphatically answered "yes." But smarts belong in music, too.
Our most enduring melodies often include all of this, as is the case with Johnny Thunder's "You Can't Put Your Arms Around a Memory." A prescient comment on the fleeting value of the past, it's also rooted in humor—my colleague Tim Sommer pointed out that Thunders culled the line from an episode of The Honeymooners called "Better Living Through Television."
"Alice threatens to kick Ralph out, and Ralph bellows, 'Y'know, Alice, You can't put your arms around a memory!'" recalls Sommer, "and Alice looks him up and down and says, 'Ralph, I can't even put my arms around you.' "
The point of all of this is that humor, poetry and philosophy coalesced long ago in the music of New York, a means of looking the present tense square between the eyes. In the words of a stoned Homer Simpson, "I am the OW in the word NOW."
That's what fascinates me about Parquet Courts, a Brooklyn-based group working with many of the same tools in the rock 'n' roll canon, sharpening them toward modern ends. Hear how seamlessly they channel a similar sense of societal awareness into our now, into our present. The smart kids are cool, and they know how to write some mighty timely songs.
"I hope those people found their shoes."—Andrew Savage
Parquet Courts have memories from just about every important Brooklyn D.I.Y. show space in the last 15 years, and by the time they released their second LP, 2012's Light Up Gold, they were already drawing crowds far larger than those spaces could contain. With its meditations on time, branding and commodity, that album's opening track ended with a reminder that "Socrates died in the fucking gutter!" It was an acknowledgement that all their smart words and thoughts were tied to their point of origin, to the crusty communities that birthed them, and they wouldn't forget it.
So even as they got to the point of selling out Webster Hall, a last-minute, secret show at whatever independent show space was still open remained important to the band. They released several more great records in the last four years, too, including a droney album of noise called Monastic Living that earned more than a few comparisons to Lou Reed's infamous Metal Machine Music.
Monastic Living would be their first album for Rough Trade, a refreshingly inaccessible entry to major label exposure. The more accessible songs recorded at the same time became their first Rough Trade full-length earlier this year—Human Performance, which went on to chart in the U.K. and has earned the band a wider audience still. Conjuring vibes of David Byrne, Lou Reed and Brian Eno, Human Performance plays with the sonic forms of a bygone New York to address the city's present with a sense of pause.
Opener "Dust" seems to be about air pollution before turning into a comment on keeping things fresh, while the idea of imitating forms is turned inward and made personal as an exploration of depression on the album's title track. That execution-style murder of two police outside a Bed-Stuy projects building following the Baltimore protests last year becomes the focus of "Two Dead Cops," while the very New York reality of seeing the places you frequent close down comes to mind during the short, blasting masher "I Was Just Here."
"Captive of the Sun," in particular, brings the street poetry to a climax. "Dump truck man, drops the beat with trash cans/Call 911! We got therapy demands/Philharmonic got a first chair car crash/Pan the falsetto to smash the glass/It's a drive-by lullaby that couldn't get worse/A melody abandoned in the key of New York."
"The line-up of the show is representative of a lot of different things that are happening right now."
Next month Parquet Courts will host and headline a multi-disciplinary evening of music and art at The Knockdown Center in Queens.
"Knock! Knock! Down! Down!" is part concert and part installation, featuring several of the bands that Parquet Courts is most excited about these days like Vanity, Flasher and Guerilla Toss. Comedian Joe Pera will perform a set. The band Eaters has a light and sound installation planned, and the Italian food-themed artist Joey Pizza Slice will screen some films. Revered, reunited proto-punks X_______X, who Parquet Courts get much of their sonic inspiration from, will share the bill alongside former Sonic Youth guitarist Lee Renaldo, who's planning to suspend his guitar from the ceiling in a sound demonstration I once saw him perform at the late, great Other Music. Parquet Courts' label, Dull Tools, will have a small record shop, and the band's guitarist Andrew Savage will also have some artwork on display.
As Savage and I spoke about working in the language of rock 'n' roll, the fleeting nature of Brooklyn D.I.Y. spaces, and being ever-present in the now, I realized that this upcoming Knockdown Center event addresses all of it. But it also provides a stark reminder of the improvisational environment that helped shape this band, bringing them back home to a community still connected to the things they're singing about.
[youtube https://www.youtube.com/watch?v=1D6-8eXlMV4]
Thanks for talking to me today, I know you undertook a vow of silence for Monastic Living. You've spoken about how that record was a sort of reset or return to form before Human Performance in the style of your first. What does that reset feel like, and how did it lead into Human Performance?
Well, yeah, I think it was a cycle starting over again with Monastic Living. Going into Human Performance, it mimics the pattern of American Specialties going into Light Up Gold. Maybe a record that's more rough around the edges going into a record that's more pop-oriented, I guess overall more accessible. I know that's an interesting pattern for a band, at least in the case of Parquet Courts it is. It's more interesting when going to a major label like Rough Trade, in my opinion, to do an experimental/improvised record rather than have the first record on Rough Trade be a more pop-oriented record like Human Performance.
Maybe it fortifies you all with a sense of communal purpose, too? We're all in this together, for the right reasons. On a purely logistical level, we're all on the same page. 
Sure, and I want to believe that Parquet Courts will always be tethered to this sort of point of origin. Part of that point of origin is improvisation because that's the way a lot of songs were written, especially in the early days before we really even had songs. We would just get up on stage and start playing, and that playing would either become songs or not. But either way, it would always be fun.
So when it came time for us to focus on new stuff, we were doing Monastic Living stuff at the same time as Human Performance. They were a lot of the same recording sessions. And it's been part of songwriting. One important thing about improvising is, you learn how people play, and you learn instinctively how to play with other people. That was something that helped us get very good at playing live—we became very well-acquainted with how other people in the band play. And because of improvising, we got really into this groove together, where we could finish each other's musical sentences, so to speak.
"If you approach music, or any sort of art in this mindset to recreate a bygone era, you're always gonna fail."
That's the groove where people lose shoes at a show. I saw you guys at 285 Kent shortly after Light Up Gold came out and it was so refreshing to see a band operating with short and punchy songs that they were comfortable riffing out on, letting a note hang for a bit longer than the recording and having fun with it.
Well, I hope those people found their shoes.
Oh yeah, my buddy found his shoes after the show. That's the mark of a good show—you lose your shoes but find them again after.
Mmhm.
This feels like a very New York album to me, and stylistically there's a lot of love for the greats on here—Television, The Velvets, Eno. Was there any intention to comment on the New York songbook at all? Is that something you guys thought about?
No, of course not. If you approach music, or any sort of art in this mindset to recreate a bygone era, you're always gonna fail. The things that we respond to in these legendary eras is the artist addressing his or her current moment.
One reason they're so successful is because they address their current moment with frankness, honesty and directness. That directness and honesty transports us back, so that we are back with them. That's how we come to idolize these sort of eras—these artists have served as some median or portal into this era that predates our own. But if you try to tap into someone else's energy of their current moment, you're always gonna fail.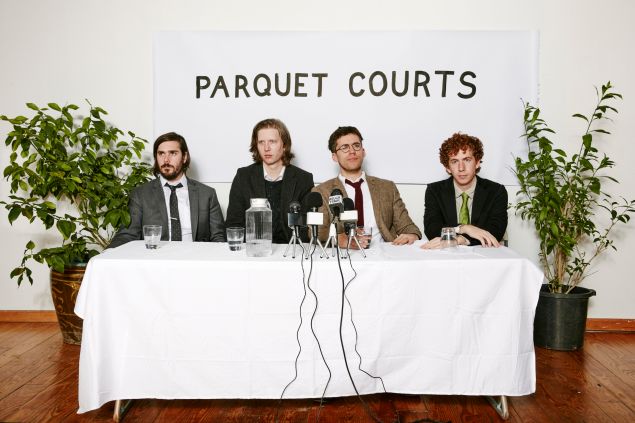 I'm interested in tapping into the moment that we're in now. Rock music is a tradition that Parquet Courts work in, and it's a tradition that has to look both backwards and forwards, but the most important thing is that if you're any type of artist, rock musician or otherwise, you have to focus on your own moment. Because that's what people are going to respond to in the present, and that's what's going to keep people responding to it in times to come.
How does that momentary addressing of the now fit into this Knockdown Center show you're doing?
As long as I've been coming here and playing music anyway, New York has had this tradition of really interesting venues that are unlike other DIY venues you see around the world. Not just DIY, but alternative performance spaces. That's one thing that attracted me to New York—spaces like Monster Island basement, where Parquet Courts played our first show, and the old Silent Barn on Wycoff, where I toured through for the first time playing New York. And Death By Audio where Parquet Courts essentially learned how to be a band. 285, Market Hotel, places like that, places that are really unique and have a special kind of site-specific quality to them.
Parquet Courts has gotten to the point where we can play places like Webster Hall, Bowery Ballroom, Music Hall of Williamsburg, and we do play places like that, we do play more conventional rock shows with three to four bands. But I also never want to not be able to play the shows that I really want to play, which is something a bit more unique, where the audience will have a more special experience because it's slightly different.
That goes back to what I was saying earlier about always respecting your point of origin that you're tethered to. The line-up of the show is representative of a lot of different things that are happening right now. Some of the most exciting bands that I'm into right now—Flasher, Vanity, Eaters, Joey Pizza Slice are involved. And rock 'n' roll being a tradition, there's a nod to history, but also older, established performers like Lee Renaldo and X_______X, who personally come from what I think is one of the most interesting times in rock music, the proto-punk scene.
[youtube https://www.youtube.com/watch?v=hv0bBjMc6FY]
Lee played this event at Other Music where he hung his guitar from the ceiling and was just knocking it around, showing how tones can travel in a space. It was kind of a bizarre masterclass.
Yeah, he's doing the suspended guitar thing at Knockdown as well. But it's going to be a special night. It's going to be a moment that kind of emphasizes the current state of Parquet Courts and the world around us. It's a night with friends, essentially.
How can artists who feel the same way that you do about these special, site-specific places that are meaningful to their creative evolution protect these spaces? When Market Hotel closes because of a manipulative police technicality, is there any agency that the community could take in New York to keep the turnover of these places down?
I think part of the nature of D.I.Y. spaces is that they don't last forever. Well, nothing good does. But a space is a building, and it's the spirit occupying that building that creates the D.I.Y. As long as the spirit is there, the building or the space that it inhabits doesn't really matter.
Just one example would be right as Death by Audio was on its last legs, Palisades came in and started doing a lot of the great, more interesting D.I.Y. shows. It has since passed on, and Market Hotel opened up. The state of Market Hotel is debatable, but there's still Silent Barn. Just because I've seen it happen over the last 15 years that I've been going to these kind of spaces, I have faith that the spirit will find a new home, always. As long as there are young kids that are willing to get involved, and people are around with the passion to make an alternative space, they'll keep coming.
We need more thinking in rock 'n' roll, maybe electric guitars are the way to make it palatable.
That's one way, anyway.
"Parquet Courts: Knock! Knock! Down! Down!" takes over The Knockdown Center on Saturday, December 10.