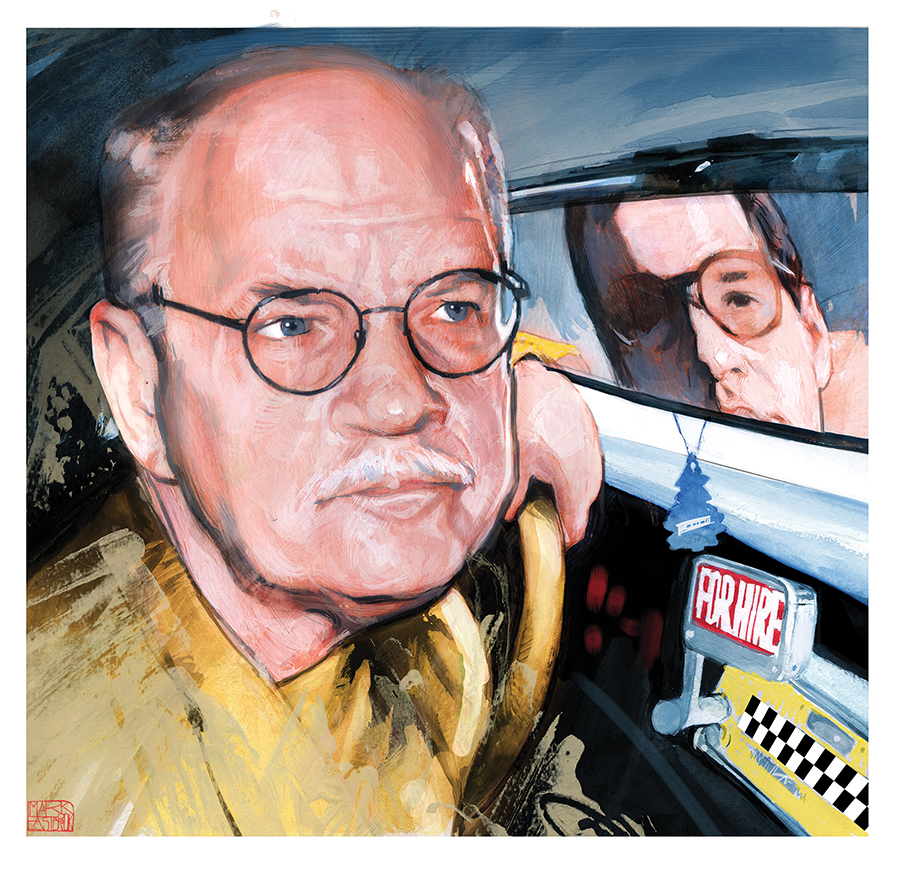 Paul Schrader's career caught fire with his script for Martin Scorsese's Taxi Driver, followed by Raging Bull and two more for "Marty." Schrader also notched heavy writer-director credits with the memorable American Gigolo and Affliction. While nibbling a salmon filet and dripping cabbage confetti on his bare forearm at the London Hotel NYC,Schrader, now 70, reminisced about his dark filmography and talked about his latest violent free-for-all, Dog Eat Dog, which pairs Willem Dafoe and Nicolas Cage. 
So much anger, so many movies—was there an original trauma somewhere that launched a thousand shrieks for help? It's a difficult passage for a young man into adulthood. The process of killing the father doesn't always run smooth—you do have to kill the parents, but how you do that depends on you, the parent and whether or not this is a productive process. In my case, it was productive. In my brother's case, destructive. He was never able to kill the father even after our father was dead.
Did you base Travis Bickle on yourself? I wrote the script when I was living out of my car in L.A.; my marriage, job and education all come a cropper. Travis lost his mooring, and that was me. I felt myself becoming a darker and darker kind of person. I had a pain. I had a bleeding ulcer at the age of 25. In the hospital the metaphor of the cab occurred, this yellow metal coffin, floating through the sewer of the city totally alone.
But watching Taxi Driver now it inspires nostalgia for the dirty, gritty, glitzily beautiful Times Square of the '70s. I never thought New York was dirty. As a Midwestern kid in the big city, I thought it was glamorous. De Niro's troubled character did because he was projecting a lot of anger.
What New York spots do you visit for inspiration? They're mostly closed. There was another lifetime of great music clubs. We used to live across from the Lone Star. And the bar that NYU pushed out, The Bottom Line. I've always been a live music person, but it's harder and harder. I don't like to stand up. I did go to see Jason Isbell at the Beacon. I just had dinner with Chris Walken in Spain, and he said, "I just don't like to go to NYC anymore." I still get the juice from it.
Speaking of nightlife, Dog Eat Dog boasts the obligatory stripper bar scene. Besides the jiggle, what's the appeal of that movie location? It's the spiritual home of a certain unintelligent, low achieving, failure-driven man, i.e. recidivist criminal. When I was meeting with our young New York team and said "stripper bar," their reaction was "boring." How do we ever make this look good—the usual red light, green light, fog machine and the girls—and then I thought, because I have final cut and total freedom, "Wait! I haven't seen a black-and-white stripper scene since Lenny. We won't explain why, we'll just do it. While they're trying to figure it out, they won't be bored."
If you were starting out now, would you be making movies? Would I be doing it if I were 25 now? I'm not sure. Writing code? Working in interactive media? I've been exposed to VR. It's certainly not there yet, but no reason why it won't be. They have to get rid of the damn helmets. Movies have been historically a very passive art. You just sit there. You don't even have to stay awake. Now there's the opportunity for movies to become less passive—it's both exhilarating and threatening.
Are you a writer first, or a director, or does that matter? I'm not a real writer. I'm a binge writer. I'll get an idea, and it will consume me for a period of months, and then I may not write a stitch for a year. Real writers live by their words: 500 words a day. I write very shortly for intense periods. You can do that with a screenplay. Sometimes you get in striking distance. You start at 10 in the morning, and you should probably quit by 6, but you stay on until 4 in the morning, like an athlete gasping at the finish line.