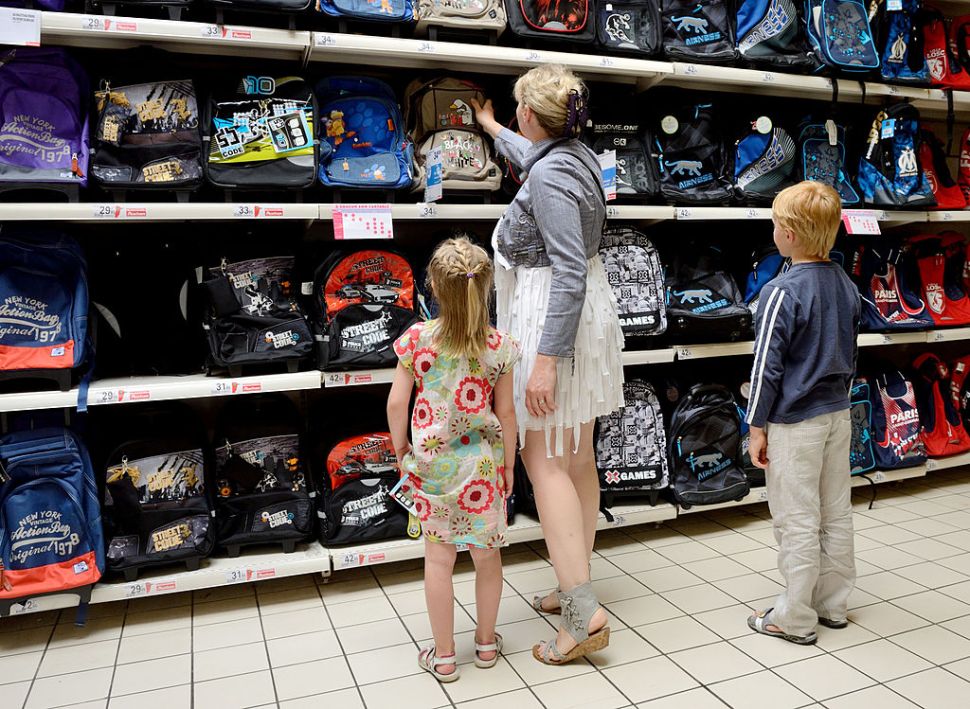 The problem with putting a GPS monitoring ankle bracelet on a homeless parolee is that it can be hard to find a place to sleep with an outlet nearby, so they have to spend 45 minutes or so of each day's waking hours sitting somewhere and recharging, so that their tracker doesn't start making an audible alarm.
But Americans would never do that to children, right?  If someone puts a GPS monitor on a kid, they are free to take it off to charge at night. That said, if GPS trackers are good enough for ex-cons, why shouldn't they be good enough for children? Fortunately, there are several companies working to make it as easy and fashionable for kids is at is to people who have been released from prison.
"The idea of beacons, chipping, GPSing our kids, it's all based on the pessimistic idea that our kids are in constant danger," Lenore Skenazy, the founder of Free Range Kids told the Observer in a phone call. "What drives me crazy about all these tracking devices is it plants the idea that you're a bad parent if you aren't constantly tracking your children."
Do you think you might be a bad parent? Here's some things you can purchase for peace of mind:
Xtreme Life Wifi Teddy Bear
Brickhouse Security, $488.95
Nothing says safety like a video camera, that's why this company put one inside the classic stuffed animal. What could be more heartwarming than your child learning to hug and nuzzle the surveillance state's favorite tool? This holiday season, maybe it's time to consider putting cameras inside your children's toys so you can always, always watch them, because, after all, you can't trust babysitters. Or grandparents.
hereO GPS  Watch for Kids
HereO, $129
Maybe when we were kids, we ran free through the backyards of our neighborhoods, but today's children can have better than that—they can be watched. Parents are so busy, though! How can keep an eye on them all the time? The hereO watch solves that problem by implanting a GPS monitor and panic button inside a wearable device that doubles as a digital wristwatch (because every kid hates to be late). After all, it's never too early to get kids comfortable with an eye in the sky constantly logging their every earthly move.
3G VisionOne GPS
VisionOne, $229
Some parents love their children too much to ever let them really be alone. Why stop with monitoring their location when you can listen to everything they say? This GPS has a spy mode feature where users can call in to the device and listen in on whatever might be going on (without the person carrying it knowing). So even when your offspring thinks they have a moment to themselves, they don't. They never do, and if you can help it, they never will.
Sentinel CNT Backpack
Amendment II, $399
In the old days, all anyone could offer children afraid of the violence in the world was reassurance based on a basic faith in humanity. That's not enough for today's parent with $400 to spare. Thanks to Amendment II, parents can now say, "Just in case something awful happens, you can hide behind your bulletproof backpack." Won't that be reassuring?
Why shouldn't parents watch their kids all the time when technology makes it so easy? Violent crimes may have been dropping for 20 years, but better safe than sorry, right?
"We are allowed, even as children, to have our lives," Skenazy said. And modern grown-up life includes being watched all the time, in all ways. Google follows adults around, so why shouldn't parents watch children the same way? They love their children more than Google loves us, right? Exactly.  
After all, if parents don't live constantly in fear for their children's safety, how will kids learn to live in fear for themelves?