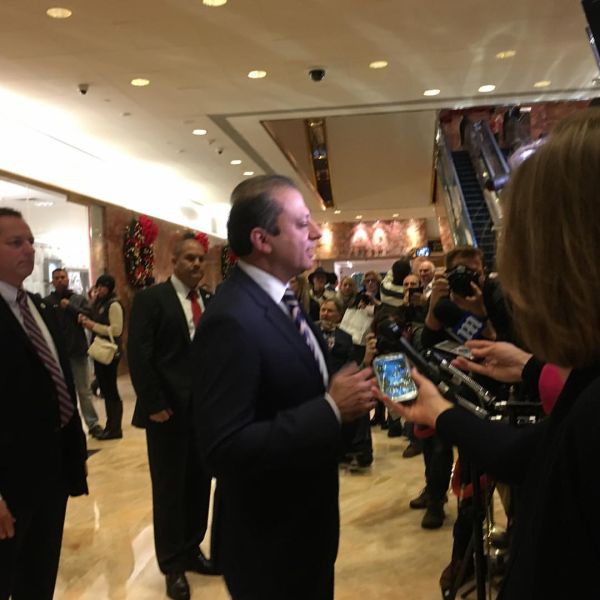 U.S. Attorney Preet Bharara declared after an hour-long meeting with President-elect Donald Trump that he will likely remain in his corruption-busting post in the next administration.
Bharara—who recently slapped federal charges on some of Gov. Andrew Cuomo's closest associates and is probing Mayor Bill de Blasio's relationships with political contributors—said that he will likely remain in his position, noting that he also met with Alabama Sen. Jeff Sessions, whom Trump has picked to serve as U.S. Attorney General. He said Sessions requested that he keep his job, which oversees Manhattan, the Bronx and Westchester.
"I said I would absolutely consider staying on. I agreed to stay on. I have already spoken to Senator Sessions, who as you know is the nominee to be the attorney general," Bharara told reporters in front of the elevator bank at Trump Tower after the meeting. "He also asked that I stay on, and so I expect that I will be continuing to work at the Southern District."
When the federal prosecutor arrived at Trump Tower this afternoon, reporters shouted at him but he simply greeted them and ignored their questions.
After the discussion, he told reporters that the president-elect asked to meet with him at his Manhattan headquarters likely because he is aware of the work that he has done over the last seven years. Bharara has gained fame for felling Wall Street powerhouses in the aftermath of the 2008 financial crisis, and for bringing down both ex-Assembly Speaker Sheldon Silver and former Senate Majority Leader Dean Skelos last year.
The crusading prosecutor is also a former aide to Sen. Charles Schumer, the incoming Senate Minority Leader, whom Trump has donated to in the past and has signaled an eagerness to cooperate with. Schumer, in turn, has expressed interest in collaborating with the new administration on issues like trade and infrastructure.
Retaining Bharara, an appointee of President Barack Obama, would make for an unorthodox move on Trump's part. The U.S. Attorney for the Southern District is a historically powerful position, and has served as a launchpad for political careers—including that of former Mayor Rudolph Giuliani—and presidents have usually preferred to install their own handpicked prosecutors in the job.
Bharara is known to be ambitious, and is believed to have coveted the position of U.S. Attorney General during the after the departure of Eric Holder—a role that ultimately went to Loretta Lynch, the former U.S. Attorney for the Eastern District of New York.
Disclosure: Donald Trump is the father-in-law of Jared Kushner, the publisher of Observer Media.