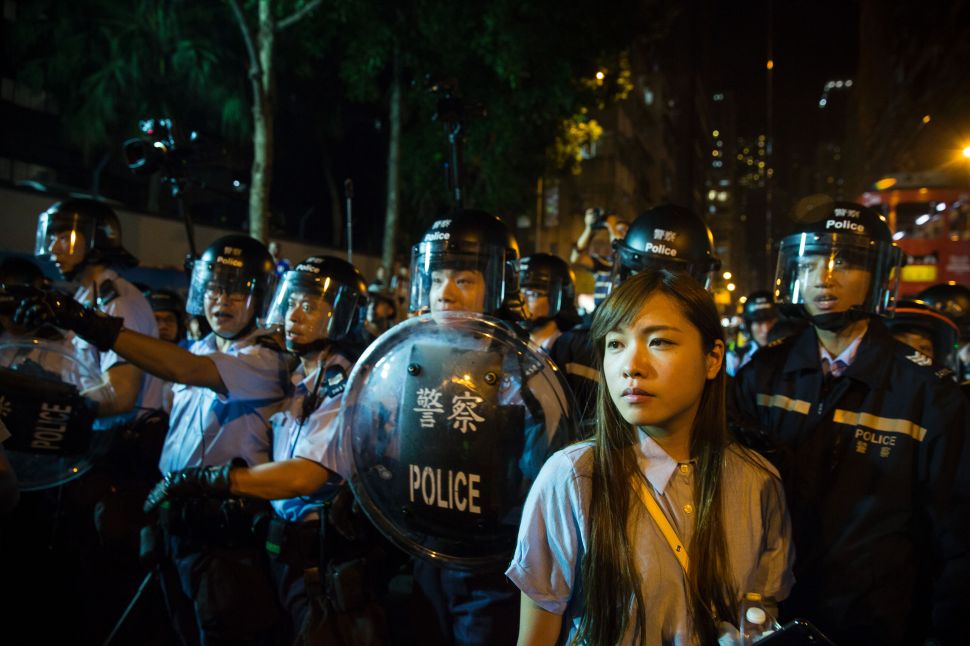 There's something every day. China just preempted the Hong Kong courts and prevented two elected candidates from taking their seats in the former colony's legislature, because they modified their oath of office in a way that displeased Beijing. The day before that it was the arrest and prosecution of human rights lawyers and internet activists, or kidnapping publishers in Hong Kong and Thailand, using the infinitely flexible accusation of "picking quarrels and provoking trouble" to put them away.
On a more geo-political scale, China continues to occupy the six artificial islands it developed in the disputed territories of the South China Sea, ignoring the unanimous ruling of an arbitration panel of the United Nations Law of the Sea Conference that building the islands was a violation of international law—never mind that China agreed to binding arbitration when it ratified the treaty.
Meanwhile, China's controlled press has been lavishing praise on Filipino president Rodrigo Duterte for his moves to distance his country from the United States and to seek closer ties with China. It calls the much-heralded "pivot to Asia," by which the Obama administration has sought to balance the increasing power of China, a "feeble" gesture. A recent article in Global Times, an English-language paper with a xenophobic tone, said that China is now too strong for the American 7th fleet to do the "rebalancing"by itself, but will have to use the 3rd Fleet as well.
"Washington seems to be quite restless with the narrowing gap between China and the US," the paper said in an editorial.
In other words, when Donald Trump takes office in January, China's rise is going to be at the top of his foreign policy agenda, and he will have to cope with a China increasingly truculent, aggressive, and apparently confident that its rise is taking place as the United States declines.
In other words, Trump will face a China similar to the China that Barack Obama has been facing for the last eight years, except more so. Indeed, that's the pattern in US-Chinese relations as American presidents have succeeded one another. From one president to the next, there's been a lessening of American influence on Chinese behavior and an increasing defiance by China of American pressure.
For most of the time until Obama, the policy toward China could be summed up in the single word "engagement;" it was the belief that economic growth in China and a proliferation of ties and contacts with the rest of the world would promote political change in China more effectively than public criticism of its human rights record would.
Writing in a recent op-ed in the New York Times, James Mann, the author of The China Fantasy, quotes both George Bush and Bill Clinton expressing what now appears to be an almost quaint optimism about China. In the 1990s, Clinton decided to abandon what was called "linkage"—by which trade advantages given to China would depend on an annual review of the country's human rights record. Linkage wasn't needed, indeed would be counter-productive, went the argument. That China would become more democratic, Clinton said, was as "inevitable as the fall of the Berlin Wall."
Under Obama it's become pretty clear that these hopes were unrealistic. As China has gotten richer and stronger, it has become not less but more dictatorial, more defiant of American opinion, more aggressive, more confident that its model is indeed superior. There is something usefully clarifying in this. Trump will take office entirely unburdened of what Mann called "the China fantasy." It is now abundantly clear that China is not going to be friendly to American purposes in Asia or, for that matter, elsewhere in the world.
What to do? Not much was said during the campaign about China, and what was said had largely to do with the economic challenge, not the strategic one. Trump vowed essentially to get into a trade war by taxing Chinese imports, a policy that most experts feel will be ineffective, and will raise the cost of goods to American consumers.
Hillary Clinton also didn't talk much about strategic issues, though clearly she had an understanding of them. As secretary of state she was a chief author of the "pivot" to Asia, whose axiom is that the United States needs to strengthen its ties with the other countries in Asia, with whom it shares the common goal of balancing China's fast development strength and aggressive behavior.
The problem is that China's press is right when it calls it the pivot "feeble." It has not succeeded in overturning the perception that China is on the rise and that the US can do little to counter it. Duterte's overt hostility to the U.S. and his friendly overtures to China illustrate this perception. In recent weeks, Malaysia signed a deal with China for the purchase of four naval ships, the first time Malaysia has bought arms from any country other than the U.S. China's press was happy to label the country's prime minister, Najib Razak, a "second Duterte."
That suggests a possible immediate challenge to Trump. The American assumption until now has been that China's belligerent behavior would lead the countries on its periphery to strengthen their relations with the United States. But if the perception is that the US is "feeble" and unreliable, there could be a general tilt toward China, what the political scientists call a "bandwagoning effect." One important measure devised by Obama to counter such a trend is precisely the trade agreement known as the Trans-Pacific Partnership that Trump vociferously condemned during the campaign and his backer, Sen. Jeff Sessions declared "dead."
It's easy to exaggerate the danger here. China does not present a military threat to the United States. Even China's xenophobic press acknowledges that the United States will be militarily superior to it for another generation or more. China's rise, meanwhile, will not be free of obstacles. Its economy is slowing down. It is losing the battle for public opinion in places like Hong Kong and Taiwan. Its repressive tactics in Tibet and Xinjiang have inflamed ethnic tensions. Corruption and heavy-handedness have undermined the government's standing with its own public. For most people in the world, a ruthless police state is not an appealing model.
The best counter to China's growing power and influence in this sense would be to get the American house in order, to make the country function so that its model is credible in the face of Chinese soft-power competition. But Trump will also have to find ways to stand up to the bullies of Beijing, to resist Chinese maneuverings in the South China Sea, to condemn China for its numerous and pervasive violations of basic human rights. The extremely limited options available to the US in pursuit of this goal were a source of frustration to Obama. Well see now if Trump can do any better.
Richard Bernstein's most recent book is China 1945: Mao's Revolution and America's Fateful Choice.