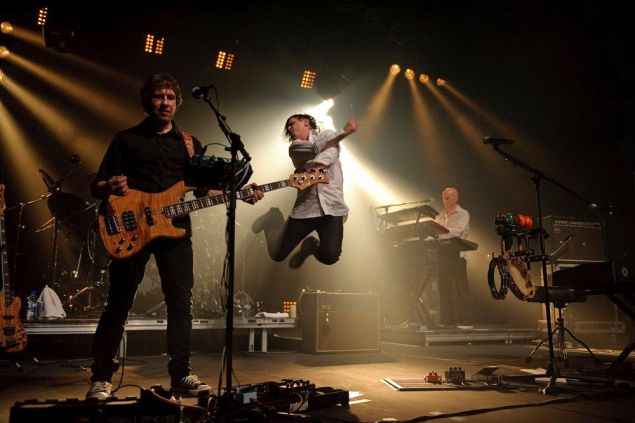 Marillion might not have achieved the recognition in the U.S. that they have in their native England, but that lack of traditional superstardom in the States doesn't mean the legendary prog rock band isn't deeply in touch with what it means to be an American voter right now.
Fuck Everyone and Run, the band's 18th studio album, has its finger on the pulse of the paranoia and dread stirring inside us all as we get ever closer to Election Day, the same day Marillion ends its North American tour with a concert at New York City's Playstation Theater.
"I would be mowing the lawn in my garden, listening to the birds singing, and thinking, 'this is a beautiful country—when it's not raining—but I sense a storm coming. I sense a watershed incident, I sense everything is about to change,' " Steve Hogarth told the Observer in a recent interview over Skype.
The winds of change are palpable from the moment the first strikingly well-recorded acoustic guitar notes are struck among a chorus of birds and garden ambience on "El Dorado- Part 1, Long Shadowed Sun", comforting you just as quickly as it makes you realize all is not well.
While the current political climate has stoked the flames of inspiration for Marillion, the lyrics and concept for this album began coming together five years ago. "The germ of what set it all off really was the post-Iraq War feeling that our country had been duped by Tony Blair. That the war was fought illegally," said Hogarth.
"I was trying to express that in poetry or lyrics for years before the notion of leaving the EU was ever mentioned on TV. Now we've released this album immediately post-Brexit. So everything is changing. You get the feeling that some change is coming. Whether that's just neurosis on my part or something else…I don't know."
[youtube https://www.youtube.com/watch?v=Xiwtl-ljUI0&w=560&h=315]
With all of the frustration expressed throughout F.E.A.R. (politics, the refugee crisis), you might wonder where all the anger is in the delivery.
On Marillion's previous album Sounds That Can't Be Made, the band ramped up to a pretty high intensity delivering "Gaza", which chronicled the lives of people living in that area. But here, while discussing the feeling of being betrayed by his own country, Hogarth delivers the title line for the album "Fuck everyone and run…" in falsetto against a very gentle backdrop.
According to Hogarth, "'The New Kings Part 1 – Fuck Everyone and Run' felt like an expression of sadness. Not anger. What I'm really saying is: have we come to this? Is this all we're worth? Is that what we're all about? Have we come no distance whatsoever from the monkey?"
Despite the heavy themes, F.E.A.R. is never hobbled by its lofty ambitions; it soars from start to finish in true Marillion fashion. Lush synthesizer work from Mark Kelly, ornate guitar riffs from Steve Rothery, the bass ingenuity of Pete Trewavas, and Ian Mosley's impeccable drumming make for a dynamic, exhilarating listen.
And the mix is sonically rich in ways we haven't heard in years. Credit here goes to producer/engineer Mike Hunter. As Hogarth put it, "Mike strove to beat anything he's ever done. He did the last four albums. He was constantly checking compared to old albums to make this his best."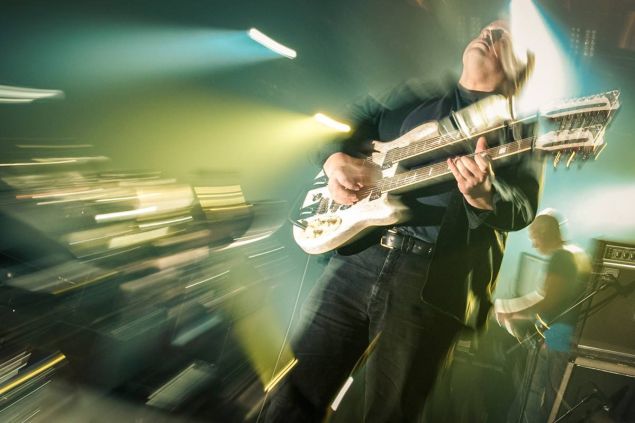 So what does Marillion have think of our presidential election? "I'm having a hard time relating to some of Donald Trump's more oblique statements…or probably everything he's ever said that I've heard. But from what I understand, Hillary is pretty unpopular as well!"
Still, he's hopeful for the future, especially for the band's upcoming concert in New York. "My main thought really is whether or not Election Night will stop people from coming to the show…whether they're going want to stay home and watch the election on TV! Our last shows in New York City were some of the best shows we've ever played. I left the show after my first night with my head just swimming!"
As for a solution to our current political problems, Hogarth quotes one of music's greatest minds: "We need people to say, 'we don't want any part of this…we need to live a better way…you may say I'm a dreamer…but I'm not the only one.' "
Marillion performs in New York City at the Playstation Theater on Election Night, November 8.